Bathroom Furniture for a Soothing Home Spa
Bathroom furniture and accessories to add the perfect finishing touches to your master suite escape, powder room or guest bath. Choose from: Bamboo and Asian Bathroom Furniture, Bath Organization and Laundry, Bath Furniture
| | | |
| --- | --- | --- |
| | | |
| Sarita Marble-Top Bath Vanity | Midnight Lake Vanity Seat | Salome Marble-Top Bath Vanity |
| Lacquer bath vanity with bamboo detailing and gold leaf hardware. White marble top with white porcelain silk. Optional marble back splash included. Iron and wood. | Handcrafted vanity seat. Pine frame. Linen/rayon upholstery. | Gray lacquer bath vanity with gold leaf hardware and white carrara marble top. Iron and wood frame. Three doors and two drawers. White porcelain sink included. Optional white carrara marble back splash included. |
| | | |
| --- | --- | --- |
| | | |
| Woven Vanity Accessories | Bamboo-Framed Gatsby Hamper | Calaisio Lidded Hamper |
| Vanity accessories sold individually. Hand woven by artisans in the South Pacific using vignes d'eau (water vines), each piece takes one to seven days to weave, resulting in products of elegance and durability. | Canvas, bamboo | Hand woven by artisans in the South Pacific using vignes d'eau (water vines). Each piece takes one to seven days to weave, resulting in products of elegance and durability |
| | | |
| --- | --- | --- |
| | | |
| Bamboo Hamper | Belle Bathroom Bench | Bamboo Hamper |
| Sustainable bamboo hamper with a snap-in fabric liner bag you can remove to carry to the machine to wash! Natural bamboo frame adds a clean, minimal look to any space with latticed sides and handles at the top. | Perfect for extra storage or seating, this bathroom bench maximizes your space with minimalist style. Crafted from bamboo in a natural finish with a simple, slatted silhouette and molded tabletop. Equipped with an open bottom shelf. | Bamboo, cotton |
| | | |
| --- | --- | --- |
| | | |
| RATTAN STOOL | Bamboo Towel Rack | RATTAN FLOOR STORAGE |
| Woven of natural rattan, this stool brings earthy warmth and texture to the bath. It also works well as added seating in a guest room or as a spot to display beach finds or collectibles. | Make the most of limited space with this refined towel rack constructed from bamboo wood with a slim profile. Featuring a trio of bars to organize towels on, with a bottom shelf for a shower caddy or other essentials set along pronged legs | Handcrafted of natural rattan in a honey hue, this storage brings earthy warmth and texture to the bath. It also works well in any other room of the home, whether used to organize linens or to display favorite collectibles. |
| | | |
| --- | --- | --- |
| | | |
| Massoud Winters Faux-Fur X Bench | Susie Metal Storage Cart | Lexington Shelving Unit |
| Handcrafted X bench. Hardwood frame with brass finish. Acrylic/polyester faux-fur upholstery. | Store the essentials you want to show off in this UO-exclusive metal rolling cart. Shiny metal cart with arched framing and wire baskets, equipped with 4 wheels for major versatility in the bathroom, kitchen and living space. | Steel |
| | | |
| --- | --- | --- |
| | | |
| Morano Hairhide Ottoman | Massoud Honey Amber Ottoman | Millie Cube Ottoman |
| Handcrafted square ottoman. Hardwood frame. Leather hide upholstery. | Handcrafted ottoman. Hardwood frame. Polyester/cotton upholstery. Nailhead trim. Suspended coil-spring system; mortise-and-tenon frame construction. | Handcrafted textured velvet ottoman. Hardwood frame; polyester upholstery. Center button-tufted. |
| | | |
| --- | --- | --- |
| | | |
| Massoud Toma Crocodile-Embossed Bench | VINTAGE FLOOR STORAGE, BRASS | Bernhardt Roscoe Leather Ottoman |
| Handcrafted bench. Hardwood frame with chrome finish. Crocodile-embossed leather upholstery. | This stunning triple shelf is designed to look like itís always belonged in your bath. It's a stylish backdrop for organizing beauty products and toiletry essentials. | Handcrafted ottoman with bright brass nail head trim. Crocodile embossed leather with gold tipping. Mortise and tenon construction. Engineered hardwood frame. |
Teak Towel Rack
Slatted Teak Storage Bench
Conair Solid Teak Roll-Up Shower Mat
Conair Teak and Stainless Steel Bath Mat
A practical piece for indoors and out, this towel rack and storage bench are made from durable teak wood and offer an easy storage solution for towels or throws for your pool house, home sauna or guest bathroom.
The Conair Home Roll-Up Teak Mat is a highly portable bath mat. Made of solid teak, it resists moisture and humidity, and is vented for slip-free footing. Just roll it up to store, and use it in or out of the shower. The elegant styling adds an upscale touch wherever you put it.
Forged of 100% stainless steel and teak wood, the Brooklyn Collection of bathroom furnishings from Conair Home is the perfect blend of form and function. Sophisticated yet sturdy, these industrial-inspired pieces make a strong statement in any decor. We've combined teak with stainless steel to create an ingenious shower mat featuring natural durability with pure strength.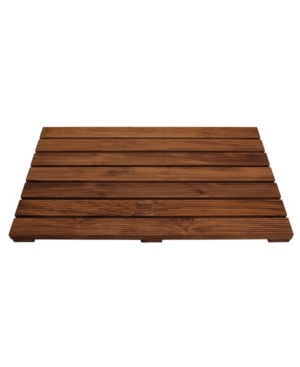 Conair Solid Teak Shower Mat
The Conair Home Teak Wood Shower Mat is designed with, and hand-crafted from, solid Teak wood, valued for its luxurious smooth texture and its remarkable durability and resistance to moisture and humidity. Great for inside the shower and works well as a spa mat or bath mat. Vented and ribbed for comfortable, slip-free footing.
| | | |
| --- | --- | --- |
| | | |
| Mariella Display Wall Shelf | Mariella Bracket Wall Shelf | Woven Handle Basket |
| With a retro, tropics-inspired look, the Mariella Display Shelf is constructed from bound rattan for an effortlessly boho aesthetic. Angular frame with round supports inlaid and woven shelf at base + top for display. | Inspired by vintage beach aesthetic, the Mariella Bracket Shelf is made from bound rattan with circle brackets and a natural finish. | Perfect for storing blankets, dirty laundry + more, this cylindrical basket is made from interwoven strands of sea grass, featuring dual side handles and flat base. |
| | | |
| --- | --- | --- |
| | | |
| Georgie Shelved Mirror | Paulette Pie Slice Trinket Dish | Ilsa Vanity Set |
| Bathroom-rated. Mirrored glass, brass | A sweet addition to your dresser or vanity, this charmingly handpainted trinket dish displays and organizes your favorite jewelry. | Elevate your beauty rituals with these elegant, display-worthy vanity essentials. Tropical wood, mirrored glass, MDF, mother-of-pearl, velvet |
| | |
| --- | --- |
| | |
| Staggered Triangle Jewelry Stand | Golden Ratio Jewelry Box |
| Stainless steel, iron | Based in Brooklyn, SIN is multi-disciplinary designer Virginia Sinís line of handcrafted heirlooms and treasures. Featured in Architectural Digest, Domino, and the New York Times, her collections are constantly evolving, as she discovers new ways to bring warmth to the home. |
Go to:
Add Global Luxury to your favorites