Safari and Animal Print Bedding
Safari and animal print bedding for an exotic escape in the comfort of your own home. Select from a range of colors and patterns from casual tribal to luscious ivory and gold decadence. Go to: Safari and Animal Print Bedding Collections, Globally Inspired Mini Collections
Bring the majesty and beauty of the Serengeti to your bedroom with our Safari bedding collections. Wild scenes come to life in our colorful Safari Bedding collections, where lions, zebras, and cheetahs run free
| | | |
| --- | --- | --- |
| | | |
| Jane Wilner Designs Ellie Elephant-Print Bedding Collection | Pyar & Co. Bella Coverlet Set | Sweet Dreams Kilimanjaro Bedding |
| Duvet Cover and Shams cotton with elephant and palm tree print. Ellie Fretwork Coverlet and Dust Skirt white cotton with fretwork detail. Leopard-Spot Sham | Quilted and embroidered set includes coverlet and shams. Cotton, with polyester batting. Pyar & Co. Rani Throw & Matching Pillow inspired by the traditional Moroccan wedding blanket, the Rani throw is decorated with long fringe and sequins. Two-piece set. Cotton/acrylic front; linen back. | Kilimanjaro Duvet Cover: Garnet chenille duvet cover with medallion pattern. Rayon/cotton/polyester front; cotton/polyester back. Finished with tri-color twisted cording. Pieced sham with scallop fringe finish. Garnet chenille medallion sham with onion trim. Throw made of acrylic faux-fur. Polyester faux-suede back. |
| | | |
| --- | --- | --- |
| | | |
| Annie Selke Luxe Zebre Velvet Bedding | ANALI Tangier | Annie Selke Luxe Pitone Bedding |
| Silky-to-the-touch, quilted velvet bedding | Tangier Duvet Cover and Shams. Cotton percale with embroidered detail. Tangier Sheet Set. White cotton percale with silver embroidery. River Rock Matelasse Coverlet made in the USA of Italian cotton matelasse. Tangier tailored linen dust skirt | Pitone Duvet Cover, Shams and Pillows. Egyptian cotton with tonal snakeskin print. Carina 500TC Flat Sheet Lustrous and silky, 500-thread-count, Egyptian-cotton sateen. |
| | | |
| --- | --- | --- |
| | | |
| Sweet Dreams Casablanca Bedding | Sweet Dreams Radiance Bedding | SWEET DREAMS INC. Marrakesh Bedding |
| A black background adds drama to chenille bedding with a pattern that reminds us of a fine rug. Contrasting accents ranging from geometric to animal increase the appeal many fold. | Radiance bedding showcases an ikat design in sunset hues, plus chenille and faux-fur textures. | Marrakesh bedding has a raised texture. Made of polyester/rayon/acrylic. Black accessories with gold gimp trellis are polyester velvet. Black velvet dust skirt of rayon/silk adjusts to fit a queen or king bed. |
| | | |
| --- | --- | --- |
| | | |
| Callisto Home Madagascar Bedding | Dian Austin Couture Home "Bohemian Rhapsody" Bed Linens | Sweet Dreams Exotica Bedding |
| European-woven cotton/viscose chenille Madagascar bedding features with a mix of animal patterns in taupe and black. Box-pleated cotton/rayon velvet dust skirt. Channel-quilted black rayon velvet quilt | An eclectic mélange of fabrics and finishes in crimson and cognac. Collection includes medallion chenille, leopard jacquard with chenille accents, ruched panne velvet, and golden silk. By Dian Austin Couture Home®. | Exotica bedding features animal patterns, geometrics, and paisley. Ebony acrylic faux-fur throw reverses to cotton/polyester geometric-print velvet. |
Aldalora Quilt
Kamala Rug
Chloe Gauze Bed Canopy
Madeline Tie-Dye Bed Canopy
A tufted chevron motif in a neutral colorscape offers calming, global texture that will catch both eyes and Zzzs.
Textured cotton gauze canopy for adding boho charm to any bedroom. In crinkled cotton gauze with long sides that drape open at the front, topped with a loop for easily hanging from any ceiling hook.
Hand-dyed bed canopy for creating the cozy boho nook of your dreams! Drapes from a circular mount that hangs easily from a ceiling hook, finished with adjustable ties for styling however you like.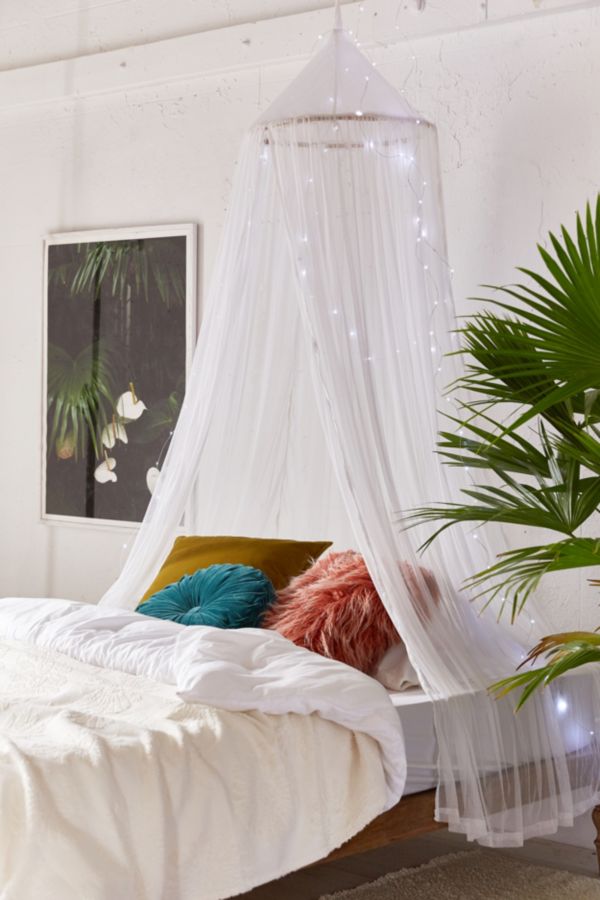 Mesh Bed Canopy
Cascading mesh bed canopy that adds a little extra magic to any space. Serves functionally as a cozy nook for dorm room dwellers to study and read inside of, too. Hung from a wooden ring with an open front for draping however you'd like, topped with a loop for hanging from any fixture on the ceiling
Comforter and duvet cover mini collections are a stylish and simple solution for guest rooms, apartments and even dorm rooms.
| | | |
| --- | --- | --- |
| | | |
| 83 Oranges For Deny Tropical Serenity Duvet Cover | 83 Oranges For Deny Lemon Pattern Duvet Cover | Bree Madden For Deny Tropics Duvet Cover |
| Deny Designs is an ever-changing collective of talented artists who churn out fresh, statement-making pieces, all proudly made in the USA with a portion of each purchase supporting art communities worldwide. Topped with a tropical plant pattern by print designer 83 Oranges, this duvet cover is the artful statement piece you need for updating any ordinary room or solid bedding. Made of super smooth and premium woven poly fabric with a solid back | Deny Designs is an ever-changing collective of talented artists who churn out fresh, statement-making pieces, all proudly made in the USA with a portion of each purchase supporting art communities worldwide. Topped with a lemon-fresh print by pattern designer 83 Oranges, this duvet cover is the artful statement piece you need for updating any ordinary room or solid bedding. Made of super smooth and premium woven poly fabric with a solid back | Deny Designs is an ever-changing collective of talented artists who churn out fresh, statement-making pieces, all proudly made in the USA with a portion of each purchase supporting art communities worldwide. Print with an image by SoCal photographer Bree Madden for all the vacation-like feels at home, this duvet cover is the artful statement piece you need for updating any ordinary room or solid bedding. Made of super smooth and premium woven poly fabric with a solid back |
| | | |
| --- | --- | --- |
| | | |
| Keeley Rainbow Tie-Dye Duvet Cover | Kaye Medallion Duvet Cover | T-Shirt Jersey Duvet Cover |
| Dream in color with this rainbow tie-dye duvet cover with reversible styling options! Machine-washable with button closures at the side, mix + match it with any of our sheet sets for a super groovy look | Soft cotton duvet cover print with a tonal medallion design we love. Finished with hidden button closures at one side for easily slipping off your duvet insert for a quick machine wash | Soft as your favorite lived-in t-shirt, this heathered cotton jersey duvet cover comes in a variety of hues that work with any bedding! |
| | | |
| --- | --- | --- |
| | | |
| Cactus Icon Duvet Cover | SUKU Home The Moon Jumputan Dye Duvet Cover | Static Duvet Cover |
| Soft cotton duvet cover in our adorable all over cactus icon print! In crisp Percale cotton that gets softer with each machine wash, equipped with hidden buttons at the side | Duvet cover by SUKU Home, hand-crafted in Bali using a jumputan dye technique to create allover rings that look like the moon! In sustainable bamboo rayon that's soft, silky + breathable for a good night's sleep. Finished with hidden button-side closures for easily slipping off your duvet insert for a quick machine wash | Bold graphic-print duvet cover made from crisp cotton that softens with each wash. Reverse-color print at the back means you can easily switch up the look! |
| | | |
| --- | --- | --- |
| | | |
| Rey Yarn-Dyed Stripe Duvet Cover | Neutral Tie-Dye Reversible Duvet Cover | Frankie Pieced Jersey Duvet Cover |
| Soft cotton duvet cover with yarn-dyed stripes for a clean, modern update to any bedding. Complete with button-side closures for easily slipping on + off your insert for a quick machine wash. | Cotton duvet cover with a tie-dye gauze front + solid soft cotton back - all in neutral hues for a reversible piece that complements any space! Perfect for mixing-and-matching with any bedding; comes equipped with hidden button-side closures for easily slipping of your duvet insert to machine wash. | Soft-washed cotton jersey duvet cover that comes in lots of hues to match any bedding! Totally machine wash-able with a pieced seam at the side, finished with a button-side opening for easily slipping on + off |
| | | |
| --- | --- | --- |
| | | |
| Bandana Babe Comforter, Shams, Sheet Set | Chelsea Victoria For DENY Rose Gold Marble Duvet Cover | Ella Popcorn Duvet Cover |
| Curl up under this cozy boho comforter in a dye-tech finish complete with a subtle bandana print. In a soft cotton design that's solid at the reverse, finished with pintucked accents. | DENY Designs is an ever-changing collective of talented artists who churn out fresh, statement-making pieces, all proudly made in the USA with a portion of each purchase supporting art communities worldwide. Topped with a pink marble print by artist Chelsea Victoria, this duvet cover is the artful statement piece you need for updating any ordinary room or solid bedding. Made of super smooth woven poly fabric with a solid back | The modern-femme Ella popcorn duvet cover adds the perfect textural touch to any sleeping space, featuring soft-washed cotton backing that feels oh-so good on skin. Equipped with button-side openings for easily slipping on + off any standard-sized duvet insert to machine wash |
| | | |
| --- | --- | --- |
| | | |
| Stripe The Dot Duvet Cover | Lillian Floral Duvet Cover | Gabriela Fuente For DENY Mark Duvet Cover |
| Fringe-trim duvet cover in a neutral textured jacquard with rainbow stripes woven through. In soft but durable cotton finished with button-side openings for easily removing from your duvet insert for a quick machine wash. Pair it perfectly with the rest of our Stripe The Dot textile collection for a modern-boho makeover in any room! | This premium cotton duvet cover with a foraged floral print will bring a modern-femme update to any sleeping space! Finished with button-side openings for easily slipping on/off your duvet insert to machine wash | DENY Designs is an ever-changing collective of talented artists who churn out fresh, statement-making pieces, all proudly made in the USA with a portion of each purchase supporting art communities worldwide. Topped with a bold geometric print by textile designer Gabriela Fuente, this duvet cover is the artful statement piece you need for updating any ordinary room or solid bedding. Made of super smooth and premium woven poly fabric with a solid back |
| | | |
| --- | --- | --- |
| | | |
| Assembly Home Linen Blend Duvet Cover | Nikko Marled Tie Duvet Cover | Plum & Bow Sofia Block Duvet Cover |
| Soft linen blend duvet cover from modern Assembly Home collection. Solid color design adds an elegant touch to any bedding. Add patterned pillows for a more eclectic look or go romantic with lace and florals. This duvet allows you to create custom bedding that suits your taste. | Essential duvet cover crafted from soft + durable yarn dyed cotton with a twill weave. Perfect for a super cozy update to any bedding! | We love this pretty duvet cover from UO's own Plum & Bow collection. Features allover scroll print + reverses to coordinating floral print with unique accents. |
| | | |
| --- | --- | --- |
| | | |
| Magical Thinking Yaella Medallion Duvet Cover | Iris Sketched Floral Comforter | Monika Strigel For DENY Within The Tides Duvet Cover |
| Boho-chic duvet cover from UO's own Magical Thinking collection. Allover geo-inspired print in a medallion motif. Made from soft cotton for a cozy addition to any bedding. | Give your bedding a fresh update with this floral printed comforter. In 100% cotton complete with solid backing for a reversible finish. | DENY Designs is an ever-changing collective of talented artists who churn out fresh, statement-making pieces, all proudly made in the USA with a portion of each purchase supporting art communities worldwide. Topped with an image by artist Monika Strigel, this duvet cover is the artful statement piece you need for updating any ordinary room or solid bedding. Made of super smooth and premium woven poly fabric with a solid back |
| | | |
| --- | --- | --- |
| | | |
| Georgiana Paraschiv For DENY Abstract M3 Duvet Cover | Sato Worn Duvet Cover | Celestial Foiled Duvet Cover |
| DENY Designs is an ever-changing collective of talented artists who churn out fresh, statement-making pieces, all proudly made in the USA with a portion of each purchase supporting art communities worldwide. Topped with an abstract print by artist Georgiana Paraschiv, this duvet cover is the artful statement piece you need for updating any ordinary room or solid bedding. Made of super smooth and premium woven poly fabric with a solid back | Soft cotton duvet cover with an allover worn print for a vintage-inspired look we love. Perfectly versatile, so it works with any decor - boho, modern or femme! | Soft cotton duvet cover topped with a celestial-inspired graphic we love! Allover medallion motif for a perfect update to any bedding. |
| | | |
| --- | --- | --- |
| | | |
| Amalie Medallion Comforter | Valencia Space Dyed Comforter Bedding | Iveta Abolina For DENY Milky Way Duvet Cover |
| Give your bedding a modern-boho update with this all-in-one machine-washable comforter with an illustrative medallion print at the front. In 100% cotton featuring premium hidden tacking so it won't ever go out of shape, complete with solid backing for a reversible finish! | Soft cotton comforter in an allover space dyed design with stitch detailing. Perfect for a simple + modern update to any bedding! | DENY Designs is an ever-changing collective of talented artists who churn out fresh, statement-making pieces, all proudly made in the USA with a portion of each purchase supporting art communities worldwide. Topped with a geometric pattern by artist Iveta Abolina, this duvet cover is the artful statement piece you need for updating any ordinary room or solid bedding. Made of super smooth and premium woven poly fabric with a solid back and hidden side zip closure |
| | | |
| --- | --- | --- |
| | | |
| Iktan Trim Duvet Cover | Plum & Bow Anza Tiled Duvet Cover | Kris Tate For DENY The Garden Duvet Cover |
| Cotton duvet cover in a simple + pretty design we love! Complete with colorful trim detailing. Perfect for a boho update to any bedding. | Cotton duvet cover in a pretty print, designed exclusively for Urban Outfitters as part of the Plum & Bow collection. Perfect for a feminine touch to any bedding. | DENY Designs is an ever-changing collective of talented artists who churn out fresh, statement-making pieces, all proudly made in the USA with a portion of each purchase supporting art communities worldwide. Topped with an abstract garden pattern by illustrator Kris Tate, this duvet cover is the artful statement piece you need for updating any ordinary room or solid bedding. Made of super smooth and premium woven poly fabric with a solid back |
| | | |
| --- | --- | --- |
| | | |
| Daria 3-Pc. Reversible Quilt Sets | Milan 10-Pc. Reversible Comforter Sets | Lotus 3-Piece Quilt Sets |
| Illuminate any room's look with the electric multicolor tones and stunning medallion patterns of these Daria reversible quilt sets. | Give your room a dramatic makeover with the striking style of these Milan comforter sets, featuring powerful floral medallion patterns at the face reversing to a simple geo design at the back. | A vibrant fair-isle design helps this 3-piece quilt set from Ellery Homestyles redefine your bedroom decor. The teal color background is complemented with accents of yellow, purple, white, and pink, while the reverse side adds some tropical vibes to your style with an allover flamingo design. |
HiEnd Accents Lexington Tribal Comforter Set
Marimekko Kesahelle Grey Sheet Sets
Marimekko Mandariini Duvet Covers and Pillow Shams
Woodland Duvet Covers and Pillow Shams
From the Lexington collection by HiEnd Accents, this comforter set features: Tribal-inspired pattern
Designed by Kaarina Kellomaki, this subtle grey and white pattern takes a soft approach to Marimekko's characteristic bold, graphic look. Inspired by the ornate look of Baroque-period design, her pattern reinterprets the era's emphasis on sensuous curves, dynamic movement and rich texture in a loose, meandering botanical motif rendered in a restful, neutral palette.
Woodland plants blanket cotton-linen fabric in a forest of embroidered silhouettes, taking shape in a range of soft neutrals on ivory. Duvet has a hidden button closure and interior fabric ties to hold the insert in place. Standard and king shams are offered in sets of two. All linens reverse to solid ivory
Go to:
Add Asia Africa Pacific to your favorites