Simple and Stylish Apartment Bedding
Simple and stylish apartment bedding. Quilt or comforter sets offer simple bedroom decor in a range of solids and prints. A quick way to change the mood and decor. Your retreat is the perfect place to escape the chaotic. Refined, clutter free and restful. Choose brights or calm neutrals, add accents and your room is complete. Go to: City Scene, Nautica
Thornton Full/Queen Comforter Set
Thornton King Comforter Set
Atlas Plaid King Comforter Set
Aquarelle King Comforter Set
The unique engineered bedding pattern will transform your bed into an artist's canvas and the Deco-inspired color palette of pale blush, silvery grey, and Lagoon blue on white softens the striking black accent lines, creating a tranquil mood.
Soft shades of beach pebble grey and pale terra cotta balance cool with warm on a crisp white ground in a pleasing neutral palette. Printed on ultra soft microfiber, this comforter set offers total comfort as well as durability and easy care.
The City Scene Aquarelle comforter set features an abstract, watercolor blue toned design that is Nautically inspired and beautifully serene. The cozy microfiber construction and polyester fill offer the perfect combination of warmth and softness.
| | | |
| --- | --- | --- |
| | | |
| Variegated Pleats Full/Queen Comforter Set | Demi King Comforter Set | Isla King Comforter Set |
| Create a crisp, clean and cozy sleep space with the Variegated Pleats bedding ensemble by City Scene. The sophisticated white-on-white design features dimensional pleats that add textural interest in a subtle, understated way to the 100% cotton bedding. | Wherever you live, the sophisticated simplicity of this modern linear print ensemble will bring a fresh, updated look to your bedroom. A soothing neutral palette of linen and white tones down the boldly scaled herringbone graphic. | Painterly, hand-drawn triangles form a minimalist allover dot pattern with a very relaxed personality. Printed in charcoal gray on soft and silky white microfiber, this bedding set has the added bonus of offering multiple looks in a single set. |
Aria Full/Queen Comforter Set
Aria King Comforter Set
Ziggy Full/Queen Comforter Set
Ziggy King Comforter Set
Penelope King Comforter Set
Penelope Full/Queen Comforter Set
Style your bedroom as neutral territory with this modern brushstroke geometric in a minimal palette of silvery gray and white. Artistic and urbane, this set will provide a fresh update with a contemporary attitude for any bedroom.
Dots and dashes make an artful statement in this urbane stripe pattern in cool grey on crisp white cotton. The casual, hand-drawn imperfection of the lines and dots appear as if they come straight from an artist's sketchbook.
Add a flourish of color to your bed with the City Scene Penelope bedding ensemble. Made of soft polyester with a small-scale grid of mini white squares on a quartz pink ground, this set will flatter your decor with luscious comfort.
Courtney King Comforter Set
Courtney Full/Queen Comforter Set
Zander King Comforter Set
Crisp white microfiber and grey embroidery team up to give the Courtney bedding ensemble from City Scene textural modern edge. Alternate rows of stitching and pintucking create a contemporary chevron design that is equal parts elegant and sophisticated.
Black brushstrokes on a crisp white background create a bold windowpane check that is graphic while still reflecting the artist's hand. Printed on silky microfiber, this painterly grid offers a sophisticated modern accent for your bedroom.
Domain California King Duvet Cover Bonus Set
Cosette King Duvet Cover Set
Cosette Full/Queen Duvet Cover Set
Navigate Full/Queen Duvet Cover Set
Comfort is key when creating your personal space and nothing is more comfortable than soft, washed cotton percale. This stylish solid color reversible bedding in charcoal and white is modern in its simplicity and relaxed in attitude.
The tailored simplicity of a basic box grid makes this set an essential that will appeal to a wide range of tastes whether you are a modern minimalist or an elegant sophisticate. The grid pattern is created by pleating and tacking the grey fabric.
The tailored simplicity of this grey on white Navigate ensemble by City Scene will appeal to a wide range of tastes. The embroidered zig zag pattern creates a dimensional tonal statement that is both classic and contemporary.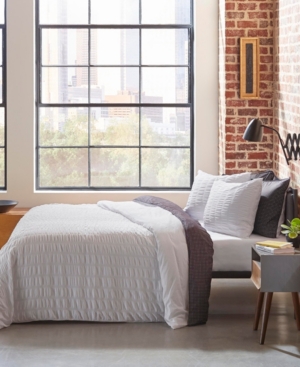 Orleans Full/Queen Duvet Cover Set
White on white is always stylish and this dimensional stripe is no exception. A scaled up seersucker weave creates a sculpted look that is tactile and visually interesting. Simple, minimal tailoring creates a timeless modern look.
| | | |
| --- | --- | --- |
| | | |
| Moroccan Medallion Full/Queen Quilt Set | Puzzle King Quilt Set | Avondale King Quilt Set |
| Give your bedroom a stylish makeover with the City Scene Moroccan Medallion Quilt Set. Decked out in a medallion quilt stitch and padding, the refined bedding adds a sophisticated touch to any room's décor. | An interlocking geometric print on the City Scene Puzzle Quilt Set creates the perfect graphic backdrop against your bed. Constructed with a tightly quilted, vertical channel stitch, this cotton spread invigorates your bedroom with style and comfort. | Cool neutral grey is the first impression when looking at this solid color bedding, but subtle pattern interest is created dimensionally with quilted irregular stepped lines that form horizontal stripes inspired by an urban skyline. |
| | | |
| --- | --- | --- |
| | | |
| Leaves King Quilt Set | Checker Stitch Full/Queen Quilt Set | Leo King Quilt Set |
| A small-scale geometric print creates an allover chevron texture. Looking closer, you will see the chevron rhythm of the design is created by rows of stylized leaves that soften the geometry and lend an organic note to this modern graphic. | Modern sophistication defines this solid grey quilt set. Made from soft, silky microfiber, the quilt stitching creates the dimensional geometric diamond grid pattern, creating a subtle tonal effect that will add city-inspired style to you bedroom. | Add modern style to your bedding ensemble with the City Scene Leo Quilt Set. Prewashed for added softness, the solid white ground is broken up with geometric linework that adds style and dimension. |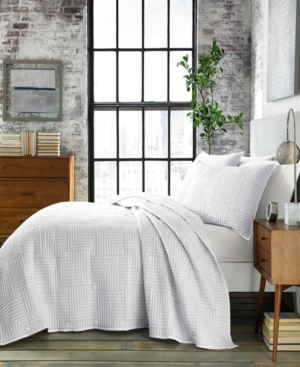 Maze King Quilt Set
Maze Full/Queen Quilt Set
Give your bedroom a simple yet stylish update with the City Scene Maze Quilt Set. Decked out in a unique Stitching pattern that resembles an intricate labyrinth, the refined bedding brings chic sophistication to any room's décor.
| | | |
| --- | --- | --- |
| | | |
| Crossview Bedding Collection | Norcross Bedding Collection | Fairwater Bedding Collection |
| Make an update on the rustic lodge style with the new Nautica Crossview plaid comforter set. This classic plaid is modernized with a fresh palette of navy's and white. The printed micro suede design is brushed leaving you with an ultra-soft feel. | Expand your horizons with this comfortable cotton yarn dye woven set in a modern awning stripe. Navy twill stripes alternate with warm linen-toned bands of irregular strié texture creating an inviting, relaxed look. | Be bold, go for stripes with Nautica;s Fairwater Bedding Collection in a soft, medium blue with woven textured stripes for instant impact. |
| | | |
| --- | --- | --- |
| | | |
| Bronwell Bedding Collection | Valmont Bedding Collection | Lansier Bedding Collection |
| A bold windowpane plaid gets a fresh new look woven with a soft, cozy waffle weave texture. A soothing neutral palette of pearl gray and white feels both classic and contemporary. Heathered yarns soften solid gray European shams and decorative pillows that have textural detailing such as geometric pleating, structural pin tucks, raw edges and embroidered stripes for subtle graphic accents. | Nautica is introducing the Valmont comforter set that is featuring a new play on stripes. Predominantly on a dark ground, the thin crisp black and white striping really calls the attention to this showstopper. | Elevate your bedding ensemble with the Lansier Stripe Duvet set. The all cotton duvet features a classic white and grey palette of stripes. This refreshingly modern ensemble is ultra soft and is sure to bring you a good night's sleep. |
Saybrook King Comforter Set
Saybrook Full/Queen Comforter Set
Rendon Comforter and Duvet Collection
Woodbine Comforter Bonus Set
A classic Nautical stripe is tranquil in a neutral palette inspired by the colors of a sandbar. The cotton twill weave ensures durability as well as comfort and the yarn dye palette of warm ivory, beige and an accent of mocha is both serene and stylish.
A Bold Engineered Stripe With A Printed Textural Effect Makes A Dramatic Statement In A Handsome Palette Of Deep Navy, Charcoal, And Grey On White With Black Accents. Engineered Standard Shams Are A Variation On The Same Theme, Creating A Dramatic Focal Point At The Head Of The Bed.
Create a calming environment with ease by adding the Nautica Woodbine Comforter bonus set to your bedroom. Inspired by stretches of sandy beaches, this set features a stripe design in a neutral beige with cool accent stripes of grey and clean white.
| | | |
| --- | --- | --- |
| | | |
| Seaford Full/Queen Comforter Set | Solid Reversible Comforter Set | Claridge King Comforter Set |
| Cozy up with the superior warmth of the Nautica Seaford bedding ensemble. The perfect addition for those cold winter nights, the ultra soft plush grey ombré comforter is sure to leave you wanting more. | Add the Nautica Solid Reversible Comforter set to your bedroom for a versatile look. This silky smooth microfiber ensemble is fully reversible featured in classic Nautica colorways that are sure to update any bedroom. | The Nautica jeans company collection reflects timeless style that is casual and relaxed. This hunter green and navy shirting stripe with ivory accents is printed on a durable cotton twill that is garment washed for ultimate softness and comfort. |
| | | |
| --- | --- | --- |
| | | |
| Bradford Comforter Set | Portsmouth Comforter Set | Keller Comforter Set |
| Give your bedroom a bold, colorful look with the Bradford Comforter Set from Nautica. This bed has an engineered color block stripe in a classic palette of navy, harbor, blue, red, and khaki separated by crisp white stripes. | A boldly scaled buffalo check in greys and beige takes an updated approach to a classic design. Printed on polyester microsuede, this set feels incredibly soft, combining the look and feel of sueded silk with the easy-care attributes of polyester. | Great for laying, or standing alone, the Nautica Keller Comforter set is sure to please. This ensemble features a blue/grey stripe with a heather effect and diamond quilting that adds extra dimension to the overall design. |
Longpoint Full/Queen Comforter Set
Pinecrest King Comforter Set
Pinecrest Full/Queen Comforter Set
Nautica Beachway 6-Piece Comforter Bonus Set
The navy and light blue banded stripes on this ensemble will perfectly update any dorm room or apartment. Convenient for students heading back to school, the comforter packaging doubles as a bonus laundry bag.
Make your bedroom as comfortable to live in as your favorite shirt and jeans with this inviting ensemble from the Nautica jeans company collection. The denim blue/charcoal color palette sets a relaxed casual mood and is garment washed for extra comfort.
Highlighting a beautiful watercolor combination of sea shells and coral, the Nautica beachway comforter bonus set is the perfect update to your beach house. This bonus set includes two decorative pillows for a complete bed in a bag look.
Sailor Duvet Cover Set
Eastbury Full/Queen Duvet Set
Eastbury King Duvet Cover Set
Locklear King Duvet Cover Set
Elevate the everyday with a signature yarn-dye stripe in a structured diamond matelassé weave that adds texture and visual interest to this classic Nautica style. A palette of navy and grey on a crisp white ground is softened by the yarn-dye mingling of threads and matelassé construction.
Rethink the basics with a timeless stripe from Nautica, printed on cotton and garment washed for the ultimate in softness and casual style. Navy, sailcloth, and royal blue stripes span a neutral harbor grey, evoking the colors of a misty seaside morning.
A light and airy palette of seafoam, pale blue and ivory brings the soothing colors of sea, sky, and sand right into your bedroom. This beautifully engineered stripe is enhanced with dobby pattern details within the weave that add textural interest.
Fairwater Cotton Duvet Set
Brighton Full/Queen Duvet Cover Set
Brighton King Comforter Set
Coleridge Stripe Charcoal Duvet Bonus Set
Create a calm, contemporary setting with the smooth-sailing style of this Fairwater duvet set from Nautica, featuring a soft ground woven with serene, subtly-textured stripes in beautiful shades of ivory and blue.
The Nautica Jeans company collection reflects timeless style that is casual and relaxed. The Brighton bedding collection features a red and blue plaid face which is printed on a durable cotton that is garment washed for ultimate softness and comfort.
This crisp cotton percale Nautica Coleridge bedding set features a classic shirting stripe print in charcoal gray on white. The minimal simplicity of this design lends a modern appeal that will add a fresh, tailored update to any bedroom. This Duvet bonus set also includes the Nautica Solid White sheets which features 100% cotton percale weave for a soft, and comfortable feel.
| | | |
| --- | --- | --- |
| | | |
| Galewood Quilt Set | Ardmoore Quilt Set | Clement Quilt Set |
| A bold, over scaled striping in a seaworthy palette of slate blue, charcoal gray, neutral and crisp white, creates a fresh, modern look that will complement any bedroom. | The Nautica ardmoore quilt set features a multi-stripe design combining solids, herringbone, pinstripe and ribbed sections, with a unique sensibility. Soothing gray tones are accented with bold black line work to create a dramatic contrast. | This classic plaid is printed in beautiful shades of neutral grays and beige. The patchwork is presented in squares of different plaid techniques combined with solid subtle textures. |
| | | |
| --- | --- | --- |
| | | |
| Saltmarsh Quilt Set | Gulf Shores Quilt Set | Holly Grove Quilt Set |
| The Saltmarsh all-cotton quilt set is pre-washed for extra softness and is trimmed with the same fabric as the quilt reverse. Additional horizontal channel quilting offers dimension and visual interest. | Horizontal channel quilting offers a ribbed dimension that adds visual interest and enhances comfort on the all-cotton smoky charcoal reversible quilt set | A basic block layout brings together solids and stripes for a tailored modern take on patchwork. The all-cotton quilt set is pre-washed for added softness. |
| | | |
| --- | --- | --- |
| | | |
| Coveside Quilt Set | Millbrook Quilt Collection | Tideway Quilt, Shams |
| Mimicking the serenity of calming water, the horizontal stripes on the coveside quilt set are printed in shades of blue, taking the deepest of blues to the reverse for a solid ground. | A classic plaid never goes out of style. The Millbrook Plaid Quilt set features a neutral grey plaid design that is sure to add serenity to your bedroom. The soft, pre-washed all cotton quilt reverses to a dark grey stripe pattern that also trims the edges of the quilt. | Get warmed up! The Tideway quilt by Nautica features a calming stream of pale blue, beige and grey hues on a white ground—innovative style for a classic bedding accessory. |
| | |
| --- | --- |
| | |
| Adelson Quilts | Hackberry Plaid King Quilt Set |
| Bring a casual, relaxed room to your room with the Adelson quilt from Nautica, crafted from pieced strips of soft cotton chambray and yarn dye plaids in a calming blue, grey and white tones and channel stitching detail. | The Nautica Hackberry Plaid Quilt Set features a plaid design in red and black. Completely reversible for a versatile look, this quilt set is the perfect addition to any guest or master bedroom. |
Go to:
Add Global Luxury to your favorites