Vacation Retreat and Island Style Bedding
Island style bedding for your personal resort. Luxury bed linens with the freshness of a coastal breeze. Invest in quality you can feel. For most, that's Egyptian cotton with a high thread count. Thread count is a measure of the threads per inch used to weave the fabric. The higher the T/C, the softer and silkier the touch. Egyptian cotton has a longer loop which makes it softer and more comfortable. Fabrics made in the US with longer loops are called Pima Cotton. Egyptian cotton bedding with a T/C up to 1020 is now available, with 200 to 600 more common. Go to: Resort Bedding, Blissliving Home, Oake Bedding Collections, Villa by Noble Excellence, Beekman 1802, Sparrow & Wren, Hudson Park Bedding Collections
| | | |
| --- | --- | --- |
| | | |
| Blissliving Home Lemala Bedding Collection | Blissliving Home Bellas Artes Bedding Collection | Blissliving Home Siesta Duvet Sets |
| Bring the outside indoors with the nature-inspired styling of the Lemala bedding collection from Blissliving Home, crafted with ultra-comfortable, 300-thread-count cotton finished with leaf prints and vibrant bird embroidery. | Bring your room to life with the luxurious 300-thread-count cotton and invigorating multicolored prints of the Bellas Artes bedding collection from Blissliving Home. Stylish decorative pillows rendered in vibrant tones create a serene space with a splash of color and texture. | Bring pure relaxation back into the bedroom with the 300-thread-count cotton sateen and weathered paint-stroke styling of these Siesta duvet sets from Blissliving Home. Featuring an allover patina print rendered in shades of blue and teal at the reverse, this bedding adds stylish versatility to suit your mood. |
| | | |
| --- | --- | --- |
| | | |
| Blissliving Home Kimbiya Bedding Collection | Blissliving Home Berber Textiles Duvet Sets | Blissliving HOME Madero Bedding |
| Take your bedroom's décor on an African safari with the style and comfort of the Kimbiya bedding collection from Blissliving Home, featuring a luxurious 300-thread count and a pieced design with a variety of wildlife-inspired prints. Put the finishing touches on your ensemble with coordinating decorative pillows. | Give any room a bold bedding makeover with the stunning geo patterns and soft, 300-thread-count cotton of these Berber Textiles duvet sets from Blissliving Home. | Taking inspiration from colorful Talavera tiles, Madero bedding features a patinaed print on 300-thread-count cotton sateen. Sets include duvet cover with floral medallion reverse and matching shams with embroidered detail. |
| | |
| --- | --- |
| | |
| Blissliving Home Bahia Palace Duvet Sets | Blissliving Home Harper Duvet Cover Set |
| Transform any room into a luxurious kingdom brimming with chic style and comfort with these Bahia Palace duvet sets from Blissliving Home, featuring soft ivory grounds embellished with rich burgundy florals and paisleys finished with gleaming, golden-metallic accents. | A Southwestern-inspired motif brings warm, casual-chic flair to the Harper duvet cover sets from Blissliving Home |
| | | |
| --- | --- | --- |
| | | |
| Sparrow & Wren Yarn Dye Stripe Bedding Collection | Sparrow & Wren Tufted Quilt Collection | Sparrow & Wren Soft Cotton Gauze Bedding Collection |
| A mix of yarn dye and menswear-inspired stripes across the duvet, shams and sheets lend a breezy, casual look to this soft cotton bedding collection by Sparrow & Wren | Get ready for an evening of comfort with Sparrow & Wren's tufted quilt and shams. The classic cross-stitched pattern across this collection's lofty quilts and shams lends a casual, homey feel to any room. | A classic stitched diamond pattern across the duvet cover and shams anchors this casual bedding collection by Sparrow & Wren, crafted in breezy cotton. Coordinating sheets in 200-thread count cotton percale complete the look with a menswear-inspired micro stripe pattern. |
Make your personal space a true escape. Coastal bedding that refreshes and renews your spirit.
| | | |
| --- | --- | --- |
| | | |
| Original Penguin Owen Striped Herringbone Comforter Mini Set | Original Penguin Flynn Gingham Comforter Mini Set | Bonnie and Neil Printed Duvet |
| Yarn-dyed striped face Coordinating solid reverse. Ultra-soft herringbone fabric | Overscale gingham pattern. Smaller-scale gingham reverse. Yarn-dyed woven fabric space-dyed for a relaxed, distressed look | Combining their backgrounds in design, floristry and art, Bonnie Ashley and Neil Downie create Australian-inspired pieces with vibrant motifs and bright patterns. Handcrafted in their Melbourne studio, their collections pair traditional printing methods with unique appliqués and details, resulting in stunningly original goods made to accent a happy home. |
| | | |
| --- | --- | --- |
| | | |
| J Queen New York Newport 4pc Bedding Collection | Croscill Montego Bay Comforter Sets | Dune 10-Pc. Comforter Sets |
| Transform your room into a beachfront bungalow with the peaceful tones and stylish stripes of the Newport bedding collection from J. Queen New York. | Transform any room into an oceanfront oasis of style and comfort with these Montego Bay comforter sets from Croscill, featuring beautiful seashell embroidery and a fresh nautical palette of clean ivories and crisp navy blues. | Put a clean, relaxing finish on your bedding ensemble with the delicate appliqué stripes and colorful accent pillows of these refreshing Dune comforter sets. |
| | |
| --- | --- |
| | |
| Hallmart Collectibles Lau 8-Pc. Tropical-Print Comforter Sets | Colette Reversible 8-Pc. Quilted Comforter Sets |
| Transform any room into your own personal paradise with the soft light blue ground and vibrant green-and-red tropical print of these Lau comforter sets from Hallmart Collectibles. The coordinating decorative pillows, shams and bedskirt add stylish depth and dimension to these bold ensembles and your bedroom. | Transform any room into a beautiful beachfront bungalow with these cozy Colette reversible comforter sets, featuring an ultra-soft quilted seashell design and relaxing tan and ivory tones |
| | | |
| --- | --- | --- |
| | | |
| "Charleston" Bed Linens | Belo White Duvet Covers and Pillow Shams | Puckered Diamond Bedding |
| Wake up your bed with this pretty paisley in swirls of cool, tranquil blue. | Crisp, cotton bedding with sophisticated detailing. Beautiful double flanges frame on all sides of duvet and shams, accented with subtle serged stitching for a clean and casual look. Duvet has bottom button closure; shams have overlap closure | Linens with tucked diamond pattern are made of cotton. Dry clean. Sheets are 400-thread-count Egyptian combed cotton percale with handmade trellis trim on flat sheet and pillowcases |
| | |
| --- | --- |
| | |
| JACEY ORGANIC DUVET COVER & SHAM | JAMIE STRIPE LINEN/COTTON DUVET COVER & SHAM |
| A floral inspired by an Indian palampore gets you summer ready with bold lines and a vibrant color palette. | Can you make a pattern as enduring as a stripe feel modern? Our designers answered the challenge with a mix of wide and narrow lines for a relaxing effect on this comfortable linen-blend bedding. |
ORGANIC SHELL-STITCH DUVET COVER & SHAM
REETA REVERSIBLE SATEEN COVERLET & SHAM
DEL MAR COASTAL DUVET COVER & SHAM
Soft organic cotton makes your white bed feel that much more fresh and welcoming. We finished this bedding with a touch of color in the embroidered edges. Our shimmery-smooth sateen bedding feels even more luxurious with a wide silk edge. Decorative quilting on the block-print-inspired pattern keeps your layers feeling light on summer nights.
There's nothing better during the summer than beach days and ocean breezes. Make a coastal style update to your bedroom with our hand-painted print at an amazing value.
| | |
| --- | --- |
| | |
| CLAIRE SCARF DUVET COVER & SHAM | SELENA PRINT DUVET COVER & SHAM |
| Patchwork has never looked so chic. We chose a few of our vintage-scarf-inspired prints and added bright color for the ultimate bohemian bed. The shams (sold separately) feature a complementary print for a complete, styled finish. | We took inspiration from the rich history of carved wood block prints in India for this intricately patterned bedding. It brings colorful global style to your home. |
| | | |
| --- | --- | --- |
| | | |
| Hudson Park Interlock Collection | Hudson Park Ombré Tile Collection | Hudson Park Bellance Collection |
| Hudson Park's Interlock bedding collection juxtaposes the rustic, casual feel of textured cotton jacquard against a traditional scroll motif for a completely modern look. A knit blanket and textured decorative pillows with touches of velvet and embroidery complete the collection. | Featuring a lustrous woven tile motif atop a fine ombré stripe ground, this contemporary collection by Hudson Park lends a tailored, sophisticated look to the bedroom. Rendered in soft blue tones, a pin-tucked quilted sham and decorative pillows add texture and depth. | Abstract tonal embroidery across the duvet cover and shams lends a lustrous touch and modern feel to this luxurious bedding collection by Hudson Park. The coordinating coverlet in a soft grey hue boasts linear quilting while decorative pillows add texture and shine with metallic embroidery and beading |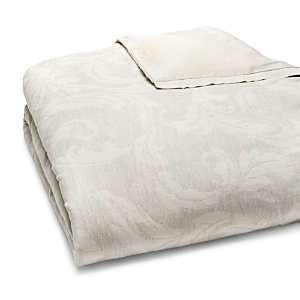 Hudson Park Natalya Collection
A touch of silky cashmere lends a soft hand to this cotton jacquard bedding collection by Hudson Park, featuring an elegant scroll motif in neutral tones. A box quilted coverlet and shams add an extra layer of cozy warmth
| | | |
| --- | --- | --- |
| | | |
| Oake Astor Bedding Collection | Oake Obsidian Collection | Oake Cambria Collection |
| Crafted in crisp cotton percale, the tailored stripe design of this Oake bedding collection extends the sophisticated menswear aesthetic to your home. | Featuring a retro take on a linear chevron print, this 400-thread count cotton bedding collection from Oake boasts a cool tonal color palette. | Rendered in soft, 400-thread count cotton, this sophisticated bedding collection from Oake features a patterned shadow foliage print in muted hues. A dip dye linen euro sham and decorative pillows add texture with pleating and embroidery. |
| | | |
| --- | --- | --- |
| | | |
| Oake Ombré Stripe Collection | Oake Sutton Duvet Cover | Oake Linen Collection |
| Featuring a layered mix of natural textures in neutral hues of tan and charcoal, this earthy bedding collection by Oake lends a casual feel to your bedroom. The duvet cover and shams offer a subtle woven stripe in a mix of natural linen and cotton, while the coordinating coverlet and quilted shams boast stitched pleats and honeycomb embroidery for an added touch of character | Embroidered atop an indigo herringbone cotton weave, vertical abstract stitching along the center of the duvet cover lends texture to this modern bedding collection by Oake | Soft and serene, this bedding collection by Oake features the natural texture of solid linen |
| | |
| --- | --- |
| | |
| Oake Grayson Collection | Oake Agate Collection |
| Diamond stitching across the duvet cover and shams of this soft cotton bedding collection by Oake lends subtle texture, complimenting the striped woven design in multi-tonal blue hues. | Inspired by the natural variations found in agate gemstones, this bedding collection by Oake features bands of gray tones across the duvet and shams. Euro shams and decorative pillows add subtle texture and dimension to the soothing color palette |
| | | |
| --- | --- | --- |
| | | |
| Beekman 1802 Esprance Collection | Beekman 1802 Lockport Collection | Beekman 1802 Marcellus Collection |
| A scattered flora and fauna print in soft earth tones lends a country-chic vibe to this cotton bedding collection by Beekman 1802. Striped sheets, ruffled shams and embroidered decorative pillows add subtle texture to complete the look | A contemporary take on a classic plaid, this Beekman 1802 bedding collection pairs an earthy color palette with a bold, oversized print. Embroidered pillows and vibrant euro shams add touches of color and texture | Rendered in muted earth tones, a country floral print grounds this rustic bedding collection by Beekman 1802. The duvet cover and shams add dimension with overscale embroidery and metallic touches |
Go to:
Add Global Luxury to your favorites