Fashion Sheets and Sheet Sets
Luxury bed linens with the freshness of a coastal breeze. Luxury bedding, Egyptian cotton with a high thread count. Thread count is a measure of the threads per inch used to weave the fabric. The higher the T/C, the softer and silkier the touch. Egyptian cotton has a longer loop which makes it softer and more comfortable. Fabrics made in the US with longer loops are called Pima Cotton. Egyptian cotton bedding with a T/C up to 1020 is now available, with 200 to 600 more common. Invest in quality you can feel. Select from silk, organic cotton and Egyptian cotton. Go to: Quality Solid Sheets, Fashion Bedding, Martha Stewart Sheets, Charter Club, Flannel and Fleece Sheet Sets
| | | |
| --- | --- | --- |
| | | |
| T-Shirt Jersey Sheet Set | Mirana Sheet Set | Lucky Icon Sheet Set |
| Complete set of sheets in cotton jersey that's soft as your favorite lived-in t-shirt! | 200 thread count. Screen-printed cotton percale. Machine wash | Soft-washed cotton sheet set with a modern icon print inspired by vintage flash tattoos. This all-you-need-set includes: pillowcases, flat and fitted sheets. |
| | | |
| --- | --- | --- |
| | | |
| Marble Sheet Set | Checker Sheet Set | Soft Mirror Dye Sheet Set |
| Complete sheet set available in sizes perfect for any bedding. Made from soft cotton and totally machine washable, this sheet set includes a flat sheet, fitted sheet and pillowcases. | Complete sheet set in a checkered print made from soft cotton that's totally machine washable. Each set includes a flat sheet, fitted sheet + pillowcases. | White cotton sheets get a soft touch of color with a subtle allover mirror dye. In a set that comes complete with a fitted sheet, flat sheet + pillowcases |
| | | |
| --- | --- | --- |
| | | |
| Amara Floral Sheet Set | Solid Sheet Set | Delicate Paisley Sheet Set |
| Complete sheet set in a vintage-inspired floral print, perfect for updating any duvet or comforter with. Includes a flat sheet, fitted sheet + pillowcases - all in soft, machine-washable 100% cotton! | Complete sheet set available in sizes perfect for any bedding - twin, full, queen and king. Made from soft cotton and totally machine washable, this sheet set includes a flat sheet, fitted sheet and pillowcases. | Complete sheet set available in sizes perfect for any bedding - twin XL, full, queen and king. Made from soft cotton and totally machine washable, this sheet set includes a flat sheet, fitted sheet and pillowcases. |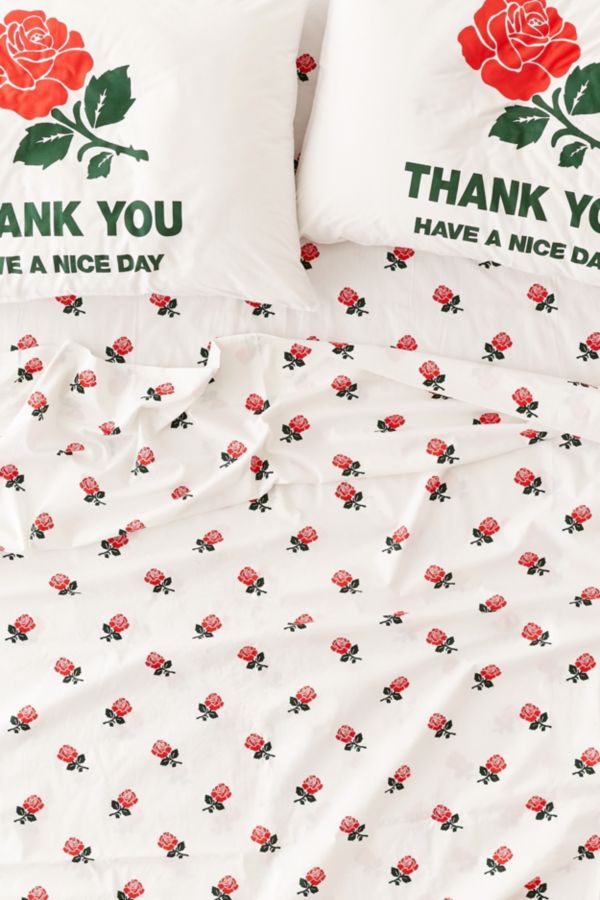 Chinatown Market For UO Roses Sheet Set
Lie in a bed full of bodega store roses with this complete sheet set from Chinatown Market's exclusive collaboration with UO! Each set includes a rose-printed flat sheet, rose-printed fitted sheet + solid pillowcases with oversized graphics at the front.
| | | |
| --- | --- | --- |
| | | |
| Gingerlily Silk Solid Sheets | Madison Park Essentials Satin 6-Pc. Sheet Set | slip Silk Pillowcases |
| Crafted in premium long strand 'A' grade mulberry silk, Gingerlily's luxurious bedding elevates your sleep experience. Naturally temperature-regulating and hypoallergenic, silk is gentle on hair and skin | Put a high-gloss finish on your bedding ensemble with the lustrous shine and silky satin of this Madison Park Essentials sheet set. | Slipsilk is so gentle on your hair, it allows your hairstyle or blow-dry to last overnight. Unlike cotton, which draws moisture from your face, hair and scalp, slipsilk breathes and is a natural temperature regulator. Slip uses the highest grade (6A) long-fibre mulberry silk, with a thickness of 22 momme and enforces the strictest quality guidelines, including non-toxic dyes. |
| | | |
| --- | --- | --- |
| | | |
| Oake 525TC Solid Sheet Set | Oake Linen Sheets | Oake Yarn Dye Sheet Set |
| Crafted in soft 525-thread count cotton sateen in a range of hues, these smooth sheets by Oake are an everyday indulgence | Soft and serene, this sheet collection by Oake is crafted in linen with a classic solid cuff on the flat sheet and pillowcases. | A yarn dying technique lends a subtle, tonal micro-stripe to these super soft, 525-thread count cotton sateen sheets by Oake, available in a range of muted hues to match any bedding ensemble |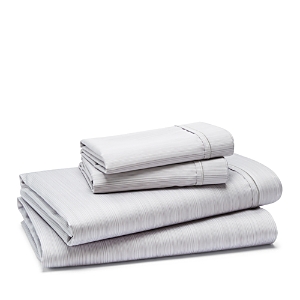 Oake Agate Sheet Set
Inspired by the natural variations found in an agate gemstone, these sheets by Oake feature a fine linear print in soothing gray tones. The flat sheet and pillowcases are finished with a classic baratta stitch.
| | | |
| --- | --- | --- |
| | | |
| Shavel Micro Flannel® Lace Sheet Sets | Shavel Micro Flannel Solid Sheet Sets | Shavel Micro Flannel Printed Sheet Sets |
| Crafted with warm Micro flannel® stylishly trimmed with delicate lace, these sheet sets from Shavel provide cozy comfort and warmth with an added touch of elegance. | This micro flannel solid sheet set keeps you warm and cozy for an extra comfortable feel. Luxuriously soft, micro flannel combines the best comfort features of high quality European cotton flannel with the easy care of fleece-without the bulk! | This micro flannel® printed sheet set keeps you warm and cozy for an extra comfortable feel. Luxuriously soft, micro flannel® combines the best comfort features of high quality European cotton flannel with the easy care of fleece--without the bulk! |
| | | |
| --- | --- | --- |
| | | |
| Woolrich Cotton Flannel Sheet Sets | True North by Sleep Philosophy Fleece Sheet Sets | Woolrich Cotton Flannel Sheet Sets |
| The Flannel Sheets from Woolrich will keep you warm and cozy all night long, while the all-cotton fabric, brushed on both sides, provides superior softness and easy care | Offering a luxurious alternative to classic flannel, this True North by Sleep Philosophy sheet set upgrades your bedding's style and comfort with super-soft and warm faux fleece. | The Flannel Sheets from Woolrich will keep you warm and cozy all night long, while the all-cotton fabric, brushed on both sides, provides superior softness and easy care |
Go to:
Add Global Luxury to your favorites