Global Dining Room Furniture
Casual dining tables and chairs for kitchens and dining rooms. Here is a wide range of options from Asia to the tropics in wood, bamboo and rattan. Go to: Island Style Dining Furniture, Dining Chairs, Animal Print Dining Chairs, Hand-carved Dining Furniture,
Casual island style dining room tables and chairs with textures that appeal to your senses from woven-rope to rattan and bamboo or even painted teak. If your kitchen or family room includes a counter or bar, go to bar stools for the matching style
| | | |
| --- | --- | --- |
| | | |
| Akina Dining Chair | Akina Live Edge Dining Table | Akina Live Edge Dining Bench |
| Channeling natural finishes for a rustic feel, this dining chair is inspired by vintage treasures. Fitted with a curving seat and slim, tapered dowel legs secured with support bars, topped with a woven back. Crafted from natural acacia wood with a live edge finish, the dining chair you receive will vary in hue, tone and grain pattern from what's pictured here. | Invitingly modern with rustic aesthetics, lend a fresh touch to your space with this live edge acacia wood dining table, featuring a slab top with two triangle block legs. Crafted from natural acacia wood with a live edge finish, the dining table you receive will vary in hue, tone and grain pattern from what's pictured here. | Rustic modernism lends a fresh touch to your space with this live edge acacia wood dining bench, featuring a slab top with two triangle block legs. Crafted from natural acacia wood with a live edge finish, the bench you receive will vary in hue, tone and grain pattern from what's pictured here. |
| | | |
| --- | --- | --- |
| | | |
| Selene Glass Dining Table | Selene Circle Storage Shelf | Selene Cantilever Dining Chair |
| Ultra-modern dining table, available exclusively at Urban Outfitters. featuring a glass top that showcases a curving, tubular metal base in a powder-coated finish that infuses your space with a sleek look we love. | A standout centerpiece for your space, this polished metal storage shelf exclusive to Urban Outfitters, features a round design topping a rectangular base, made from a tubular construction. Sleek and smooth, featuring four shelves for displaying ceramics, candles, books and so much more. | Cantilever construction dining chair exclusive to Urban Outfitters, featuring a powder-coated tubular metal frame that wraps around. Topped with slim, faux leather padding at seat and back |
Caroline Dining Chair
Caroline Hutch Storage Unit
Vera Pedestal Dining Table
Macramé Pendant Light
Classic, folk-inspired dining chair with a wooden frame and woven paneling at seat and back.
Store and display with this hutch unit, featuring a wooden frame with two pull-out drawers topped with metal glides, featuring woven paneling at the base, set underneath two shelves for curating an unforgettable display.
Modernist pedestal dining table featuring bold geometrics forming the base underneath a round tabletop. Top your space with a boho mood when you hang this macramé pendant light. Feature an intricately knotted design supported by a ring frame with a dome that casts beams of light through your space.
| | | |
| --- | --- | --- |
| | | |
| Havelock Chair | Wesley Console Table | Daphne Concrete Outdoor Dining Table |
| This timeless wooden seat is a classicist's answer to a dinner party perch. Its clean-lined shape showcases its natural grain, and its sleek brass joinery elevates its polished look. | Display console table featuring a metal frame with a super-sleek silhouette. Made with a trio of tiers, all with rounded edges and glass panes for storage + display. We love it for showcasing our favorite books, art pieces and speakers. | Industrial-modern dining table, crafted from concrete with a round tabletop set on a tapering pedestal base. Gives your space a sleek statement, perfect for framing colorful meals inside your space or out on your patio. |
| | | |
| --- | --- | --- |
| | | |
| Annaway Dining Table | Lulu Dining Table | Seaford Pedestal Dining Table |
| Inspired by a French bistro table, this glossy, marble-topped piece suits solo breakfasts and family gatherings alike. | Boho-femme dining table with a rattan base and round tabletop, featuring swirling strands accenting an apron edge, topped on bound multi-dowel legs with crisscrossing support beams. Retro-inspired dining chair that's so charming. Crafted from rattan with a looping frame, round seat and flared legs with bar rests. | A harmonious pairing of brass and marble pleases the eye on this feminine dining table - the base of which draws inspiration from a lush bouquet of flowers - as it echoes the tone of your room's most polished pieces. |
Astrid Dining Table
Astrid Dining Bench
Ria Oval Dining Table
Kellen Extendable Dining Table
Modernist dining table available exclusively at UO that offers your space graphic-cool appeal. Featuring a slatted tabletop with dual plank base accented by circle cutouts for an unexpectedly fresh detail. Pairs perfectly with the Astrid Dining Bench - sold separately.
Ovular dining table capturing a modern-meets-boho feel with a layered construction topping a caged pedestal base.
Minimalist rectangular dining table made from rubberwood in an oak finish. Flat tabletop extends with included leaf, set on an angular base.
| | | |
| --- | --- | --- |
| | | |
| Smoked Oak Dining Table | Devon Round Dining Table | Corbyn Dining Table |
| Hand-forged brass and wooden butterfly joinery is scattered across the surface of this elegant yet rustic dining shape. Each table is built by hand and utterly unique, with a natural live-edge top and a brass base that will develop a burnished patina over time. | A timeless choice for your dining room or breakfast nook, this table is crafted in France using solid oak and celebrates the unique grain pattern of its source tree. | Crafted with tapered legs, curved corners, and subtle hints of brushed brass, this midcentury-inspired piece lends a touch of casual charm to any dining room. |
Oak Profile Dining Table
Claire Desjardins Brushstroke Tamsin Dining Chair
Oak Osso Stool
Caspar Bench
Farmhouse Dining Chair
Solid in structure yet visually light as a feather, this oak-crafted dining table honors wood in its natural state through a refined, minimalist design. Whether placed in a dining room or eat-in kitchen, this piece provides a clean, reliable surface for family, guests, and day-to-day living. Featuring a serene ocean-inspired motif, this charming chair - designed by Claire Desjardins in collaboration with Anthropologie - brings a touch of color to your table.
Slatted rubberwood bench with a modernist feel, perfect for using as display and extra seating when all your pals are over. Featuring a slatted seat that extends past legs, with circle cutouts for a fresh take that lends geometric appeal to your space
Featuring a sleek grey marble top set upon a solid oak base, this dining room table offers a stunning, clean design for any style of home.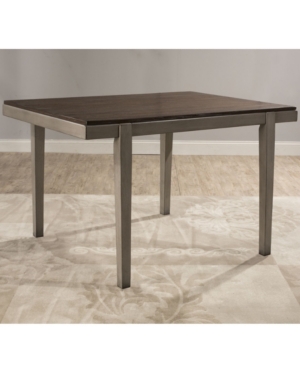 Garden Park Dining Table
Perfect for your small kitchen or dining room, Hillsdale Furniture's Garden Park dining table offers style to compact spaces. Inspired by a the timeless silhouette, this table breathes freshness with its matching gray and wire-brushed espresso hues.
Create your own style from an abundant choice of traditional and modern shapes.
| | | |
| --- | --- | --- |
| | | |
| Pari Rattan Chair, Neutral | Pari Rattan Chair, Charcoal | Pari Rattan Chair, Green |
| Formed from naturally durable rattan reeds, this curving chair nods to British colonial furniture, providing a sturdy addition to your living space that doesn't take up too much visual weight. Use it on a sunporch to soak up warmth or with a cushion and a throw during colder months. | Formed from naturally durable rattan reeds, this curving chair nods to British colonial furniture, providing a sturdy addition to your living space that doesn't take up too much visual weight. Use it on a sunporch to soak up warmth or with a cushion and a throw during colder months. | Formed from naturally durable rattan reeds, this curving chair nods to British colonial furniture, providing a sturdy addition to your living space that doesn't take up too much visual weight. Use it on a sunporch to soak up warmth or with a cushion and a throw during colder months. |
| | | |
| --- | --- | --- |
| | | |
| Ikat Medley Terai Folding Chair | Jimena Terai Folding Chair | Suren-Striped Terai Folding Chair |
| Upholstered in a charming, globally inspired motif, this boldly hued chair assures there's always room for one more. | Featuring a whimsical print in vividly bright hues, this statement-making seat assures there's always room for one more. | Featuring textured stripe upholstery in neutral hues, this statement-making seat assures there's always room for one more. |
| | |
| --- | --- |
| | |
| Chelsi Rattan Chair - Set Of 2 | Woven Cantilever Dining Chair |
| Channel the romantic vision of vintage bistro style with this set of 2 rattan chars. Made with a solid elm wood frame, featuring arching bars and curving legs with woven rattan panels bound at back + seat. | Boho-industrial cantilever chair with a tubular iron frame and basket woven rope covering along the seat and back. |
| | | |
| --- | --- | --- |
| | | |
| Tamsin Dining Chair, Mint | Tamsin Dining Chair, White | Sylvie Tamsin Dining Chair |
| American ash; painted finish. Bent wood seat construction. Chair is sealed with clear lacquer for easy cleaning; it protects against moisture, but should be maintained. All legs are removable | American ash; painted finish. Bent wood seat construction. Chair is sealed with clear lacquer for easy cleaning; it protects against moisture, but should be maintained. All legs are removable | American ash; painted finish. Bent wood seat construction. Chair is sealed with clear lacquer for easy cleaning; it protects against moisture, but should be maintained. All legs are removable |
| | | |
| --- | --- | --- |
| | | |
| Merida Tamsin Dining Chair | Solid Tamsin Dining Chair: Blush/Sage/Rust | Solid Tamsin Dining Chair, Black |
| Bent wood, iron. Bent wood seat construction. Chair is sealed with clear lacquer for easy cleaning; it protects against moisture, but should be maintained. Removable metal legs; gold finish | A curvilinear bent wood seat and iron legs offer a sleek, mixed-material silhouette that's perfect for a modern dining room or breakfast nook. | A curvilinear bent wood seat and iron legs offer a sleek, mixed-material silhouette that's perfect for a modern dining room or breakfast nook. |
| | | |
| --- | --- | --- |
| | | |
| Simon Faux Leather Dining Chair | Ruth Dining Chair Set, Green | Ruth Dining Chair Set, Black |
| With an ultra-sleek look paying homage to a mid-century modern design aesthetic, this dining chair features gently curving seat and back, upholstered with light cushioning and faux leather covering, topping a slim metal frame. | Set of 2 dining chairs in a sleek + modern design. Metal base with comfy padded seat - perfect for all your needs! | Set of 2 dining chairs in a sleek + modern design. Metal base with comfy padded seat - perfect for all your needs! |
| | | |
| --- | --- | --- |
| | | |
| Rosa Velvet Dining Chair | Becca Dining Chair | Modway Discern Pleated Back Upholstered Performance Velvet Dining Chair |
| UO-exclusive velvet dining chair in soft, luxe velvet with a modern armless shape we love. Trimmed with straight, lacquered legs to complete the look, place it around your table, at your desk or as an accent to any room. | Upholstered dining chair with integrated armrests and curved edges adorning the cushioned construction. Finished with skinny, tapered legs | Gently sloping arms cascade down from the flowing design of the Discern Dining Chair. Create a cozy seating experience with the stain-resistant performance pleated velvet and splayed brushed gold-tone legs of this versatile dining accent chair |
| | | |
| --- | --- | --- |
| | | |
| Daria Dining Chair | Robyn Dining Chair | Modway Privy Black Stainless Steel Upholstered Fabric Dining Chair |
| Softly upholstered armless dining chair with espresso finished tapered wood legs for a mid-century meets modern vibe around any table. Complete with a cushy seat and removable legs that make moving all the easier. | Bring mid-century mod lines to your space with this angular, cutout dining chair. Made with a polyester-upholstered seat and wooden tapered legs, featuring light cushioning, armrests and bold cutout construction at back. Put one in your living space or grab a few (sold separately) to use around your dining table. | Maximize your dining room decor with Privy. A glam deco kitchen dining chair, Privy features soft and durable fabric along with a sleek matte black stainless steel geometric base for a streamlined modern look |
| | | |
| --- | --- | --- |
| | | |
| Abner Chair | Abner Armchair | Emrys Armchair |
| An elegant, button-tufted back and wide seat make this minimal silhouette an ace for fine dining. | An elegant, button-tufted back and wide seat make this minimal silhouette an ace for fine dining. | Guarantee your guest the most stylish seat at the table with this elegant dining perch, which features your choice of upholstery on a minimalist wooden base. |
| | | |
| --- | --- | --- |
| | | |
| Emrys Chair | Emrys Bench | Modway Amish Dining Wood Armchair |
| Guarantee your guest the most stylish seat at the table with this elegant dining perch, which features your choice of upholstery on a minimalist wooden base. | Guarantee your guests the most stylish seats at the table with this elegant dining bench, which features your choice of upholstery on a minimalist wooden base. | Simple and stylish |
| | | |
| --- | --- | --- |
| | | |
| Hand-carved Menagerie Owl Dining Chair | Hand-carved Menagerie Woodpecker Dining Chair | Hand-carved Menagerie Deer Armchair |
| With fine design in mind, and wildlife as our muse, we've given the classic Chippendale chair a modern update. Each seat is meticulously hand-carved over the course of fourteen days, resulting in a woodland wonder that's a natural fit for your dining room. | With fine design in mind, and wildlife as our muse, we've given the classic Chippendale chair a modern update. Each seat is meticulously hand-carved over the course of fourteen days, resulting in a woodland wonder that's a natural fit for your dining room. | With fine design in mind, and wildlife as our muse, we've given the classic Chippendale chair a modern update. Each seat is meticulously hand-carved over the course of fourteen days, resulting in a woodland wonder that's a natural fit for your dining room. |
| | | |
| --- | --- | --- |
| | | |
| Lombok Buffet | Hand-carved Menagerie Buffet | Land & Sky Buffet |
| Hand-carved from solid mango wood, this elegant buffet is a true work of art. Its filigree-inspired cutouts create a breathable space for the contents of your buffet. | With fine design in mind, and wildlife as our muse, we've created an enchanting piece that's a natural fit for your dining room. Meticulously hand carved over the course of 30 days, it features stylized foliage and a bevy of woodland wanderers. | Artistic form meets literal function in this handcrafted poplar cabinet - knotted tree trunks and slender hooves serve as the legs of the piece. Hand-carved poplar |
| | | |
| --- | --- | --- |
| | | |
| Wallace Cane and Oak Sideboard | Paje Buffet | Walden Buffet |
| Exhibiting a beautiful display of caning, this sideboard offers a tactile sophistication that is both of the moment and a timeless representation of furniture design. | Hand carved from tropical hardwood, this buffet is finished in deep indigo for a classically refined design. | Showcasing the organic qualities of found Encino oak wood, this modern buffet features a low-profile, minimalist design that lets its natural grain take center stage. |
| | | |
| --- | --- | --- |
| | | |
| Daniella Buffet | Hand-carved Lombok Buffet, Natural | Hand-carved Lombok Buffet, Whitewash |
| Designed here at our home office in Philadelphia, PA, this beautiful collection showcases our signature whimsy and charm. With an all-over motif of brass inlay stems and mother-of-pearl blooms, it's intrinsically feminine and romantic - and it's a versatile storage piece that can serve as a home for dinnerware, sweaters, and more. | Hand-carved from tropical hardwood, this elegant buffet is a timeless work of art. The intricacy of its filigree-inspired cutouts create lively shadow play that's enhanced especially when placed near a sunny window and cast with natural light. | Hand-carved from tropical hardwood, this elegant buffet is a timeless work of art. The intricacy of its filigree-inspired cutouts create lively shadow play that's enhanced especially when placed near a sunny window and cast with natural light. |
| | | |
| --- | --- | --- |
| | | |
| Boro Star Sideboard | Hand-carved Lotus Sideboard | Agna Buffet |
| Inspired by Japanese patched indigo textiles known as boro, this stunning collection features hand-painted doors and textured iron accents that evoke the quality of volcanic rock. | Hand carved from tropical hardwood in the shape of delicate lotus flowers, this show-stopping storage piece has a cord escape and amble interior space - it's ideal for living room entertainment, but can be used as a dining room buffet, entryway catch-all, and more. | A traditional art form distinctive to Malian culture since the 12th century, bogolanfini, or more commonly known as African mudcloths, are handcrafted textiles made by stitching together cotton and dyeing them with fermented river mud and plants to achieve intricate, culturally significant patterns. Taking cues from these one-of-a-kind textiles, this buffet features hand-painted door fronts with a unique, geometric design that welcomes globally inspired artistry into your home. |
| | |
| --- | --- |
| | |
| Hand-carved Samuel Buffet | Hand-carved Samuel Cabinet |
| Carved completely by hand, this gorgeous piece is profoundly versatile: It makes an ideal bar cabinet, but also provides statement-making storage in any other room of your home. We're particularly taken with its exaggerated, geometric hardware, crafted from brass and embellished with pink or white agate for a glamorous finish. | Carved completely by hand, this gorgeous piece is profoundly versatile: It makes an ideal bar cabinet, but also provides statement-making storage in any other room of your home. We're particularly taken with its exaggerated, geometric hardware, crafted from brass and embellished with pink or white agate for a glamorous finish. |
| | |
| --- | --- |
| | |
| Hand-carved Samuel Buffet | Hand-carved Samuel Cabinet |
| Carved completely by hand, this gorgeous piece is profoundly versatile: It makes an ideal bar cabinet, but also provides statement-making storage in any other room of your home. We're particularly taken with its exaggerated, geometric hardware, crafted from brass and embellished with pink or white agate for a glamorous finish. | Carved completely by hand, this gorgeous piece is profoundly versatile: It makes an ideal bar cabinet, but also provides statement-making storage in any other room of your home. We're particularly taken with its exaggerated, geometric hardware, crafted from brass and embellished with pink or white agate for a glamorous finish. |
| | | |
| --- | --- | --- |
| | | |
| Daniella Buffet | Scroll Vine Inlay Buffet, Light Grey | Scroll Vine Inlay Buffet, Navy |
| Designed here at our home office in Philadelphia, PA, this beautiful collection showcases our signature whimsy and charm. With an all-over motif of brass inlay stems and mother-of-pearl blooms, it's intrinsically feminine and romantic - and it's a versatile storage piece that can serve as a home for dinnerware, sweaters, and more. | Featuring delicate foliage spirals crafted from hand-inlaid bone, this elegant buffet offers an intricately detailed aesthetic - a perfect statement for a dining room or living space. | Featuring delicate foliage spirals crafted from hand-inlaid bone, this elegant buffet offers an intricately detailed aesthetic - a perfect statement for a dining room or living space. |
Go to:
Add Global Luxury to your favorites