Effortless Fashion for Women
Relaxed dressing for the modern woman. Inspired by world travel and modern ease of dressing. On-the-go style for effortless chic. Go to: Dhruv Kapoor, MISA, Vineet Bahl, Hemant & Nandita, Pankaj & Nidhi, Hutch, Farm Rio, Amadi
Anna Sui
| | | |
| --- | --- | --- |
| | | |
| Alayna Sheer Babydoll Blouse | Starling Maxi Skirt | Anna Sui Lilou Tote Bag |
| We love tucking this romantic blouse into high-rise shorts for a polished warm-weather ensemble. | Here, a timelessly feminine silhouette is updated with an eye-catching mix of prints. Pair it with a knit tank and sandals for a polished ensemble you'll want to wear on repeat. | Leather. Foldover closure |
Founded in 2013, Dhruv Kapoor's eponymous label weaves empowerment, revolution, and transformation into every piece by juxtaposing design and attention to detail.
| | | |
| --- | --- | --- |
| | | |
| Leandra Blouse | Kimmi A-Line Midi Skirt | Arabella Patchwork Tunic |
| Style this boldly printed buttondown with tailored trousers or denim for an ensemble that's both easygoing and sweet. | With its fitted waist and a flared, full silhouette, the A-line skirt is a feminine staple for spring. | Featuring a patchwork of floral prints, this tunic is a sweet, spring-ready essential - just add sneakers, ankle boots, or flats. |
Mirabel Tiered Tunic
With an eye-catching floral print, this tiered tunic radiates effortless style - pair it with anything from crisp white sneakers to your favorite knee-high boots.
Worldly and feminine, MISA was founded by Shadi Askari-Farhat after years of travel and exploration of global trends. Whether she's venturing into new territory or incorporating inspiration from past adventures into her daily life, the MISA woman is all about the journey ahead.
| | | |
| --- | --- | --- |
| | | |
| MISA Etta Jumpsuit | Caricia Ruffled Mini Dress | Marion Ruffled Mini Skirt |
| Romantic florals and a breezy silhouette lend this jumpsuit plenty of feminine charm. | Featuring an abundance of dainty ruffles, this mini dress pairs perfectly with kitten heels or your favorite flats. | Ruffled and chic, this mini skirt puts a feminine twist on everyday ensembles. |
| | | |
| --- | --- | --- |
| | | |
| Ilyana Wrap Mini Dress | Sybil Blouse | Kristina Ruffled Maxi Skirt |
| Featuring a fresh floral print, this mini dress outfits perfectly with strappy sandals and a wide-brimmed hat. | Ruffled trim lends this topper an oh-so-romantic touch - pair it with crisp denim and flats for a chic, polished ensemble. | Adorned with tiers of decadent ruffles, this twirl-worthy skirt styles effortlessly with knit tanks and sandals. |
Free from defined structures or industry-based trends, Vineet Bahl designs are unconventionally beautiful. Woven by hand - never out of a mold - each design has been artfully crafted with the closest attention to style and detail. Embellished with textural elements, each garment and accessory celebrates an evolved sense of style with a fluid, easy construction.
| | |
| --- | --- |
| | |
| Edith Peasant Blouse | Darlene Blouse |
| The '70s-inspired peasant top remains a favorite for its blouson sleeves, which lend a soft, breezy quality and laidback air to any outfit. Balance its loose fit by tucking it into denim shorts or a high-waisted pair of pants. | We love pairing this bell-sleeved top with high-waisted trousers and flats - it's a look of easygoing elegance that suits for workdays and weekends alike. |
What began as a handful of goods at a local fashion fair booth has grown into one of Brazil's most recognizable labels for sun-soaked dressing. With vibrant colors, bold silhouettes, and feminine details embedded in every design, Farm Rio's cheerful creations are crafted with an exotic, toes-in-the-sand spirit that's simultaneously fashion-forward and vintage-inspired.
| | | |
| --- | --- | --- |
| | | |
| Farm Rio Gabriela Knit Maxi Skirt | Farm Rio Evie Romper | Farm Rio Eulalie Wide-Leg Jumpsuit |
| This season, punch up your color palette with an eye-catching maxi skirt. Bursting with palm fronds and floral motifs, this style is a must-have for warm-weather lounging. | Vibrant florals infuse this cheery romper with sweet, spring-ready charm. | With a wide-leg silhouette and a striking floral print, this jumpsuit brings a cheery feminine twist to your day. |
| | | |
| --- | --- | --- |
| | | |
| Farm Rio Tropique Embroidered Pants | Farm Rio Rachelle Wrap Blouse | Farm Rio Fiji Midi Skirt |
| Featuring embroidered flourishes and a tropical motif, these chic trousers infuse everyday ensembles with a dash of excitement and cheer. | Adorned with fabulous florals, this wrap top is a sweetly sophisticated affair. | This season, punch up your color palette with an eye-catching maxi skirt. Bursting with florals, this style is a must-have for poolside lounging or a night on the town. |
In 2010, New Yorker Daniel Soponaro launched Hutch, a contemporary womenswear brand recognized for garments that are equally easy and luxe. Emphasizing timeless sophistication over trend, the label's defined aesthetic showcases Soponaro's love of vibrant colors, conceptual prints and feminine tailoring in every made-for-you piece
| | | |
| --- | --- | --- |
| | | |
| Pietrina Wrap Maxi Dress | Hutch Saratoga Dress | Hutch Biscayne Dress |
| Polyester, spandex; polyester lining | A breezy wrap silhouette and bold botanical print make this maxi the perfect pick for any warm weather occasion. | A bold abstract pattern, ruffle skirt, and sleeves with subtle volume make a perfect combination for this flattering wrap dress. |
| | | |
| --- | --- | --- |
| | | |
| Bali Wrap Maxi Dress | Alfonsine Wrap Maxi Dress | Celina Wrap Maxi Dress |
| With its striking tropics-inspired print, this wrap dress is a wearable work of art - style it with anything from kitten heels to sandals. | With its striking geometric print, this wrap dress is a wearable work of art - style it with anything from kitten heels to sandals. | Polyester |
Founded by partners Nataline Ngo Amadi and Wahid Amadi in 2012, Amadi supports the Los Angeles community by designing and crafting their garments locally. Made using rich fabrics with easy care finishes, Amadi's effortless garments are for the well-traveled woman whose personal style exemplifies her easy-going, yet fashion-forward approach to clothing.
| | | |
| --- | --- | --- |
| | | |
| Estela Leopard Wide-Leg Pants | Bethany Flounced Tunic Dress | Emira Tie-Dye Romper |
| In a lively leopard print, these wide-leg pants deliver a breezy fit that's essential for warmer days. | Easygoing and chic, this flouncy tunic styles well with just about anything in your closet. | A warm-weather staple, the romper offers all the comfort of shorts with the styling ease of a dress - just add a denim jacket and sneakers for a breezy day out. |
| | | |
| --- | --- | --- |
| | | |
| Linen Utility Pants | Genoveva Tie-Front Jumpsuit | Seersucker Paperbag Pants |
| Designed with function and style in mind, these light-as-air linen pants are perfect for warm-weather adventures - just add sneakers and a buttondown. | In a spring-ready hue, this tie-front jumpsuit is a sleek, lightweight staple for weekend brunches and nights on the town. | A seersucker print infuses these trousers with Southern-inspired charm. |
Husband and wife Pankaj and Nidhi have been designing for their eponymous label for over a decade. While teaching at the National Institute of Fashion, the two discovered a shared vision for a line which celebrated authenticity and storytelling through fashion. The result was the award-winning Pankaj & Nidhi, a curated collection that approaches apparel from an imaginative, evolving perspective, yielding one-of-a-kind statement-makers every season.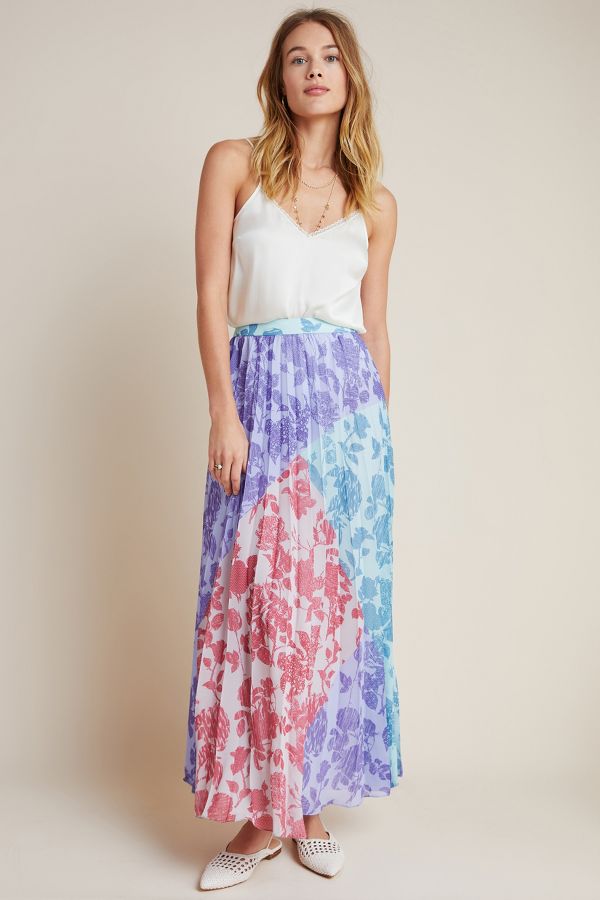 Violetta Pleated Maxi Skirt
Here, a timelessly feminine silhouette is updated with a mélange of floral motifs - pair it with a silky cami or a graphic tee for a romantic springtime ensemble.
Go to:
Add Global Luxury to your favorites