Effortless Fashion for Women
Relaxed dressing for the modern woman. Inspired by world travel and modern ease of dressing. On-the-go style for effortless chic. Go to: MISA, Anna Sui, Mynah Designs, Field Flower, Rachel Antonoff, Yumi Kim, Chantik, Farm Rio, Hei Hei, Marrakech, Rinku Dalamal, Pankaj & Nidhi, Lacusa
Worldly and feminine, MISA was founded by Shadi Askari-Farhat after years of travel and exploration of global trends. Whether she's venturing into new territory or incorporating inspiration from past adventures into her daily life, the MISA woman is all about the journey ahead.
What began as a handful of goods at a local fashion fair booth has grown into one of Brazil's most recognizable labels for sun-soaked dressing. With vibrant colors, bold silhouettes and feminine details embedded in every design, Farm Rio's cheerful creations are crafted with an exotic, toes-in-the-sand spirit that's simultaneously fashion-forward and vintage-inspired.
One of India's leading designers, Mynah Designs founder Reynu Taandon crafts alluring and feminine silhouettes using luxurious fabrics. With Indian dresses as the inspiration behind them, each and every Mynah design finds a delicate balance between what's traditional and what's trending, for a uniquely timeless collection meant to elevate any wardrobe.
Anna Sui's limitless energy and vibrancy finds an ideal outlet in her clothing, cosmetics and accessories. Informed by pop cultures of the past and present, each silhouette showcases the designer's creativity and exuberance through unique prints, textures and silhouettes. Always fresh, each of Anna Sui's collections is filled with statement-makers that bring art to life.
| | | |
| --- | --- | --- |
| | | |
| Evie Flower Pullover | Pearled Bow Pullover | Laced Bell-Sleeve Sweater Jacket |
| Cotton, acrylic, polyester, spandex, nylon, mohair, wool | Cotton, nylon, wool. Crew neck. Pearl embellishment | Wool, cotton, rayon, nylon |
| | |
| --- | --- |
| | |
| Floral Intarsia Car Coat | Chenille Mock Neck Pullover |
| The shortened length of a car coat offers endless versatility - consider it as a topper for skirts, jeans, or trousers. | This boxy pullover - stitched with rich chenille - adds a cool textural contrast when worn with slim jeans or a midi skirt. |
Infusing each stylish silhouette with verve and youthful quirk, Rachel Antonoff boldly announced her presence in the fashion world with her first womenswear collection. Unwaveringly eclectic in her own personal style, Antonoff designs garments that are free-spirited and chic - an instantly recognizable, statement-making combination.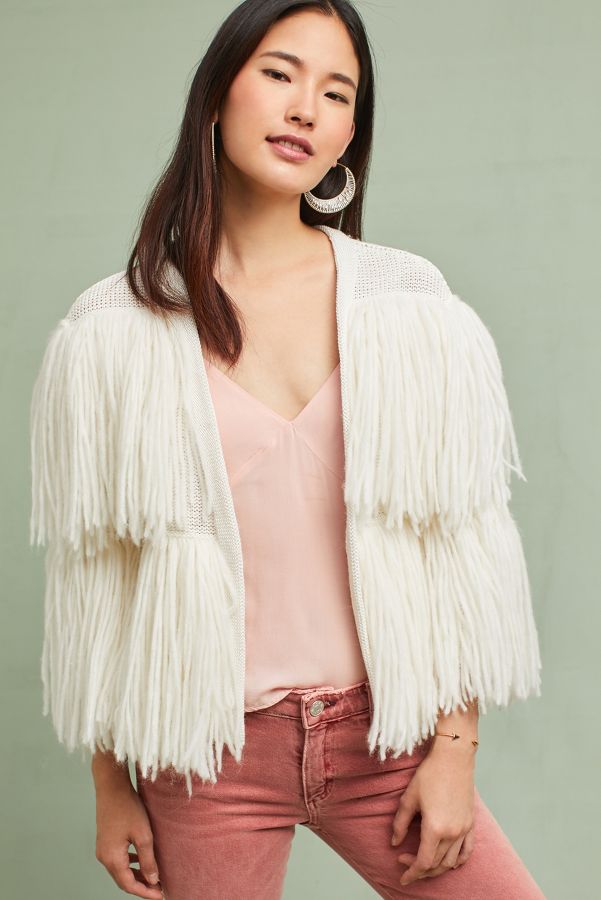 Cece Fringed Cardigan
Long fringe is threaded into this super-soft cardigan for a cozy, chic layer that's ready for the colder months.
After a brief stint in the music industry, designer Kim Phan returned to fashion in 2004 with the launch of Yumi Kim. With a focus on prints and silk, the line - which borrows its first name from Kim's pet Yorkie - is inspired by vintage silhouettes and city living.
Equal parts sophisticated and utilitarian, Hei Hei's garments—from jackets to pants to buttondowns—use heavy washing, abrasion and garment dyeing to create an of-the-world look that never fails.
Marrakech, Morocco is a city with a rich history of attracting artists from around the world. From musicians and actors to sculptors and poets, those who find a home there share a love of adventure and a penchant for romance, which has become the very essence of this desert metropolis. Marrakech clothing embodies this free, generous spirit, offering effortless and versatile silhouettes that tell a unique, ever-evolving story
| | |
| --- | --- |
| | |
| Grafica Skirt | Cato Dress |
| Polyester, spandex; rayon lining | Mixed prints - both contemporary and classic - glamorous silhouette that's ready for any event. |
Lacausa has a double meaning: it's a clever reference to its designers' home base - Los Angeles, California, USA - and an articulation of "la causa," Spanish for "the cause." All garments are crafted with a breezy, fuss-free sensibility under ethical, eco-conscious conditions
| | |
| --- | --- |
| | |
| Jacquard Satin Cami | Domenica Velvet Dress |
| This versatile cami can top everything from midi skirts and printed maxis to cropped jeans and track pants. | This velvet sheath features a painterly motif for a contemporary, artful silhouette. |
Go to:
Add Global Luxury to your favorites