Effortless Fashion for Women
Relaxed dressing for the modern woman. Inspired by world travel and modern ease of dressing. On-the-go style for effortless chic. Go to: Bishop + Young, Bel Kazan, Cecilia Prado, Farm Rio, dRA, Geisha Designs, Current Air
Erika Peña
Inspired by her Dominican upbringing and a lifelong passion for design, Erika Peña creates bohemian jewelry and apparel with vibrant, statement-making flair. Each piece from Peña's eponymous label is handcrafted with empowerment and femininity in mind - it's no wonder they've graced the pages of Harper's Bazaar, the New York Times, and beyond.
| | | |
| --- | --- | --- |
| | | |
| Erika Peña Ruffled Off-The-Shoulder Blouse | Erika Peña Vale Ruffled Maxi Dress | Erika Peña Sage Ruffled Maxi Dress |
| Feminine and chic, this shoulder-baring blouse delivers effortless sophistication for any summer fete. | From seaside strolls to backyard soirees, this maxi's decadent ruffles and fabulous fit make it a dreamy companion for just about any occasion. | Embrace summer sophistication with this enchanting maxi dress, where ethereal tiers and a flowy silhouette make for effortless seasonal style. Just add dainty jewelry and slides to let its dreamy details take center stage. |
| | | |
| --- | --- | --- |
| | | |
| Erika Peña Selma Belted Maxi Dress | Erika Peña Tiered Off-The-Shoulder Maxi Dress | Erika Pena Leopard Tiered Maxi Dress |
| This season, reveal and reflect your inner light by way of beautifully constructed garments. Here, a tiered silhouette and cut-out details make this neutral-hued dress a stand-out pick for special occasions. | Sweetly puffed sleeves and a shoulder-baring silhouette infuse this dress with easy-breezy sophistication. Pair it with strappy sandals and a sun hat for your next summer celebration. | Featuring a twirl-worthy silhouette and a lively leopard motif, this maxi dress delivers effortless sophistication for any summer soiree. |
| | | |
| --- | --- | --- |
| | | |
| Erika Peña Halter Maxi Dress | Erika Peña Sage Buttondown | Erika Peña Tiered Maxi Skirt |
| Featuring cascading tiers of cotton voile and an intricately strappy halter design, this maxi dress is a sophisticated choice for any autumnal soirée. Style it with gold jewelry and heels a for a look that is sure to turn heads. | Delivering a bohemian-inspired aesthetic in a time-tested silhouette, this buttondown brings breezy elegance to summer looks. | Light-as-air and playfully flounced, this maxi skirt delivers a bohemian-inspired aesthetic with a dreamy finish. It can be paired with a coordinating blouse or with any of your favorite tops for a breezy, undeniably elegant look. |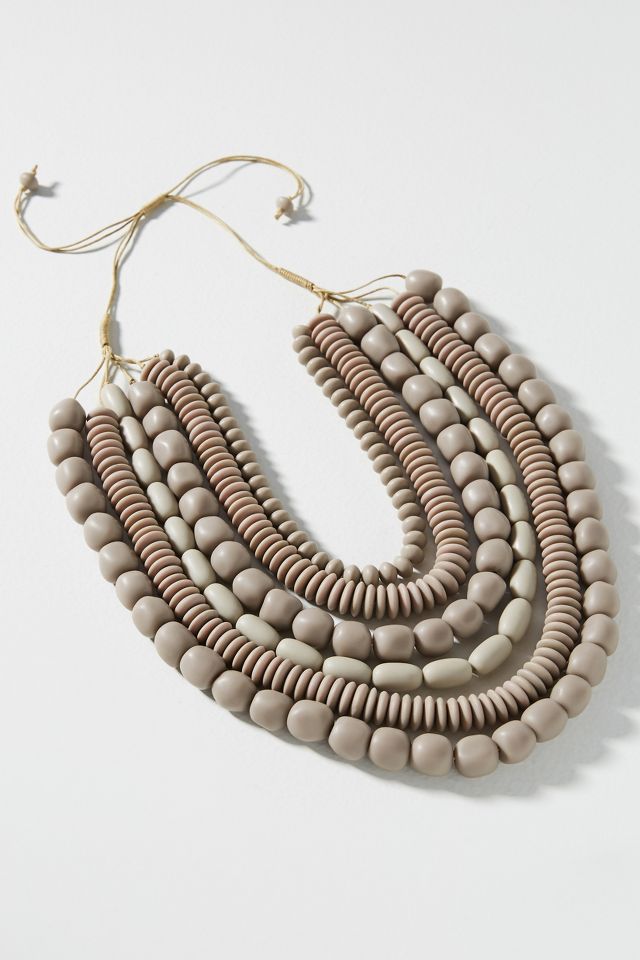 Laia Beaded Necklace
A perfect match for crisp buttondowns and flowing maxi dresses alike, this necklace imparts depth and dimension with its array of geometric, tonal beads.
Designed by and for women - such is the premise of Bishop + Young, a trend-forward brand that seamlessly blends contemporary elegance and classic details. With silhouettes that keep the needs of the modern woman in mind, Bishop + Young is as easy to wear as it is to love.
| | | |
| --- | --- | --- |
| | | |
| One-Shoulder Sweatshirt | Faux Leather Mini Dress | Paisley Jumpsuit |
| An elevated take on the classic sweatshirt, this one-shoulder wonder pairs perfectly with your go-to mini skirt and knee-high boots. | An essential for the season, this faux leather mini dress can be paired with ankle boots and a sleek bun for a tough-luxe look, or cozied up with an oversized sweater. | Viscose |
Vacationing in Bali, designer Belinda Kazanci became so enchanted with the vibrant, tropical culture that she quickly relocated to the island from her LA home. There, she crafts her stunning kimonos in an open-air factory, inspired by the lush Indonesian landscape that surrounds her. Her original patterns are hand-printed onto luxe, soft fabrics for a one-of-a-kind quality you're sure to love.
| | |
| --- | --- |
| | |
| Arches Jumpsuit | Kyra Kimono |
| Cotton, spandex | Vibrant, swirling hues and a sweeping silhouette make this kimono a statement-making addition to any outfit. |
With each striking silhouette, Cecilia Prado embraces femininity and texture through her unique approach to design. Using bold, statement fabrics in an array of flattering patterns, each garment infuses a contemporary design with traditional elements for a timeless look.
| | | |
| --- | --- | --- |
| | | |
| Sky Sweater Midi Dress | Blossom Mock Neck Sweater | Checkered Knit Midi Skirt |
| With an enchanting, wildlife-inspired motif and a so-soft knit finish, this midi dress lends sophistication and charm to your seasonal wardrobe. | With a statement-making motif and a so-soft knit finish, this sweater offers charm and cheer to breezy days and evenings. We love pairing it with high-waisted trousers and platform sneakers for a modern twist on time-tested style. | 80% viscose, 20% polyester |
What began as a handful of goods at a local fashion fair booth has grown into one of Brazil's most recognizable labels for sun-soaked dressing. With vibrant colors, bold silhouettes, and feminine details embedded in every design, Farm Rio's cheerful creations are crafted with an exotic, toes-in-the-sand spirit that's simultaneously fashion-forward and vintage-inspired.
| | | |
| --- | --- | --- |
| | | |
| Farm Rio Rainbow Leaves Midi Dress | Farm Rio Pineapple Mini Dress | Farm Rio Deep V-Neck Maxi Dress |
| Adorned with an abundance of fabulous rainbow blooms, this puff-sleeved number delivers sweetness and charm in one easy-to-style silhouette. | Bring a playful punch to your everyday routine with this tropically-inspired mini dress. | With an artful print and a structured silhouette, this maxi dress is a staple for the free spirit - just add barely there sandals for a sweetly elevated touch. |
| | |
| --- | --- |
| | |
| Floral Organdy Maxi Dress | Tiered Tulle Mini Dress |
| Accented with delicate embroidery and sequins, this maxi dress brings a little shimmer and shine to special occasions. | Featuring ruched touches and tiers of ethereal tulle, this mini rises to any seasonal occasion with its air of romance and mystery. |
| | | |
| --- | --- | --- |
| | | |
| Flounced Cut-Out Maxi Dress | Smocked Geo Mini Dress | Floral Maxi Skirt |
| A flouncy, colorblocked hem and cut-out detailing infuse this maxi dress with head-turning appeal. Style it with strappy sandals and a sun hat for effortlessly resort-ready style. | For the next occasion on your summer calendar, opt for this playfully printed mini dress - its low back and dainty silhouette offer statement-making elegance and charm. | Adorned with an abundance of painterly florals, this skirt ensures summer will be a season to treasure. Just add a cropped tank and sandals for celebrations and cocktails under the stars. |
| | | |
| --- | --- | --- |
| | | |
| Floral Shine Duster Kimono | Daisy Shine Cocoon Kimono | Chambray Wide-Leg Pants |
| An eye-catching floral motif decorates this kimono's breezy silhouette for a piece that infuses any outfit with a touch of bohemian-inspired flair. | Viscose | Breezy and bold, these chambray wide-legs deliver uncompromising seasonal style. Pair them with leather sandals and a bohemian-inspired top for the ultimate laidback look. |
| | | |
| --- | --- | --- |
| | | |
| Cinched V-Neck Blouse | Contrast Midi Skirt | Pleated Mini Dress |
| With a breezy blouse like this, summer love has never been sweeter. Style it with slim jeans and sandals for a look you'll want to wear on repeat. | Modern and classic at once, this skirt features contrasting prints with of-the-moment motifs. Style it with a one-shoulder tank for a celebratory affair, or a sweater tee for a preppy, polished ensemble. | Featuring contrast hues and a delicately pleated finish, this mini dress brings fancy-free sophistication to summertime picnics and soirees. |
At once youthful and mature, dRA blends the artful rebellion of cutting-edge design with the tailored elements of time-tested fashion for a line of versatile and feminine silhouettes. Founded by Diana Ra, the independent line offers a curated everyday collection.
Go to:
Add Global Luxury to your favorites