Effortless Fashion for Women
Relaxed dressing for the modern woman. Inspired by world travel and modern ease of dressing. On-the-go style for effortless chic. Go to: Let Me Be, Roopa Pemmaraju, Marrakech, Agua Bendita, Dhruv Kapoor, Vineet Bahl, Hemant & Nandita, Farm Rio, Amadi, Tanvi Kedia, dRA, Cleobella
Antik Batik
After studying French design in Paris, Gabriella Cortese opted for the road less traveled and left the fashion world for Tibet, where she discovered the art of batik. Her love of Eastern design techniques led to an exploration of bandhani and embroidery, and the creation of her collection, Antik Batik.
| | | |
| --- | --- | --- |
| | | |
| Ottoline Blouse | Ottoline Maxi Skirt | Madou Babydoll Blouse |
| Ruffled touches and an eye-catching motif make this blouse a sophisticated addition to your wardrobe. | This sweeping maxi brings boho-chic flair to your autumnal wardrobe - just add a cozy sweater and flats for a relaxed yet polished look. | Breezy balloon sleeves, contrasting floral prints, and quilted touches - the list of things to love about this blouse is endless |
| | |
| --- | --- |
| | |
| Amelia Embroidered Blouse | Sofia Embroidered Peasant Blouse |
| The epitome of bohemian style, this embroidered blouse is an effortlessly polished pick for the season. | An embroidered peasant blouse is a wonderful way to incorporate a feminine touch into comfortable, versatile styling - no matter the season. |
Combining feminine details with timeless silhouettes, Let Me Be's dreamy collection is crafted from the finest of fabrics and embellished with handcrafted beadwork and embroidery.
| | | |
| --- | --- | --- |
| | | |
| Amandine Maxi Dress | Rosamel Maxi Dress | Anisa Maxi Dress |
| The final word on florals? More is more. Pair this maxi dress with a felted hat and flats for a stunning ensemble that's sure to earn you compliments. | The peak of seasonal style, this maxi dress boasts bold abstract prints and a sweeping silhouette you'll love. | The peak of seasonal style, this maxi dress boasts a bold floral print and a sweeping silhouette you'll love. |
Marrakech, Morocco is a city with a rich history of attracting artists from around the world. From musicians and actors to sculptors and poets, those who find a home there share a love of adventure and a penchant for romance, which has become the very essence of this desert metropolis. Marrakech clothing embodies this free, generous spirit, offering effortless and versatile silhouettes that tell a unique, ever-evolving story
Founded in Colombia by Catalina Alvarez and Mariana Hinestroza, Agua Bendita was built on a passion for bold swimwear with a feminine edge. Featuring high-quality garments crafted by Colombia's finest female artisans, the label has achieved worldwide renown, campaigning with style icons such as Bar Refaeli, Irina Shayk, and Kendall Jenner.
What began as a handful of goods at a local fashion fair booth has grown into one of Brazil's most recognizable labels for sun-soaked dressing. With vibrant colors, bold silhouettes, and feminine details embedded in every design, Farm Rio's cheerful creations are crafted with an exotic, toes-in-the-sand spirit that's simultaneously fashion-forward and vintage-inspired.
| | | |
| --- | --- | --- |
| | | |
| Farm Rio Rayna Blouse | Farm Rio Valentina Dress | Farm Rio Ciela Midi Shirtdress |
| Viscose | Comfortable enough for everyday wear, this wrap-style dress is sure to be a go-to for weekend picnics and sunny day strolls. | We're loving this breezy shirtdress with crisp white tennis shoes or strappy platform wedges - it's a versatile staple for strolls through the park and dinners al fresco. |
Free from defined structures or industry-based trends, Vineet Bahl designs are unconventionally beautiful. Woven by hand - never out of a mold - each design has been artfully crafted with the closest attention to style and detail. Embellished with textural elements, each garment and accessory celebrates an evolved sense of style with a fluid, easy construction.
| | | |
| --- | --- | --- |
| | | |
| Arianna Tunic Dress | Eryka Blouse | Darlene Blouse |
| Viscose | Viscose; polyester lining | We love pairing this bell-sleeved top with high-waisted trousers and flats - it's a look of easygoing elegance that suits for workdays and weekends alike. |
Husband-and-wife duo Angela and Jim left their California home and embarked on a year-long trip seeking adventure. What they found was their life's mission - to design exquisite, unlike-anywhere-else accessories crafted by Balinese artisans. Cleobella, named after Angela's mother, is a sophisticated yet delightful collection of handmade goods woven from fine leathers, recycled materials, and fabrics acquired from local Indonesian markets.
Founded by partners Nataline Ngo Amadi and Wahid Amadi in 2012, Amadi supports the Los Angeles community by designing and crafting their garments locally. Made using rich fabrics with easy care finishes, Amadi's effortless garments are for the well-traveled woman whose personal style exemplifies her easy-going, yet fashion-forward approach to clothing.
Drawn to the monuments and colors she encountered on a trip to Jodhpur, Tanvi Kedia launched her first eponymous collection in 2007. Experimental in nature - think vintage textiles and Indian embroideries - her pieces are always colorful, textural and well-crafted, whether shown on the runway or spotted in a Bollywood film.
At once youthful and mature, dRA blends the artful rebellion of cutting-edge design with the tailored elements of time-tested fashion for a line of versatile and feminine silhouettes. Founded by Diana Ra, the independent line offers a curated everyday collection.
Founded in 2013, Dhruv Kapoor's eponymous label weaves empowerment, revolution, and transformation into every piece by juxtaposing design and attention to detail.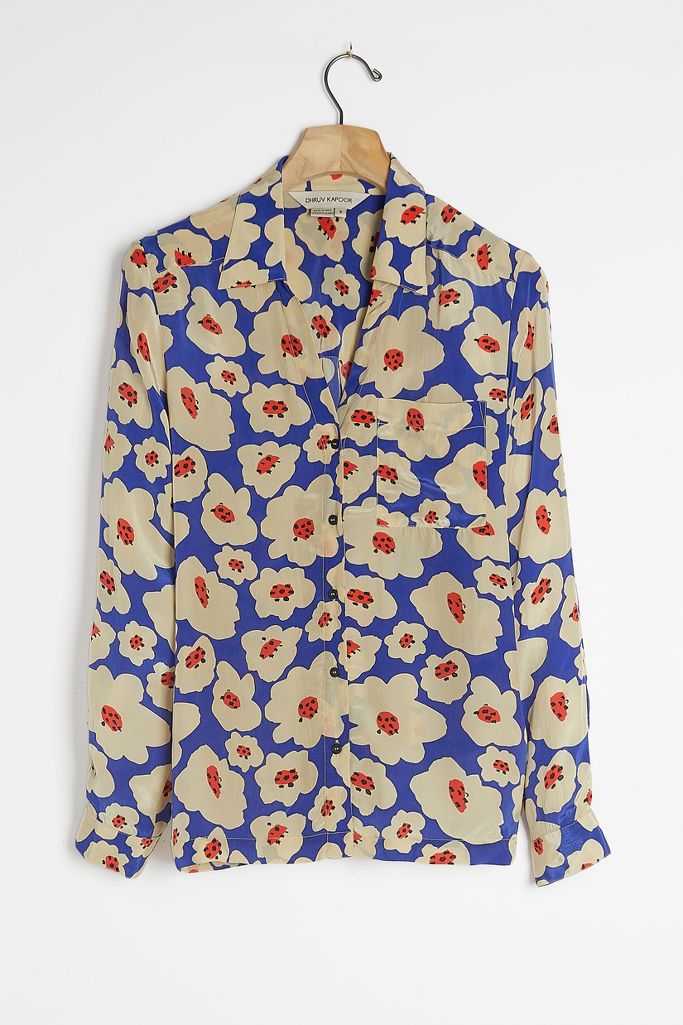 Brenna Buttondown
Vibrant florals infuse this buttondown with dreamy, eye-catching flair.
Go to:
Add Global Luxury to your favorites