Effortless Fashion for Women
Relaxed dressing for the modern woman. Inspired by world travel and modern ease of dressing. On-the-go style for effortless chic. Go to: Steele, Hemant & Nandita, Pankaj & Nidhi, The Odells, MISA, Marrakech, Hutch, Farm Rio
Antik Batik
After studying French design in Paris, Gabriella Cortese opted for the road less traveled and left the fashion world for Tibet, where she discovered the art of batik. Her love of Eastern design techniques led to an exploration of bandhani and embroidery, and the creation of her collection, Antik Batik.
| | | |
| --- | --- | --- |
| | | |
| Antik Batik Janey Shirt | Antik Batik Lilou Maxi Dress | Antik Batik Betsie Tapered Pants |
| Embroidered and beaded with care, this blouse makes a stunning statement for any occasion. | Beaded by hand, this maxi dress adds bohemian flair to all your special occasions | This season forgo the expected frock for tailored trousers, like the ornately printed ones seen here. Versatile enough for special occasions and everyday wear, they're a statement-making pair you'll reach for again and again. |
Set on building a wardrobe for the modern boheme, designer Jessica Reid created Steele, the Australian label that fuses confidently pretty details with a modern, relaxed edge. Focusing on textural elements and soft silhouettes, she crafts fundamentally feminine pieces that are casual luxuries worth treasuring.
| | | |
| --- | --- | --- |
| | | |
| Viola Eyelet Maxi Dress | Pinones Striped Dress | Marcel Wrap Dress |
| Cotton; cotton lining | Nothing is more classic than the striped dress - outfit with an oversized straw hat and sandals for a nod to the nautical. | Flattering and comfortable enough for everyday wear, this waist-defining wrap dress is an ideal statement for special occasions and last-minute getaways. |
What began as a handful of goods at a local fashion fair booth has grown into one of Brazil's most recognizable labels for sun-soaked dressing. With vibrant colors, bold silhouettes, and feminine details embedded in every design, Farm Rio's cheerful creations are crafted with an exotic, toes-in-the-sand spirit that's simultaneously fashion-forward and vintage-inspired.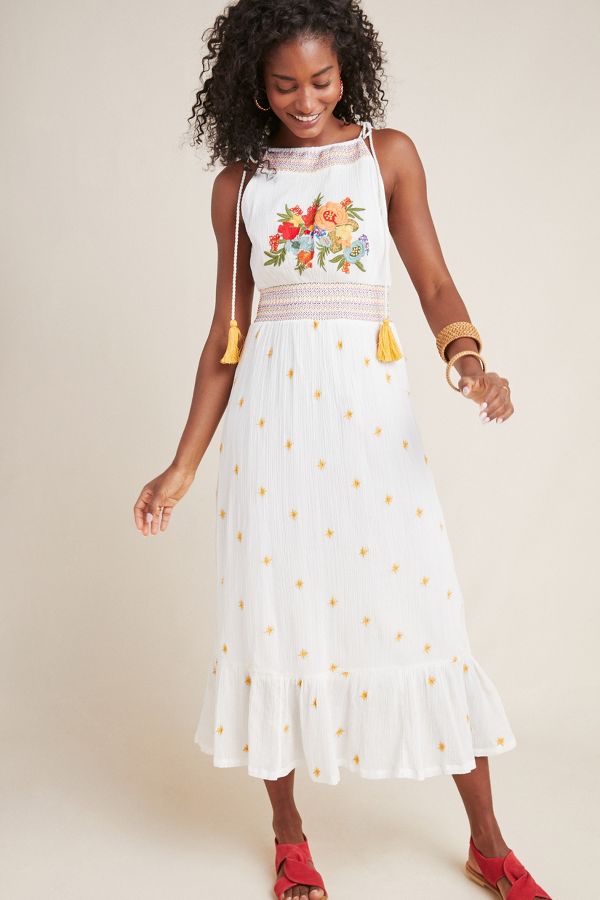 Farm Rio Bloom Maxi Dress
Our go-to for soirees and special occasions this spring? A slimming slip dress, with vibrantly embroidered details that match the joyful mood of the season
Marrakech, Morocco is a city with a rich history of attracting artists from around the world. From musicians and actors to sculptors and poets, those who find a home there share a love of adventure and a penchant for romance, which has become the very essence of this desert metropolis. Marrakech clothing embodies this free, generous spirit, offering effortless and versatile silhouettes that tell a unique, ever-evolving story
| | | |
| --- | --- | --- |
| | | |
| Marrakech Travel Joggers | Marrakech Draped Jacket | Freewheeling Jacket |
| Cupro is the best of both worlds: It has the breathability of cotton with a soft, silk-like feel. Draping elegantly, the material is also washable and resistant to wrinkles - making it the easiest packing essential and an unfailing travel companion. Pair these joggers with a neutral tee and blazer for a classic take on a comfy favorite. | Featuring a draped front that softens any outfit, this soft cupro jacket compliments any style, occasion, or look. | In a neutral hue, this jacket compliments every outfit. |
Designed to be effortlessly versatile, each sun-washed staple from The Odells embodies the laidback lifestyle of their Los Angeles home.
| | | |
| --- | --- | --- |
| | | |
| Phaedra Joggers | Ink Wide-Leg Jumpsuit | Relaxed Skater Shorts |
| The effortless ease of these indigo joggers makes them endlessly appealing; we're also in love with their lively block print. | One-and-done outfitting has never been breezier than with this cozy-chic jumpsuit from The Odells. Tie on your favorite sneakers to tackle errands and adventures; swap in strappy sandals or espadrilles to dress for dinner downtown. | Whether they're dressed up with platform sandals and a poplin blouse, or casually paired with a tucked-in, well-worn tee, these skirt-y shorts are the easiest way to ensure you're cool and chic all summer long. |
Worldly and feminine, MISA was founded by Shadi Askari-Farhat after years of travel and exploration of global trends. Whether she's venturing into new territory or incorporating inspiration from past adventures into her daily life, the MISA woman is all about the journey ahead.
In 2010, New Yorker Daniel Soponaro launched Hutch, a contemporary womenswear brand recognized for garments that are equally easy and luxe. Emphasizing timeless sophistication over trend, the label's defined aesthetic showcases Soponaro's love of vibrant colors, conceptual prints and feminine tailoring in every made-for-you piece
| | | |
| --- | --- | --- |
| | | |
| Satin Blouse | Harper Floral Wrap Dress | Allison Gingham Wrap Dress |
| Polyester | Swoon-worthy hues, fabulous florals, and a classic wrap silhouette - this maxi dress has everything you need to make a head-turning entrance. | Few prints are more classic for spring and summer than gingham. In a figure-flattering rendition, this wrap dress has us daydreaming of picnics and beach getaways. |
| | | |
| --- | --- | --- |
| | | |
| Serpentine Pencil Skirt | Melissa Leopard Blouse | Seersucker Jumpsuit |
| We love snake print for its quintessential rock '??n'?? roll feel and its ability to make a serious statement while remaining decidedly neutral. From classic brown to exotic greens and yellows, the serpentine pattern looks best when paired with a contrasting texture - think leather, silk, or denim. | Polyester | Traditionally striped in blue and white, a seersucker print imbues a southern-inspired charm to this jumpsuit. |
Husband and wife Pankaj and Nidhi have been designing for their eponymous label for over a decade. While teaching at the National Institute of Fashion, the two discovered a shared vision for a line which celebrated authenticity and storytelling through fashion. The result was the award-winning Pankaj & Nidhi, a curated collection that approaches apparel from an imaginative, evolving perspective, yielding one-of-a-kind statement-makers every season.
Go to:
Add Global Luxury to your favorites