Effortless Fashion for Women
Relaxed dressing for the modern woman. Inspired by world travel and modern ease of dressing. On-the-go style for effortless chic. Go to: Anna Sui, Steele, Hemant & Nandita, Pankaj & Nidhi, The Odells, Marrakech, Hutch, Farm Rio, Moth
White + Warren
Boasting a range of everyday luxury pieces stated in custom hues, specialty fibers and lavish textures, White + Warren create innovative cashmere knitwear in both classic and contemporary silhouettes. Their modern approach to creating richly soft essentials have earned them an adoring fan base and a reputation as NYC's connoisseurs of cozy.
| | | |
| --- | --- | --- |
| | | |
| White + Warren Long Cashmere Gloves | White + Warren Cashmere Beanie | White + Warren Zebra Cashmere Beanie |
| Cashmere gloves are an essential part of any winter wardrobe - and this matches-with-everything set includes space to slip your thumbs and index fingers out to use your phone, retrieve your keys, and more. Simple, elegant, and endlessly useful, these gloves make an excellent gift for someone special. | A plush beanie is an essential part of any winter wardrobe - and this luxe cashmere topper makes an excellent gift, too. | Crafted from soft, endlessly cozy cashmere, this zebra-striped topper is a luxe essential. |
| | | |
| --- | --- | --- |
| | | |
| White + Warren Striped Cashmere Sweater | White + Warren Zebra Cashmere Sweater | White + Warren V-Neck Cashmere Poncho |
| Playful and polished at once, this super-soft cashmere sweater features boldly-hued stripes for an au-courant twist. | Featuring an au-courant zebra print, this luxe cashmere sweater is a style you'll cherish for years to come. | Crafted from ultra-luxe cashmere, this endlessly cozy layer tops tailored trousers, daily denim, and swingy skirts alike. Travel in your future? Simply tuck it into your carry-on and throw it on as needed for effortlessly sophisticated style. |
Husband and wife Pankaj and Nidhi have been designing for their eponymous label for over a decade. While teaching at the National Institute of Fashion, the two discovered a shared vision for a line which celebrated authenticity and storytelling through fashion. The result was the award-winning Pankaj & Nidhi, a curated collection that approaches apparel from an imaginative, evolving perspective, yielding one-of-a-kind statement-makers every season.
Anna Sui's limitless energy and vibrance finds an ideal outlet in her clothing, cosmetics and accessories. Informed by pop cultures of the past and present, each silhouette showcases the designer's creativity and exuberance through unique prints, textures and silhouettes. Always fresh, each of Anna Sui's collections is filled with statement-makers that bring art to life.
| | | |
| --- | --- | --- |
| | | |
| Anna Sui Linnea Dress | Anna Sui Petunia Ruffled Chiffon Skirt | Anna Sui Alice Plaid Sequin Pencil Skirt |
| A relaxed fit and chic midi hemline bring a fashion-forward edge to this sequined shift, finished with a motif of birds and botanicals. | Ruffles and color aren't just for spring - embrace the coming of cooler months in statement skirt. Pair it with your favorite boots and leather jacket for a chic autumn look, or dress it up for a formal occasion. | Featuring shimmering sequins and a sleek silhouette elongated with rickrack ribbon embellishment, this plaid skirt is a sophisticated staple for your autumn wardrobe. |
Set on building a wardrobe for the modern boheme, designer Jessica Reid created Steele, the Australian label that fuses confidently pretty details with a modern, relaxed edge. Focusing on textural elements and soft silhouettes, she crafts fundamentally feminine pieces that are casual luxuries worth treasuring.
| | | |
| --- | --- | --- |
| | | |
| Laurelyn Sheer Peasant Blouse | Maya Floral Midi Dress | Lidy Shirtdress |
| With a sheer, billowy silhouette, this peasant top has a carefree air about it - making it the perfect flattering staple for any wardrobe. | Elegant florals and a sweeping silhouette imbue this maxi dress with feminine charm. | Stylish, versatile, and oh-so-comfortable, this shirtdress is the definition of a seasonal staple. |
What began as a handful of goods at a local fashion fair booth has grown into one of Brazil's most recognizable labels for sun-soaked dressing. With vibrant colors, bold silhouettes, and feminine details embedded in every design, Farm Rio's cheerful creations are crafted with an exotic, toes-in-the-sand spirit that's simultaneously fashion-forward and vintage-inspired.
| | | |
| --- | --- | --- |
| | | |
| Farm Rio Gracia Wrap Maxi Dress | Farm Rio Emerald Maxi Dress | Farm Rio Cordoba Wrap Maxi Skirt |
| A floral wrap dress is the ultimate day-to-evening piece - swap out your flats for barely-there heels to achieve a more elevated effect. | A floral maxi dress is the ultimate day-to-evening piece - swap out sandals for barely-there heels to achieve a more elevated effect. | Blending floral and abstract motifs, this wrap-style skirt is the perfect day-to-evening piece - swap out your flats for ankle boots or heels to achieve a more elevated effect. |
Marrakech, Morocco is a city with a rich history of attracting artists from around the world. From musicians and actors to sculptors and poets, those who find a home there share a love of adventure and a penchant for romance, which has become the very essence of this desert metropolis. Marrakech clothing embodies this free, generous spirit, offering effortless and versatile silhouettes that tell a unique, ever-evolving story
| | | |
| --- | --- | --- |
| | | |
| Marrakech Reversible Moto Jacket | Marrakech French Terry Jacket | Marrakech Moto Vest |
| When it comes to creamy-soft faux suede and the dreamiest of fleeces, why pick just one? This reversible coat gives you the best of both worlds, offering versatility in its coziest, most fashion-forward form. | Travel light while staying chic via this jacket. In neutral tones, it mixes and matches with everything else on your summer packing list. | Polyester, cotton, spandex; cotton lining |
Designed to be effortlessly versatile, each sun-washed staple from The Odells embodies the laidback lifestyle of their Los Angeles home.
| | | |
| --- | --- | --- |
| | | |
| Della Buttondown | Eloise Abstract Blouse | Genevieve Lace Top |
| A playful print motif makes this buttondown an elevated, wear-anywhere classic. | With its striking geometric print, this blouse is a wearable work of art - just add a pair of go-to trousers and loafers for an ensemble that's playful and professional at once. | Romantic lace makes this dusky-hued topper an elegant affair. |
| | | |
| --- | --- | --- |
| | | |
| Machina Utility Jumpsuit | Lisetta Joggers | Alistair Textured Coat |
| With cargo pockets and a flattering cinch at the waist, this jumpsuit brings your wardrobe a dash of workwear-inflected charm. | These joggers feature an elegant, neutral-toned print for an elevated take on a relaxed silhouette. | A stylish coat is the centerpiece of any cold-weather wardrobe. Dressy enough to top festive dresses, yet practical enough to wear all week, this textured version will earn plenty of compliments. |
| | | |
| --- | --- | --- |
| | | |
| Eden Mini Dress | Luna Boat Neck Blouse | Alisha Geometric Striped Blouse |
| Pair this sophisticated mini dress with flats or low heels for a look that's ideal for workdays and weekends alike. | Cotton, polyester | Featuring a subtle yet charming embroidered "x" detail on the neckline, this modern geometric blouse is a personality piece for your wardrobe. |
| | |
| --- | --- |
| | |
| Marjorie Geo Midi Dress | Cairo Plaid Coat |
| Liven up your wardrobe by donning a bold geometric print, like the one seen on this flattering midi dress. | Bold plaid - accented by an array of subtle rainbow stripes - makes this cozy topper a must-have as the weather cools. |
In 2010, New Yorker Daniel Soponaro launched Hutch, a contemporary womenswear brand recognized for garments that are equally easy and luxe. Emphasizing timeless sophistication over trend, the label's defined aesthetic showcases Soponaro's love of vibrant colors, conceptual prints and feminine tailoring in every made-for-you piece
| | | |
| --- | --- | --- |
| | | |
| Kat Textured Trench Coat | Marianne Coat | Rosario Maxi Dress |
| Make a stunning statement amid the grey days of winter with this delightfully textured coat. | A stylish coat is the centerpiece of any cold-weather wardrobe. Dressy enough to top festive dresses, yet practical enough to wear all week, this cozy floral version will earn plenty of compliments. | A plunging neckline, a shimmering jacquard finish, a sweeping maxi silhouette - the list of things to love about this dress is endless. |
| | | |
| --- | --- | --- |
| | | |
| Alma Corduroy Velvet Mini Skirt | Radley Abstract Wide-Leg Jumpsuit | Candace Jacquard Lace Mini Dress |
| Corduroy and velvet come together in this midi skirt for a modern, versatile take on cool-weather styling. | This versatile jumpsuit combines a bold abstract print with a contemporary wide-leg silhouette, creating a memorable - and party-ready - ensemble. | Creating the illusion of a two-piece ensemble, this lace dress lends a romantic twist to special occasions - simply pair it with bold earrings and your favorite heeled sandals. |
| | | |
| --- | --- | --- |
| | | |
| Rashida Colorblocked Midi Wrap Dress | Blaise Wrap Mini Dress | Annika Floral Jumpsuit |
| Inspired by the abstract, geometric work of Dutch painter Piet Mondrian, Yves St. Laurent introduced sartorial colorblocking with his iconic Mondrian Collection. Today, the trend extends beyond neutrals and primary colors to an infinite array of bold combinations - like the rosy pink and crimson red seen on this dress. | An au-courant wrap silhouette makes this dress perfect for any occasion - pair it with your favorite heels for a truly head-turning ensemble. | A printed jumpsuit is an all-in-one packing wonder - it frees up your carry-on and saves time spent outfitting. Simply add earrings and a clutch for an event-ready look. |
| | | |
| --- | --- | --- |
| | | |
| Monaco Wrapped Floral Maxi Dress | Serpentine Ruffled Midi Wrap Dress | Kapari Wrap Dress |
| A sweeping maxi silhouette makes this floral dress perfect for any occasion - pair it with your boldest heels for a truly head-turning ensemble. | Tiers upon tiers of delicately fluttering ruffles lend this oh-so-flattering wrap dress a polished finish. | An artistic marbled print lends this ever-so-flattering wrap dress a memorable finish. |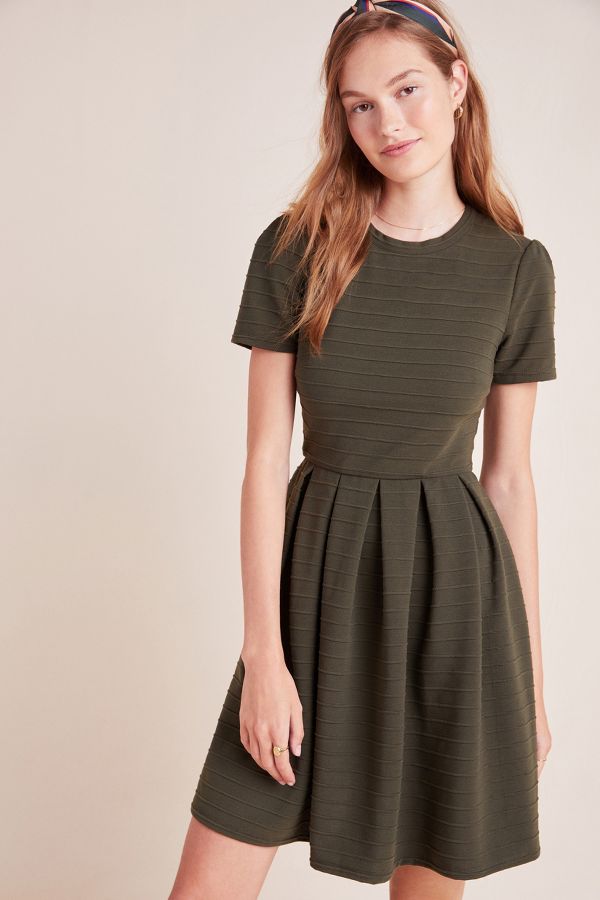 Maddie Mini Dress
Crafted with subtle texture for a modern finish, this timeless dress is the perfect choice for work, play, and everything in between.
| | | |
| --- | --- | --- |
| | | |
| Marjorie Camo Sweater | Gail Tunic | Jessa Windowpane Sweater |
| Rendered in a neutral palette, this of-the-moment camo pattern adds just a hint of print to any ensemble. | We love outfitting this layered tunic with our favorite knit leggings - it's a pairing of unsurpassed comfort and versatility, and never goes out of style. | This cozy windowpane option offers a timeless twist on your go-to plaid sweaters. |
| | | |
| --- | --- | --- |
| | | |
| Basel Zebra Cardigan | Henrietta Camo Poncho | Mirren Camo Sweater Coat |
| Take a walk on the wild side with this zebra-printed cardigan - its cozy fit and longline silhouette ensure you'll stay snug and stylish through the cooler months. | Swap out your go-to kimono for this cozy, voluminous, and surprisingly versatile camo poncho. | This camo "coatigan" is the slouchier, softer alternative to a more structured coat. Cozy and lightweight, it's the perfect solution for not-quite-freezing conditions. |
| | | |
| --- | --- | --- |
| | | |
| Lucerne Leopard Cardigan | Georgia Turtleneck Sweater | Imogene Eyelash Sweater |
| A leopard unfurls across this roomy cardigan, for an unexpected yet elevated twist to a classic silhouette. | With a bold leopard motif and a luxe turtleneck design, this sweater complements anything from tailored trousers to swingy skirts. | Adding a wispy touch of texture to any outfit, this super-soft cardigan is a retro-inspired layer that will transition you into colder months. |
| | | |
| --- | --- | --- |
| | | |
| Hadley Colorblocked Sweater | Laurie Knit Cardigan | Geometric Floral Cropped Pullover |
| This eclectic sweater combines colors and prints, making it a unique piece sure to stand out in your cool-weather collection. | With bold colorblocking and mixed motifs, this cozy cardigan offers a throwback to '80s styles in a distinctly modern way. | An ideal match for high-rise denim, this cozy pullover's retro-inspired motif brings a playful twist to your cold-weather wardrobe. |
Go to:
Add Global Luxury to your favorites