Effortless Fashion for Women
Relaxed dressing for the modern woman. Inspired by world travel and modern ease of dressing. On-the-go style for effortless chic. Go to: Steele Anna Sui, Varun Bahl, Yumi Kim, Veroalfie, Chantik, Geisha Designs, Farm Rio, Hei Hei, Marrakech, Tanvi Kedia
Set on building a wardrobe for the modern boheme, designer Jessica Reid created Steele, the Australian label that fuses confidently pretty details with a modern, relaxed edge. Focusing on textural elements and soft silhouettes, she crafts fundamentally feminine pieces that are casual luxuries worth treasuring.
What began as a handful of goods at a local fashion fair booth has grown into one of Brazil's most recognizable labels for sun-soaked dressing. With vibrant colors, bold silhouettes and feminine details embedded in every design, Farm Rio's cheerful creations are crafted with an exotic, toes-in-the-sand spirit that's simultaneously fashion-forward and vintage-inspired.
| | | |
| --- | --- | --- |
| | | |
| Solana Dress | Dahlia Maxi Dress | Sunlit Floral Maxi Dress |
| This romantic midi suits spring occasions with its breezy silhouette and ethereal cutout details. | Petal-inspired embellishments add femininity to this elegant floral maxi. | This maxi - accented with delicate florals - makes a perfect choice for a summer garden party. |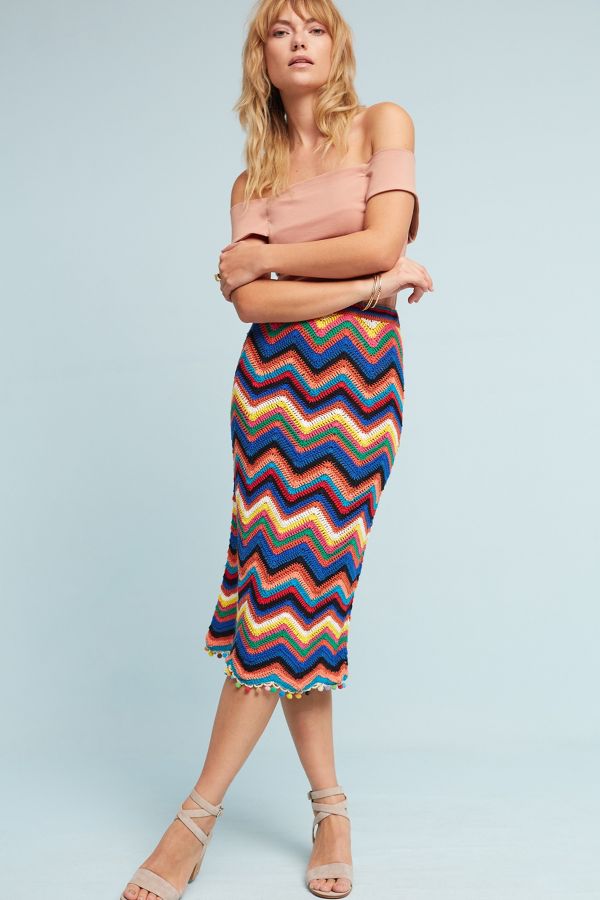 Chevron Knit Skirt
Playful pommed fringe and a vibrant chevron print make a statement on this of-the-moment silhouette.
Anna Sui's limitless energy and vibrancy finds an ideal outlet in her clothing, cosmetics and accessories. Informed by pop cultures of the past and present, each silhouette showcases the designer's creativity and exuberance through unique prints, textures and silhouettes. Always fresh, each of Anna Sui's collections is filled with statement-makers that bring art to life.
| | | |
| --- | --- | --- |
| | | |
| Digital Lace Metallic Top | Aruna Silk Dress | Silk & Lace Dress |
| Intricate lacework elevates this mock neck blouse for an elegantly feminine, straight-off-the-runway silhouette. | Straight off the runway, this silk gown features an intricately detailed smocked top in a springtime print that's perfect for a most-anticipated event.. | Intricate lace florals embroider this silk silhouette for a statement-making stunner that's both timeless and contemporary. |
Drawn to the monuments and colors she encountered on a trip to Jodhpur, Tanvi Kedia launched her first eponymous collection in 2007. Experimental in nature - think vintage textiles and Indian embroideries - her pieces are always colorful, textural and well-crafted, whether shown on the runway or spotted in a Bollywood film.
Indian designer Varun Bahl is best known for mixing traditional forms with contemporary elements - think sari-style gowns crafted with couture-inspired embellishments. Finely detailed and consistently luxurious, his timeless pieces are cherished by those with a penchant for glamorizing the classics.
After a brief stint in the music industry, designer Kim Phan returned to fashion in 2004 with the launch of Yumi Kim. With a focus on prints and silk, the line - which borrows its first name from Kim's pet Yorkie - is inspired by vintage silhouettes and city living.
| | | |
| --- | --- | --- |
| | | |
| Bold Blooms Maxi Dress | Garden Song Maxi Dress | Tahiti Maxi Dress |
| Bright florals make a vibrant statement on this elegant silk maxi. | Bright and vibrant florals make a statement on this flowy maxi - perfect for a garden-side cocktail hour. | Soft silk is the canvas for this elegant floral maxi with a flattering waist. |
| | | |
| --- | --- | --- |
| | | |
| Laysan Floral Dress | Vita Silk Midi Dress | Philomena Silk Midi Dress |
| Fitted through the waist, this off-the-shoulder silhouette in a pretty floral print makes an elegant statement - pair with strappy sandals or a block heel for an event this season. | This vibrant silhouette flatters at the waist with a corseted bodice. | This silk silhouette flatters with a fitted bodice in a spring-ready print we love. |
Meaning "beautiful" in Indonesian, Chantik is a line of easy-to-wear, globally inspired pieces, all designed by Brazilian founder Adriana Andrade. From tassels and poms to embroidery and lace, each and every detail is influenced by Adriana's years of travel across Europe, Asia and South America, in addition to her study of traditional weaving techniques.
| | | |
| --- | --- | --- |
| | | |
| Chevron Embellished Dress | Joselle Dress | Margaret Embroidered Dress |
| Here, a fringed neckline adds a bohemian touch to a contemporary silhouette in a colorful chevron motif. | All-over textured detailing and a tassel neck-tie make a statement on this flattering silhouette. | An embroidered panel and tasseled waist detail add a bohemian touch to this flattering silhouette. |
Argentinean designer Veronica Alfie debuted her premiere collection over a decade ago in Palermo, Buenos Aires, a district known for pioneering independent designers. Modern, feminine and detail-obsessed, her pieces are marked by witty flourishes and craft-inspired winks.
| | |
| --- | --- |
| | |
| Palmeras Tunic | Pippa Beaded Floral Dress |
| Here, a tunic crafted with embroidered netting makes for a chic swimsuit topper. | This delicately beaded mini makes a statement with a colorful floral print suited for a sunny summer day. |
| | | |
| --- | --- | --- |
| | | |
| Lily Pleated Skirt | Sheena Maxi Dress | Cosimia Pleated Trousers |
| A metallic waistband adds a contemporary touch to this colorful silhouette. | This intricately detailed dress features tulle appliqué and laser cut shapes for a stylish, yet simple silhouette. | A stylish, pleated pair in a silhouette-lengthening wide-leg. |
Equal parts sophisticated and utilitarian, Hei Hei's garments—from jackets to pants to buttondowns—use heavy washing, abrasion and garment dyeing to create an of-the-world look that never fails.
| | | |
| --- | --- | --- |
| | | |
| Fair Weather Wide-Legs | Eventide Crops | Recreation Overalls |
| A cropped, raw hem make this light and airy pair a summer essential. From Hei Hei. | Rayon, linen. Knit waistband | These utilitarian-inspired overalls feature a cropped wide-leg and thin straps - layer them over your favorite bodysuit or white tee. From Hei Hei |
Go to:
Add Global Luxury to your favorites