Effortless Fashion for Women
Relaxed dressing for the modern woman. Inspired by world travel and modern ease of dressing. On-the-go style for effortless chic. Go to: Steele Anna Sui, Varun Bahl, Yumi Kim, Veroalfie, Chantik, Geisha Designs, Farm Rio, Hei Hei, Marrakech, Tanvi Kedia
Set on building a wardrobe for the modern boheme, designer Jessica Reid created Steele, the Australian label that fuses confidently pretty details with a modern, relaxed edge. Focusing on textural elements and soft silhouettes, she crafts fundamentally feminine pieces that are casual luxuries worth treasuring.
What began as a handful of goods at a local fashion fair booth has grown into one of Brazil's most recognizable labels for sun-soaked dressing. With vibrant colors, bold silhouettes and feminine details embedded in every design, Farm Rio's cheerful creations are crafted with an exotic, toes-in-the-sand spirit that's simultaneously fashion-forward and vintage-inspired.
Anna Sui's limitless energy and vibrancy finds an ideal outlet in her clothing, cosmetics and accessories. Informed by pop cultures of the past and present, each silhouette showcases the designer's creativity and exuberance through unique prints, textures and silhouettes. Always fresh, each of Anna Sui's collections is filled with statement-makers that bring art to life.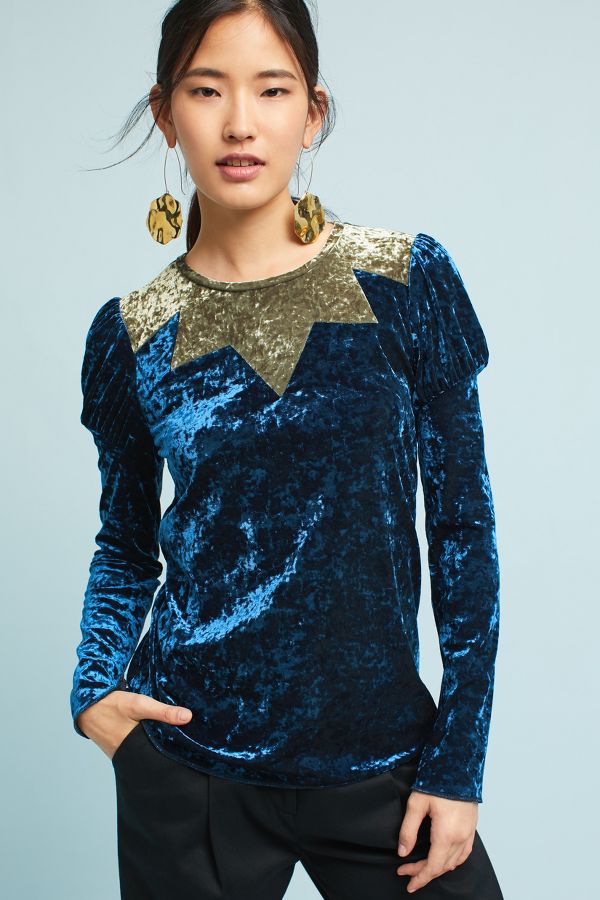 Anna Sui Starburst Velvet Top
Pleated, structured sleeves add a classic touch to this velvet top with contrasting starburst detail along the collar.
Drawn to the monuments and colors she encountered on a trip to Jodhpur, Tanvi Kedia launched her first eponymous collection in 2007. Experimental in nature - think vintage textiles and Indian embroideries - her pieces are always colorful, textural and well-crafted, whether shown on the runway or spotted in a Bollywood film.
Indian designer Varun Bahl is best known for mixing traditional forms with contemporary elements - think sari-style gowns crafted with couture-inspired embellishments. Finely detailed and consistently luxurious, his timeless pieces are cherished by those with a penchant for glamorizing the classics.
After a brief stint in the music industry, designer Kim Phan returned to fashion in 2004 with the launch of Yumi Kim. With a focus on prints and silk, the line - which borrows its first name from Kim's pet Yorkie - is inspired by vintage silhouettes and city living.
| | | |
| --- | --- | --- |
| | | |
| Laysan Floral Dress | Tahiti Maxi Dress | Tango Silk Maxi Dress |
| Fitted through the waist, this off-the-shoulder silhouette in a pretty floral print makes an elegant statement - pair with strappy sandals or a block heel for an event this season. | Soft silk is the canvas for this elegant floral maxi with a flattering waist. | Made from soft silk, this elegant maxi features an open back for an of-the-moment look. |
Argentinean designer Veronica Alfie debuted her premiere collection over a decade ago in Palermo, Buenos Aires, a district known for pioneering independent designers. Modern, feminine and detail-obsessed, her pieces are marked by witty flourishes and craft-inspired winks.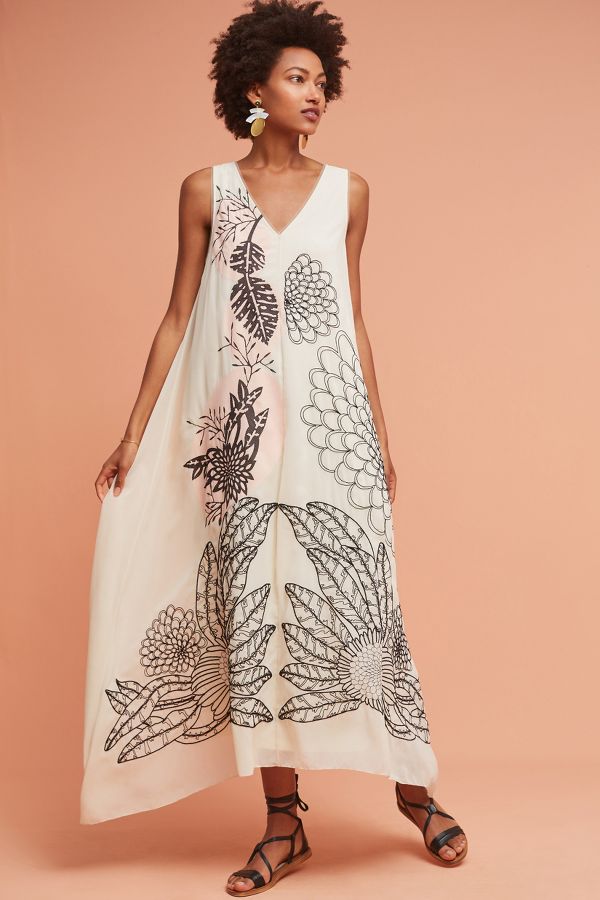 Sheena Maxi Dress
This intricately detailed dress features tulle appliqué and laser cut shapes for a stylish, yet simple silhouette.
Equal parts sophisticated and utilitarian, Hei Hei's garments—from jackets to pants to buttondowns—use heavy washing, abrasion and garment dyeing to create an of-the-world look that never fails.
Marrakech, Morocco is a city with a rich history of attracting artists from around the world. From musicians and actors to sculptors and poets, those who find a home there share a love of adventure and a penchant for romance, which has become the very essence of this desert metropolis. Marrakech clothing embodies this free, generous spirit, offering effortless and versatile silhouettes that tell a unique, ever-evolving story
Go to:
Add Global Luxury to your favorites