Effortless Fashion for Women
Relaxed dressing for the modern woman. Inspired by world travel and modern ease of dressing. On-the-go style for effortless chic. Go to: Hemant & Nandita, Pankaj & Nidhi, Antik Batik, Let Me Be, The Odells, MISA, Anna Sui, Chantik, Marrakech, Bel Kazan, Hutch
Steele
Set on building a wardrobe for the modern boheme, designer Jessica Reid created Steele, the Australian label that fuses confidently pretty details with a modern, relaxed edge. Focusing on textural elements and soft silhouettes, she crafts fundamentally feminine pieces that are casual luxuries worth treasuring.
Husband and wife Pankaj and Nidhi have been designing for their eponymous label for over a decade. While teaching at the National Institute of Fashion, the two discovered a shared vision for a line which celebrated authenticity and storytelling through fashion. The result was the award-winning Pankaj & Nidhi, a curated collection that approaches apparel from an imaginative, evolving perspective, yielding one-of-a-kind statement-makers every season.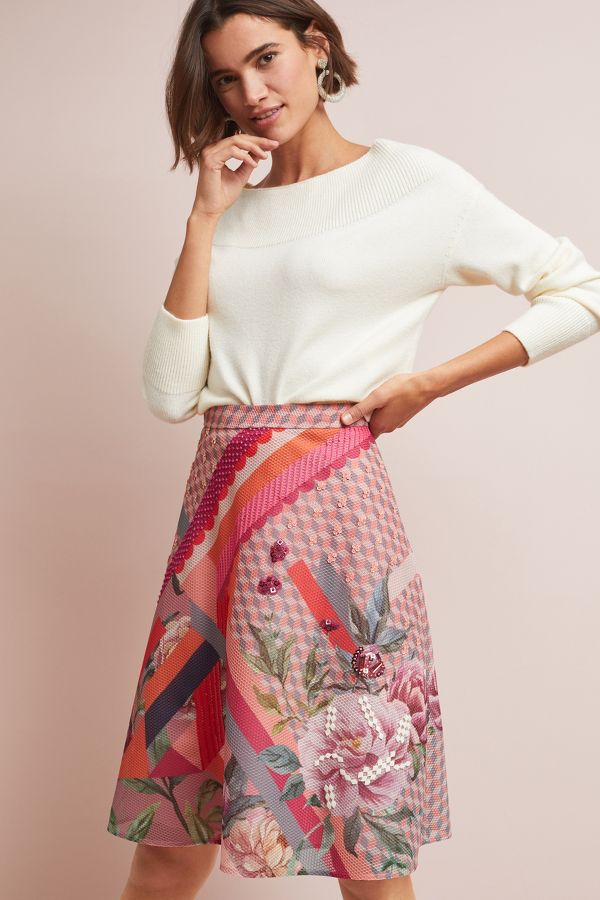 Rowan Skirt
Polyester; viscose lining. Sequin and bead embellishment
After studying French design in Paris, Gabriella Cortese opted for the road less traveled and left the fashion world for Tibet, where she discovered the art of batik. Her love of Eastern design techniques led to an exploration of bandhani and embroidery, and the creation of her collection, Antik Batik.
Collins Anorak
Malar Paisley Puffer Jacket
Antik Batik Robert Sequin Blouse
Antik Batik Robert Sequin Pants
Crafted from warm wool, the utilitarian anorak gets a cozy update
Once reserved for the ski slopes, puffer jackets have become a chic, cold-weather essential that's warm and surprisingly lightweight. Stand out this season with this paisley version - it's a colorful twist on cozy.
Forego the expected frock this holiday season for a seasonal separates, like the sequin trousers seen here. Equally as festive, this pair is versatile enough for all your special occasions.
Combining feminine details with timeless silhouettes, Let Me Be's collection is crafted from the finest of fabrics and embellished with handcrafted beadwork and embroidery.
| | |
| --- | --- |
| | |
| Get Happy Sequin Blouse | Beaded Silk Mini Dress |
| Usher in the joyous season with a sequin blouse - a sparkly piece feels innately festive and makes a statement all on its own. | Beaded to perfection, this silk dress is sure to turn heads at any occasion. |
Marrakech, Morocco is a city with a rich history of attracting artists from around the world. From musicians and actors to sculptors and poets, those who find a home there share a love of adventure and a penchant for romance, which has become the very essence of this desert metropolis. Marrakech clothing embodies this free, generous spirit, offering effortless and versatile silhouettes that tell a unique, ever-evolving story
| | | |
| --- | --- | --- |
| | | |
| Marrakech Ryder Moto Jacket | Walsh Jacket | Faux Fur-Lined Anorak |
| The contrast between a sweet shift dress or lovely lace blouse and a tough motorcycle jacket is always, effortlessly on trend. | Cotton, spandex; cotton lining. Side slant pockets | The utilitarian anorak gets a cozy touch with a removable faux fur lining. |
Designed to be effortlessly versatile, each sun-washed staple from The Odells embodies the laidback lifestyle of their Los Angeles home.
Worldly and feminine, MISA was founded by Shadi Askari-Farhat after years of travel and exploration of global trends. Whether she's venturing into new territory or incorporating inspiration from past adventures into her daily life, the MISA woman is all about the journey ahead.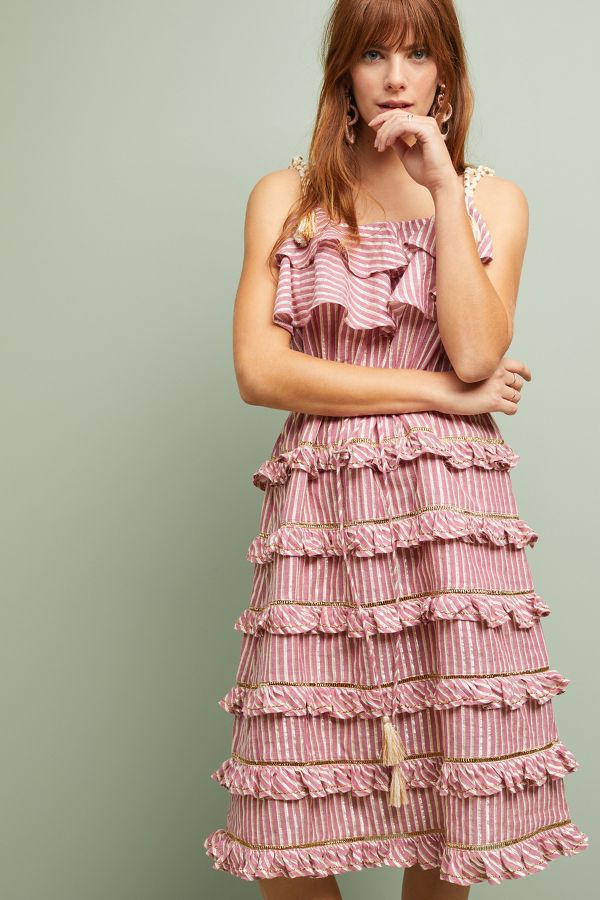 Carson Tiered Dress
Twirling is mandatory in this striped dress - the tiered ruffles showcase your every move in the most flattering of ways,
In 2010, New Yorker Daniel Soponaro launched Hutch, a contemporary womenswear brand recognized for garments that are equally easy and luxe. Emphasizing timeless sophistication over trend, the label's defined aesthetic showcases Soponaro's love of vibrant colors, conceptual prints and feminine tailoring in every made-for-you piece
| | | |
| --- | --- | --- |
| | | |
| Ponte Mini Skirt | Michaela Sequin Skirt | Knotted Satin Blouse |
| Structured while maintaining a comfortable level of stretchability, this demure ponte skirt has a sleek silhouette that is oh-so-flattering. | This occasion-ready skirt has an all-over sequin embellishment that catches the light, for just enough dazzle and shine. | Polyester |
| | | |
| --- | --- | --- |
| | | |
| Satin Buttondown | Bias Satin Skirt | Metallic Mini Skirt |
| Polyester. Sheer embroidered sleeves | Sleek and shiny, this satin skirt is elevated enough for festive parties and special occasions. | This demure mini skirt is topped with a metallic polka dot print, for a perfectly ladylike finish. |
| | | |
| --- | --- | --- |
| | | |
| Twiggy Halter Dress | Leopard Top | Saint-Michel Mini Skirt |
| Viscose, polyester; polyester lining | Forego the expected frock this holiday season for tailored trousers and a statement top, like the leopard one seen here. Decidedly chic, the spotted pattern makes a bold statement that never goes out of style. | Usher in the most celebratory of seasons with a high-shine, demure mini skirt - sparkly and festive, it'??s a versatile special-occasion option that looks as lovely with a slouchy knit as it does paired with a buttondown or blouse. |
Noticing the brand's unique combination of traditional and contemporary textures, Anthropologie became the first major retailer to add Hemant & Nandita to their curated collection of must-haves. Inspired by architecture and global culture, the label carries this juxtaposition of old and new throughout their "East meets West" line, embellishing intricate patternwork onto simple silhouettes.
Anna Sui's limitless energy and vibrancy finds an ideal outlet in her clothing, cosmetics and accessories. Informed by pop cultures of the past and present, each silhouette showcases the designer's creativity and exuberance through unique prints, textures and silhouettes. Always fresh, each of Anna Sui's collections is filled with statement-makers that bring art to life.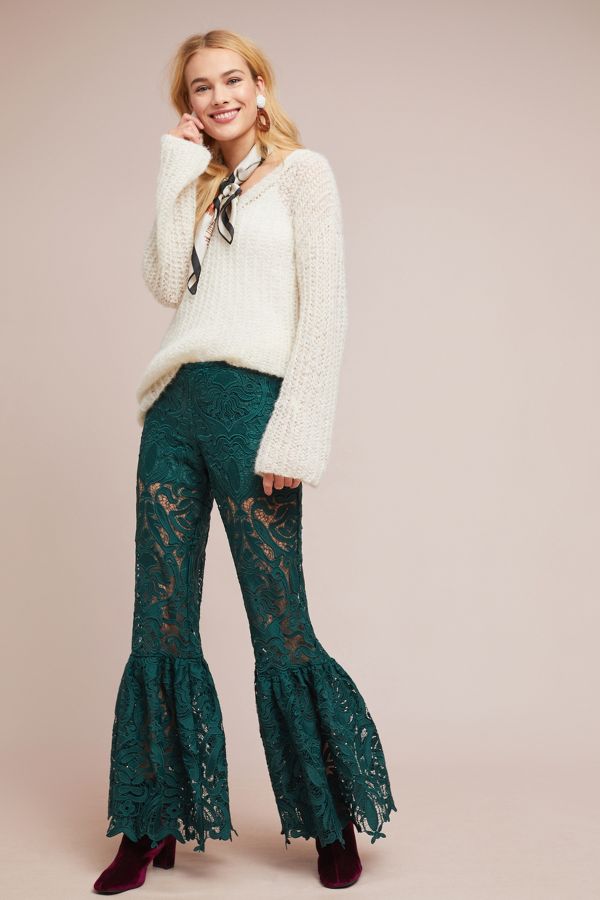 Anna Sui Baroque Lace Pants
For the next occasion on the calendar, swap out your LBD for a duo of seasonal separates. Equally as festive, these lace pants look lovely when paired with a tailored blazer or a velvet blouse.
Go to:
Add Global Luxury to your favorites