Effortless Fashion for Women
Relaxed dressing for the modern woman. Inspired by world travel and modern ease of dressing. On-the-go style for effortless chic. Go to: Farm Rio, Hemant & Nandita, dRA, Cleobella, Geisha Designs
What began as a handful of goods at a local fashion fair booth has grown into one of Brazil's most recognizable labels for sun-soaked dressing. With vibrant colors, bold silhouettes, and feminine details embedded in every design, Farm Rio's cheerful creations are crafted with an exotic, toes-in-the-sand spirit that's simultaneously fashion-forward and vintage-inspired.
| | | |
| --- | --- | --- |
| | | |
| Farm Rio Margarita Floral Sweater Set | Farm Rio Rosita Maxi Dress | Farm Rio Macaw Maxi Dress |
| Sweetly adorned with vibrant florals, this sweater set delivers comfort and polish at once, ensuring you'll look and feel your best throughout the season. | Adorned with striking abstract and floral motifs, this maxi dress is a breezy staple for your seasonal wardrobe - just add sandals or your go-to heels. | Adorned with a vibrant avian motif, this maxi dress makes a striking statement for any occasion. |
| | | |
| --- | --- | --- |
| | | |
| Farm Rio Grazia Mini Dress | Farm Rio Tucanes Wrap Mini Dress | Farm Rio Cecelia Maxi Dress |
| Sure to make a sartorial statement, this vibrant mini dress features an assortment of striking contrast motifs that call to mind sun-soaked beach days and evening strolls along the shore | A flock of tropical toucans takes flight on this colorful mini dress - while a wrapped silhouette lends an air of easy-breezy sophistication. | This maxi's bold color combinations and striking contrast motifs call to mind sun-soaked shores and spectacular sunset vistas. |
| | | |
| --- | --- | --- |
| | | |
| Farm Rio Teodora Wrap Midi Skirt | Farm Rio Alena Stripes Maxi Skirt | Farm Rio Quintana Wrap Midi Skirt |
| Adorned with an abundance of tropical fruits and fronds, this textured wrap skirt is a stunning piece to outfit with knit tanks, silky camis, and billowing blouses. | Featuring elegant tiers of rainbow-hued stripes, this maxi skirt lends your look an abundance of island-inspired flair. | Pair this breezy skirt with its matching crop top for a head-to-toe ensemble that's bursting with tropical flair. |
| | | |
| --- | --- | --- |
| | | |
| Farm Rio Esperanza Pants | Farm Rio Dulcinea Romper | Farm Rio Quintana Cropped Tank |
| Bring a bit of brightness to your seasonal closet with these enchanting trousers - when styled with a simple cami and sandals, they create a striking look that's sure to earn you compliments. | Here, colorful contrast motifs create a look of striking, wear-anywhere elegance - whether you're strolling through the sand, or enjoying some time spent poolside. | An eye-catching print and a playful bow tie grant this cropped tank an air of carefree elegance. Style it with slim jeans, or pair it with its matching skirt for a striking head-to-toe ensemble. |
| | | |
| --- | --- | --- |
| | | |
| Farm Rio Maribel Maxi Dress | Farm Rio Renata Crochet Mini Dress | Farm Rio Raquel Buttondown |
| Featuring florals in the dreamiest of sunset hues, this stunning number calls to mind sun-soaked shores and spectacular seaside vistas. | With a crochet finish for a retro-inspired touch, this color-splashed mini delivers a vibrant statement for the season. | With warmer weather on the horizon, it's time to spring for the brightest colors and prints - like the ones seen on this blouse. Just add denim cut-offs and sandals for an island-inspired ensemble you'll reach for time and time again. |
| | | |
| --- | --- | --- |
| | | |
| Farm Rio Amalea Blouse | Farm Rio Luana Maxi Dress | Farm Rio Soleil Embroidered Maxi Dress |
| Viscose | Embrace an island-inspired aesthetic with the help of this fabulously striped maxi dress - its vibrant hues and sweeping silhouette ensure it'll turn heads, no matter how you style it. | A celebration of tropical tones, this eye-catching maxi dress shows off the sweetest of island-inspired vibes - and makes a fabulous match for your favorite strappy heels. |
| | | |
| --- | --- | --- |
| | | |
| Farm Rio Mosaic Maxi Dress | Farm Rio Adriana Blouse | Farm Rio Jellybean Joggers |
| A celebration of tropical tones, this mosaic-inspired maxi dress is an endlessly charming addition to your closet - and brings fancy-free elegance to any occasion. | Featuring a symphony of island-inspired hues, this printed blouse channels that inimitable air of coastal cool - and conjures visions of all the sunny days yet to come. | Ideal for strolls through the park and lounging at home, these joggers deliver style and function in one easygoing fit. |
| | | |
| --- | --- | --- |
| | | |
| Farm Rio Murcia Mini Skirt | Farm Rio Consuela Sweater Set | Farm Rio Yasmine Ruffled Blouse |
| Adorned with fanciful, island-inspired fronds, this mini skirt lends your look a beachy keen burst of flair. | This colorful sweater set is proof the best things come in twos - its cropped cardigan and oh-so-comfy wide-legs promise to keep you snug and stylish as the weather warms. | Featuring a vibrant palm tree motif, this blouse brings easy-breezy elegance to your day. |
| | | |
| --- | --- | --- |
| | | |
| Farm Rio Ari Cropped Blouse | Farm Rio Jimena Tunic Dress | Farm Rio Isabella Tiered Maxi Skirt |
| Breezy puffed sleeves and a vibrant print make this crop top a feminine staple, calling to mind sunset strolls and picnics in the park. | With textured touches for a dash of dimension, this lively tunic features a tropical-inspired motif that calls to mind sunny days in faraway places. | Featuring tiers of vibrant contrast motifs - from stripes and botanicals, to cheetahs on the prowl - this stunning skirt is an effortless way to elevate your look. |
| | | |
| --- | --- | --- |
| | | |
| Farm Rio Tunic Sweater Dress | Farm Rio Golden Lily Maxi Dress | Farm Rio Bellina Tunic Sweater Dress |
| Bundle up in style this season with a sweetly puff-sleeved sweater dress - this one's vibrant motif makes a perfect match for ankle boots and tights. | Sweetly adorned with vibrant florals, this maxi dress delivers a touch of the tropics to even the coolest days. | Bring a touch of the tropics to your cool-weather look with this vibrantly printed sweater dress, where a so-soft finish ensures you'll stay snug and stylish through the season |
| | | |
| --- | --- | --- |
| | | |
| Farm Rio Toucan Tiered Mini Dress | Farm Rio Feather Pajama Set | Farm Rio Nieves Cover-Up Tunic Dress |
| Featuring a flock of fantastically feathered toucans, this vibrant dress is a chic addition to any warm-weather closet. | Sure to inspire sweet dreams, this striking pajama set makes a fabulous gift for friends and loved ones - and for yourself, too. | Here, eye-catching florals contrast with a moody black backdrop, infusing poolside ensembles with both sweetness and sophistication. |
Antik Batik
After studying French design in Paris, Gabriella Cortese opted for the road less traveled and left the fashion world for Tibet, where she discovered the art of batik. Her love of Eastern design techniques led to an exploration of bandhani and embroidery, and the creation of her collection, Antik Batik.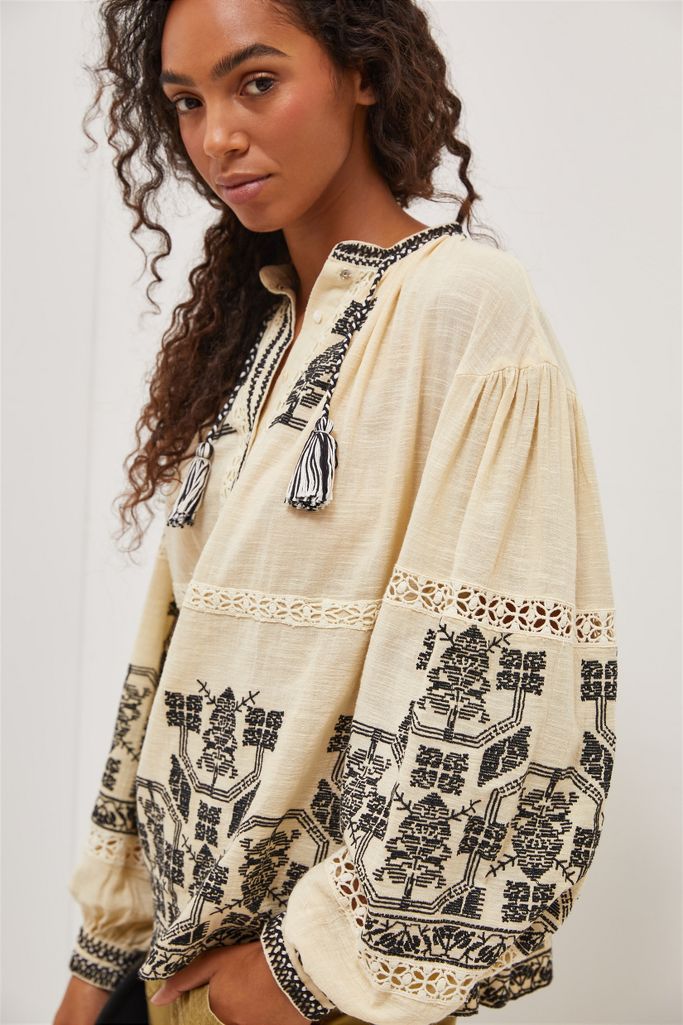 Sofia Embroidered Peasant Blouse
An embroidered peasant blouse is a wonderful way to incorporate a feminine touch into comfortable, versatile styling - no matter the season.
Husband-and-wife duo Angela and Jim left their California home and embarked on a year-long trip seeking adventure. What they found was their life's mission - to design exquisite, unlike-anywhere-else accessories crafted by Balinese artisans. Cleobella, named after Angela's mother, is a sophisticated yet delightful collection of handmade goods woven from fine leathers, recycled materials, and fabrics acquired from local Indonesian markets.
| | | |
| --- | --- | --- |
| | | |
| Taylor Quilted Jacket | Juniper Joggers | Antonia Buttondown |
| Cotton | Featuring springtime's sweetest blooms, these joggers are a must-have for strolls through the park and afternoon errand-running. | Sunshine or snowfall, we can't stop dreaming about this easy-breezy buttondown - its carefree feel is a perfect match for distressed denim or a bohemian skirt. |
At once youthful and mature, dRA blends the artful rebellion of cutting-edge design with the tailored elements of time-tested fashion for a line of versatile and feminine silhouettes. Founded by Diana Ra, the independent line offers a curated everyday collection.
| | | |
| --- | --- | --- |
| | | |
| Jellybean Wide-Leg Jumpsuit | Sarabeth Puff-Sleeved Coat | Jasmine Jumpsuit |
| Adorned with a playful pattern reminiscent of our favorite sugary sweets, this breezy jumpsuit is equal parts comfortable and classic. | A stylish coat is the centerpiece of any cold-weather wardrobe. Dressy enough to top festive dresses, yet practical enough to wear all week, this puff-sleeved rendition will earn you plenty of compliments. | Creating a striking look that goes beyond a simple dress or two-piece combo, this all-in-one wonder can be dressed up with heels and a clutch or, for a more casual take, styled with sneakers. |
| | | |
| --- | --- | --- |
| | | |
| Antonella Flounced Tunic Dress | Jessamyn Midi Dress | Angelina Tulle Maxi Skirt |
| A flouncy fit and a darling floral print make this tunic a feminine classic - throw it on with ankle boots or flats for a darling seasonal look. | Feel the breeze in an alluring dress, like this sweetly smocked midi. With an eye-catching motif and an easygoing silhouette, it's sure to be a favorite for warm weather days. | Stunning and sophisticated, this dreamy tulle skirt is sure to send your heart aflutter - whether it's elevated with a cozy sweater and heels, or dressed down with a graphic tee and go-to sneakers. |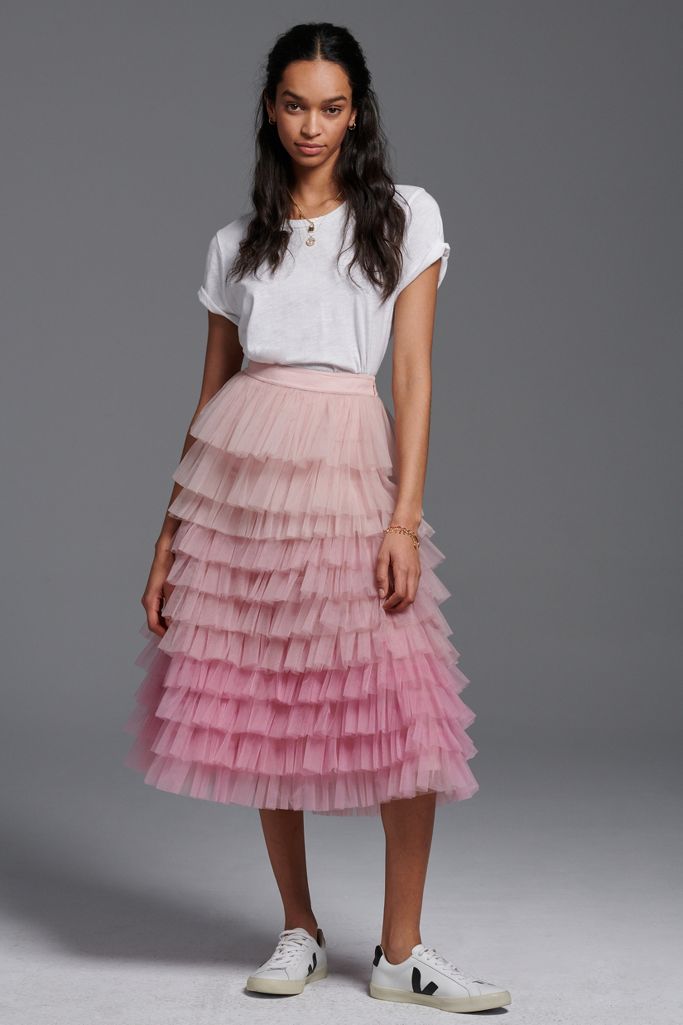 Bita Tiered Tulle Midi Skirt
Featuring tiers of romantic tulle, this ethereal skirt is sure to make heads turn. Pair it with a slouchy sweater and boots for a cozy, elevated look, or slip on heels for an evening ensemble.
Go to:
Add Global Luxury to your favorites