Effortless Fashion for Women
Relaxed dressing for the modern woman. Inspired by world travel and modern ease of dressing. On-the-go style for effortless chic. Go to: Steele, Hemant & Nandita, Pankaj & Nidhi, The Odells, Marrakech, Hutch, Farm Rio
Anna Sui
Anna Sui's limitless energy and vibrance finds an ideal outlet in her clothing, cosmetics and accessories. Informed by pop cultures of the past and present, each silhouette showcases the designer's creativity and exuberance through unique prints, textures and silhouettes. Always fresh, each of Anna Sui's collections is filled with statement-makers that bring art to life.
| | | |
| --- | --- | --- |
| | | |
| Anna Sui Maribel Embroidered Blazer | Anna Sui Ruffled Victorian Blouse | Anna Sui Jacquard Mini Skirt |
| With eye-catching embroidery and a structured fit, this jacket is an ideal outfit completer for cooler days to come. | Channel old-world elegance in this luxe silk blouse from Anna Sui, featuring detailed lace embroidery and a striking floral-inspired print. | A jacquard finish lends intrigue and sophistication to this mini skirt, balanced against its playful - and timeless - silhouette. |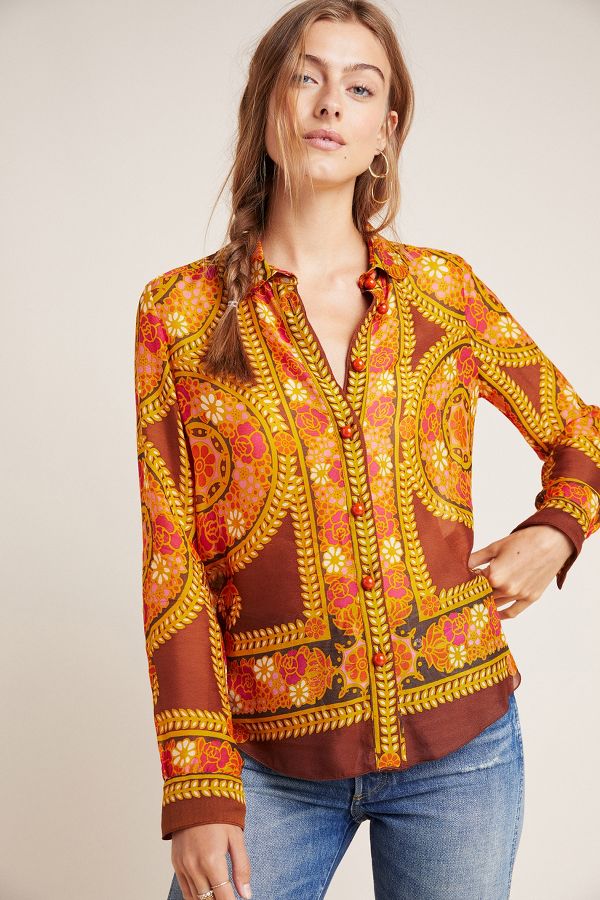 Anna Sui Berkeley Buttondown
This statement-making print blouse conjures visions of sepia-toned bliss - hazy horizons, roadside diners, and dawdling sunset drives toward home.
Set on building a wardrobe for the modern boheme, designer Jessica Reid created Steele, the Australian label that fuses confidently pretty details with a modern, relaxed edge. Focusing on textural elements and soft silhouettes, she crafts fundamentally feminine pieces that are casual luxuries worth treasuring.
| | | |
| --- | --- | --- |
| | | |
| Maya Floral Midi Dress | Lidy Shirtdress | Linnea Tiered Eyelet Maxi Dress |
| Elegant florals and a sweeping silhouette imbue this maxi dress with feminine charm. | Stylish, versatile, and oh-so-comfortable, this shirtdress is the definition of a seasonal staple. | Add a dash of romance to your summer evening with this elegant eyelet maxi dress - its tiered silhouette lends a memorably feminine finish. |
What began as a handful of goods at a local fashion fair booth has grown into one of Brazil's most recognizable labels for sun-soaked dressing. With vibrant colors, bold silhouettes, and feminine details embedded in every design, Farm Rio's cheerful creations are crafted with an exotic, toes-in-the-sand spirit that's simultaneously fashion-forward and vintage-inspired.
| | | |
| --- | --- | --- |
| | | |
| Farm Rio Mikah Halter Top | Farm Rio for Anthropologie Portia Tiered Skirt | Farm Rio Paola Floral Peasant Blouse |
| For a feminine touch, this floral halter blouse shows just the right amount of skin - style it with skinny denim and heels for an effortlessly polished ensemble. | With a swirling pattern reminiscent of rich brocade designs, this tiered skirt adds an artistic touch to any ensemble. | Designed with Farm Rio's signature feminine flair, this peasant blouse features a breezy silhouette and a dreamy floral print - it's a look so sweet you'll want to wear it on repeat. |
Marrakech, Morocco is a city with a rich history of attracting artists from around the world. From musicians and actors to sculptors and poets, those who find a home there share a love of adventure and a penchant for romance, which has become the very essence of this desert metropolis. Marrakech clothing embodies this free, generous spirit, offering effortless and versatile silhouettes that tell a unique, ever-evolving story
| | | |
| --- | --- | --- |
| | | |
| Marrakech Reversible Moto Jacket | Marrakech Marni Leopard Moto Jacket | Marrakech French Terry Jacket |
| When it comes to creamy-soft faux suede and the dreamiest of fleeces, why pick just one? This reversible coat gives you the best of both worlds, offering versatility in its coziest, most fashion-forward form. | Rendered in a suede-like fabrication, this edgy leopard jacket has a slightly feminine flair. | Travel light while staying chic via this jacket. In neutral tones, it mixes and matches with everything else on your summer packing list. |
Designed to be effortlessly versatile, each sun-washed staple from The Odells embodies the laidback lifestyle of their Los Angeles home.
| | | |
| --- | --- | --- |
| | | |
| Marjorie Geo Midi Dress | Sierra Maxi Dress | Nouveau Shirtdress |
| Liven up your wardrobe by donning a bold geometric print, like the one seen on this flattering midi dress. | This season, go bold in a sweeping maxi dress rendered in autumn-ready hues like the ones found on this yarn-dyed option. | Featuring a bold geometric print, this shirtdress is a playful, easy-to-wear essential. |
| | | |
| --- | --- | --- |
| | | |
| Diane Woven Buttondown | Cairo Plaid Coat | Gingham Puff-Sleeved Blouse |
| A bold array of vibrant prints lend this timeless buttondown a modern finish. | Bold plaid - accented by an array of subtle rainbow stripes - makes this cozy topper a must-have as the weather cools. | Subtly textured gingham accented with woven rainbow stripes lends this puff-sleeved blouse a contemporary twist. |
| | | |
| --- | --- | --- |
| | | |
| Seaside Joggers | Phaedra Wide-Leg Jumpsuit | Phaedra Joggers |
| Cotton | In a stunning indigo block-print motif, this pull-on-and-go jumpsuit can be dressed up and down for endless outfitting iterations. | The effortless ease of these indigo joggers makes them endlessly appealing; we're also in love with their lively block print. |
In 2010, New Yorker Daniel Soponaro launched Hutch, a contemporary womenswear brand recognized for garments that are equally easy and luxe. Emphasizing timeless sophistication over trend, the label's defined aesthetic showcases Soponaro's love of vibrant colors, conceptual prints and feminine tailoring in every made-for-you piece
| | | |
| --- | --- | --- |
| | | |
| Ronnie Wrap Dress | Tabitha Ruffled Top | Serpentine Ruffled Midi Wrap Dress |
| Featuring a flattering tie at the waist, this wrap dress makes a sweet and subdued statement for any occasion. | Ruffled shoulders add a feminine flourish to this wardrobe essential. | Tiers upon tiers of delicately fluttering ruffles lend this oh-so-flattering wrap dress a polished finish. |
| | | |
| --- | --- | --- |
| | | |
| Kapari Wrap Dress | Amina Mini Dress | Esme Plaid Top |
| An artistic marbled print lends this ever-so-flattering wrap dress a memorable finish. | Subtle pleating at at the waist gives this mini dress a feminine twist. | A plaid top is as classic as it gets. When layered under a blazer and outfitted with polished jeans, this staple exudes sophistication. |
| | | |
| --- | --- | --- |
| | | |
| Maddie Mini Dress | Indira Asymmetrical Dress | Jeannie Tie-Dyed Maxi Skirt |
| Crafted with subtle texture for a modern finish, this timeless dress is the perfect choice for work, play, and everything in between. | A deep v-neck and asymmetrical hem set this little black dress apart from the rest | With a playfully tie-dyed finish, this high-low skirt is sure to be a favorite all season long. |
| | | |
| --- | --- | --- |
| | | |
| Satin Blouse | Allison Gingham Wrap Dress | Rylee Jumpsuit |
| Polyester | Few prints are more classic for spring and summer than gingham. In a figure-flattering rendition, this wrap dress has us daydreaming of picnics and beach getaways. | Polyester, spandex; polyester lining |
Husband and wife Pankaj and Nidhi have been designing for their eponymous label for over a decade. While teaching at the National Institute of Fashion, the two discovered a shared vision for a line which celebrated authenticity and storytelling through fashion. The result was the award-winning Pankaj & Nidhi, a curated collection that approaches apparel from an imaginative, evolving perspective, yielding one-of-a-kind statement-makers every season.
| | | |
| --- | --- | --- |
| | | |
| Rampling Embroidered Midi Skirt | Lianne Pleated Midi Skirt | Alain Striped Midi Dress |
| Featuring embroidered embellishments and a mix of prints, this A-line skirt goes the extra mile in eye-catching details. | This tiered tulle skirt offers unlimited options for styling - dress it down with a snug tee and white sneakers, or elevate the ensemble with a slinky cami and heels. | Puffed sleeves and a finely embroidered yoke lend this midi dress an oh-so-dreamy feminine aesthetic. |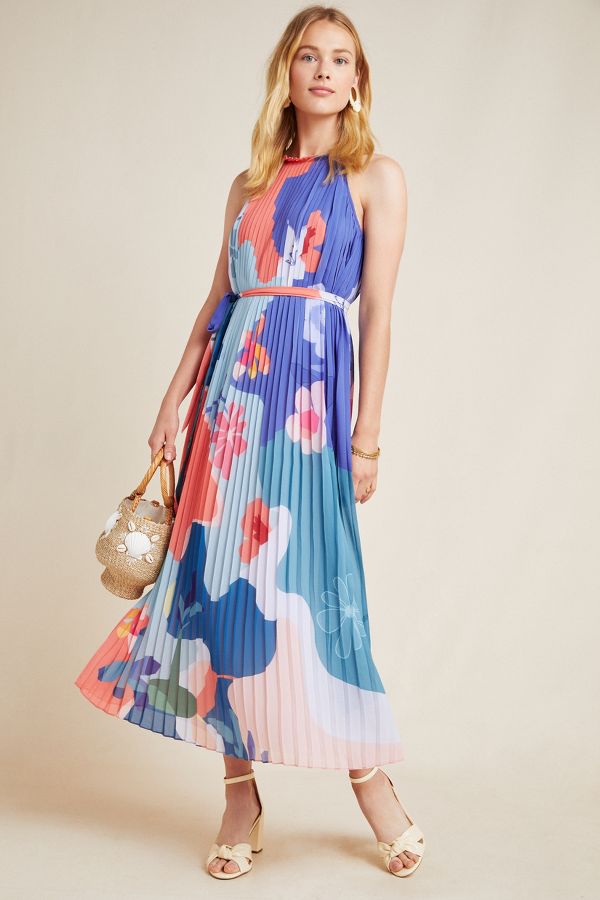 Encanta Abstract Maxi Dress
A striking abstract print makes this pleated dress a wearable work of art - pair it with your favorite heels for an unforgettable evening ensemble.
Go to:
Add Global Luxury to your favorites