Dresses for Easy Wardrobe Options
Dresses in relaxed shapes and comfortable fabrics for easy dressing. Dresses in styles that work for casual and special occasions. Relaxed options with polish and style. Go to: Raga, Anupamaa, Ranna Gill, Not So Serious by Pallavi Mohan, Steele, Floreat, Sunday in Brooklyn, The Odells, Moon River
Melody and color: two words that excite the senses, inspire the mind and are essential to the creation of art. Raga is the ancient Sanskrit term for these words and the impetus behind this enchanting brand. Since she relocated from rural India to southern California, designer Krishan Chaudrey has blended essential elements of the East and West, crafting textured, timeless garments for the modern bohemian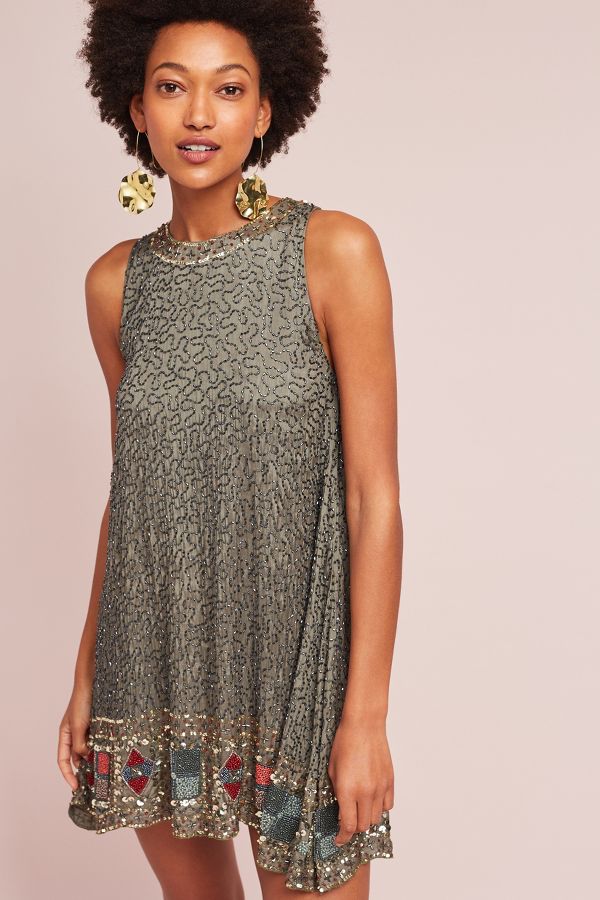 Hanna Beaded Swing Dress
Delicate beadwork at the hem and neckline adds a touch of elegance to this party-ready silhouette.
Internationally renowned for her line of traditionally inspired clothes and accessories, Ranna Gill creates energetic pieces that continue to test the boundaries of fashion. Each statement-making silhouette is crafted with exquisite attention to detail and infused with Gill'??s joyful, confident spirit.
| | | |
| --- | --- | --- |
| | | |
| Lucinda Beaded Maxi Dress | Lakshmi Maxi Dress | Opening Night Dress |
| An intricately beaded bodice is an elegant feature on this soft, occasion-ready maxi. | All-over sequined detailing adds just a touch of shine to this elegant, event-ready gown. | Delicate lacework trims the neck and sleeves of this night sky-inspired gown. |
Called "the soul of India," award-winning designer Anupamaa Dayal's colorful, elegant line is rooted in traditional Indian fashion, while mindful of the textile trends of today. Dayal's educated, artistic approach to cultural style results in vibrant and soulful garments that invigorate and illuminate the wearer.
| | | |
| --- | --- | --- |
| | | |
| Magpie Silk Wrap Dress | Tambourine Kimono Dress | Raina Kimono Dress |
| Made from stunning silk, this rich wrap dress flatters at the waist for an occasion-ready silhouette. | This effortless silhouette features a vivid print and a tie-waist. | A colorful floral print and kimono sleeves offer a summer-ready silhouette suited for an anticipated gathering. |
Bhanuni by Jyoti
Traditional art meets avant-garde in designer Jyoti Sharma's line of heirloom-inspired pieces. Blending contemporary trends with conventional silhouettes, Bhanuni by Jyoti exhibits a deep love of design and celebrates her Indian culture in each colorful garment.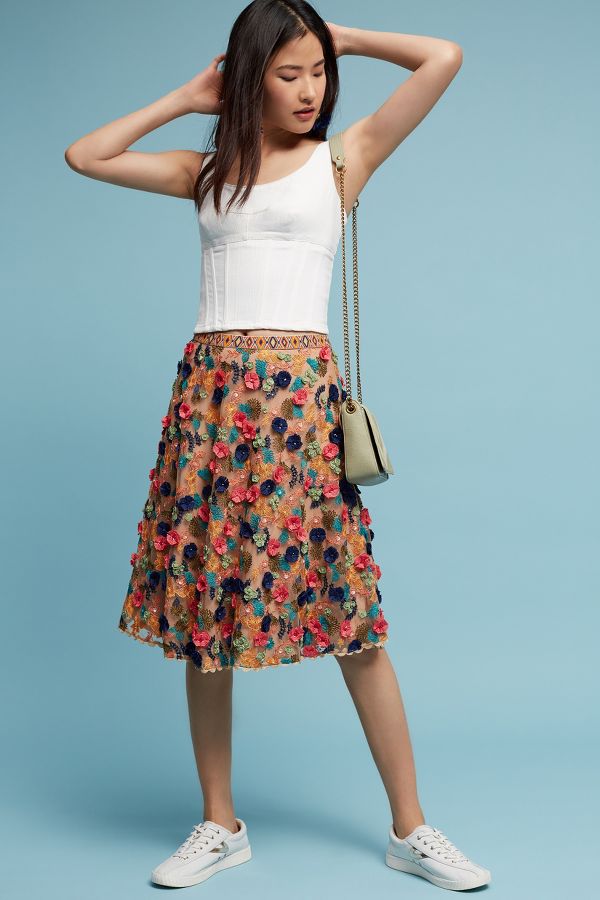 Embellished Tulle Skirt
This luxe silhouette makes a statement with textured and pommed detailing. From Bhanuni by Jyoti.
Based in Los Angeles and named for a song written specifically for Audrey Hepburn, Moon River offers sensible style for the free-spirited woman. Clean and natural with a vintage-inspired aesthetic, each feminine, detailed and timeless silhouette brings versatility and personality to your closet.
Designed to be effortlessly versatile, each sun-washed staple from The Odells embodies the laidback lifestyle of their Los Angeles home.
| | | |
| --- | --- | --- |
| | | |
| Watercolor Floral Top | Striped Cocoon Jacket | Esmera Textured Maxi Dress |
| Vibrant florals decorate this super-soft wrap top for pretty, effortless style. | This open-front coat features bold stripes and an oversized fit for chic and contemporary style. | Designed to be effortlessly versatile, each sun-washed staple from The Odells embodies the laidback lifestyle of their Los Angeles home. |
Born in South Korea and based in Los Angeles, Jasmine Ko draws inspiration for her designs from across the globe, but especially Brooklyn, the place for which her label is named. Like that beloved borough, Sunday in Brooklynís pieces are casual yet refined, ready for an afternoon in the park or a night in the city.
Floreat caters to the effortlessly artistic, trend-bending globetrotter. With affection for embellishments, the labelís signature mix of femme style with streetwise silhouettes comes to life in sheer fabrics and structured shapes.
Go to: