Dresses for Easy Wardrobe Options
Dresses in relaxed shapes and comfortable fabrics for easy dressing. Dresses in styles that work for casual and special occasions. Relaxed options with polish and style. Go to: Anupamaa, Verb by Pallavi Singhee, SISSA, Ranna Gill, Raga, Steele, Sunday in Brooklyn, Flannel, Bhanuni by Jyoti
Called "the soul of India," award-winning designer Anupamaa Dayal's colorful, elegant line is rooted in traditional Indian fashion, while mindful of the textile trends of today. Dayal's educated, artistic approach to cultural style results in vibrant and soulful garments that invigorate and illuminate the wearer.
| | | |
| --- | --- | --- |
| | | |
| Summer School Silk Maxi Skirt | Summer School Silk Dress | Striped Silk Blouse |
| The fluidity of this silk skirt and oceanic print make it an ideal summer statement - style with a lightweight knit or tucked in tee for an effortless look. | With a whimsical fish pattern, this silk dress is sure to turn heads. | The fluidity of this silk blouse makes it an ideal summer staple - style with a femme skirt or your favorite denim pair for an effortless look. |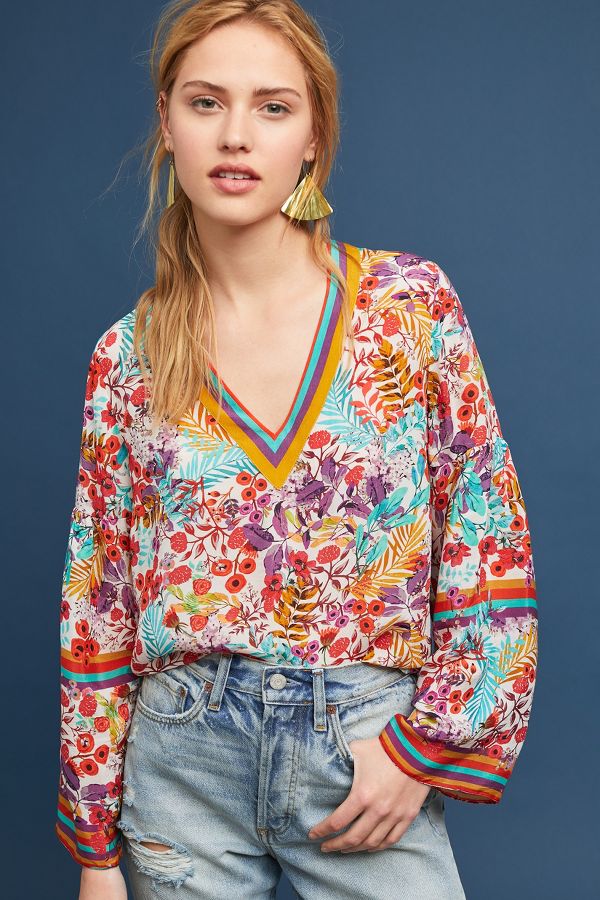 Sporty Floral Blouse
The sporty striped detail on the neckline and cuffs balances the ultra-feminine floral print on this blouse - it's an ideal choice for an array of warm-weather outings.
With a name inspired by movement, Verb by Pallavi Singhee has designed breezy, romantic pieces since 2007. Each billowy blouse and dramatic maxi dress is expertly woven before undergoing a dying process that evokes a tempera-like wonder. The embroidered finish is unique for each piece, ensuring a head-turning statement that is wholly your own.
| | | |
| --- | --- | --- |
| | | |
| Tiered Polka Dot Dress | Winsome Maxi Dress | Basil Embroidered Dress |
| This tiered dress has sequined embellishments that catch the light, for just enough dazzle and shine. | From the embellishments to the dramatic length, this maxi dress is sure to be center of attention. | Embroidered in bold hues, this covetable dress requires only strappy sandals for stunning, boho-chic style. |
Traditional art meets avant-garde in designer Jyoti Sharma's line of heirloom-inspired pieces. Blending contemporary trends with conventional silhouettes, Bhanuni by Jyoti exhibits a deep love of design and celebrates her Indian culture in each colorful garment.
Internationally renowned for her line of traditionally inspired clothes and accessories, Ranna Gill creates energetic pieces that continue to test the boundaries of fashion. Each statement-making silhouette is crafted with exquisite attention to detail and infused with Gill's joyful, confident spirit.
| | | |
| --- | --- | --- |
| | | |
| Botania Wrap Dress | Tasseled Peasant Jacket | Enesta Embroidered Top |
| A floral wrap dress is the ultimate day-to-evening piece - swap out sandals for barely-there heels to achieve a more elevated effect. | Embroidered sleeves and tiered tassels add festive touches to this boho-chic topper. | The colorful, boho-inspired embroidery on this top will elevate everything from relaxed denim to bold chinos. |
Melody and color: two words that excite the senses, inspire the mind and are essential to the creation of art. Raga is the ancient Sanskrit term for these words and the impetus behind this enchanting brand. Since she relocated from rural India to southern California, designer Krishan Chaudrey has blended essential elements of the East and West, crafting textured, timeless garments for the modern bohemian
| | | |
| --- | --- | --- |
| | | |
| Pommed Off-The-Shoulder Romper | Tropical Off-The-Shoulder Jumpsuit | Eva Off-The-Shoulder Romper |
| A favorite summer staple, the romper has the comfort of shorts and the styling ease of a dress. Finish with a denim jacket and sneakers or sandals for a breezy day out. | With an off-the-shoulder silhouette, this summer-ready jumpsuit shows just enough skin for sun-soaked days. | A favorite summer staple, the romper has the comfort of shorts and the styling ease of a dress. Finish with a denim jacket and sneakers or sandals for a breezy day out. |
Born in South Korea and based in Los Angeles, Jasmine Ko draws inspiration for her designs from across the globe, but especially Brooklyn, the place for which her label is named. Like that beloved borough, Sunday in Brooklyn's pieces are casual yet refined, ready for an afternoon in the park or a night in the city.
| | | |
| --- | --- | --- |
| | | |
| Naomi Striped Pencil Skirt | Bow-Back Tank | Weston Striped Top |
| Cotton; rayon lining | Far from basic, this open-back tank is a breezy layer you can style year-round. | Associated with French fashion and weekends in Nantucket, stripes - like the ones found on this top - are a timeless summer staple. |
Founded by designer Alessandra Affonso Ferreira, SISSA clothing was born from the vibrant, colorful cultural landscape of Brazil. Inspired by her country's sense of pride and originality, Ferreira hand paints each print with watercolors and chooses her textiles with care, giving preference to natural fibers sourced locally in the Sao Paulo region.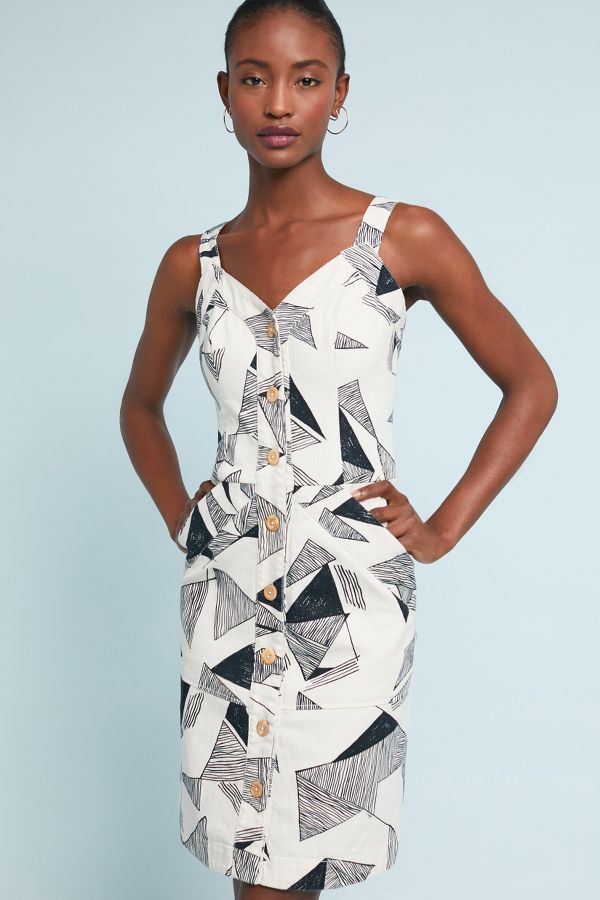 Graphite Denim Dress
This waist-defining silhouette is a must-have this season - pair with your favorite wedges or crisp white tennis shoes for a look that's ready for summer.
Go to: