Dresses for Easy Wardrobe Options
Dresses in relaxed shapes and comfortable fabrics for easy dressing. Dresses in styles that work for casual and special occasions. Relaxed options with polish and style. Go to: SISSA, Yumi Kim, Ranna Gill, Flannel, Valiante, Raga, Steele, Sunday in Brooklyn, Moon River, Flannel, Bhanuni by Jyoti, Isla Maude, W5 Concepts, AISH
Founded by designer Alessandra Affonso Ferreira, SISSA clothing was born from the vibrant, colorful cultural landscape of Brazil. Inspired by her country's sense of pride and originality, Ferreira hand paints each print with watercolors and chooses her textiles with care, giving preference to natural fibers sourced locally in the Sao Paulo region.
| | | |
| --- | --- | --- |
| | | |
| Jasper Button-Front Shirtdress | Graphite Denim Skirt | Graphite Denim Dress |
| Whether styled with your favorite wedges or chic sneakers, this a-line shirtdress is a must-have for the new season. | Whether styled with a crisp leather jacket or a feminine blouse, this graphic pencil skirt is a must-have for the new season. | This waist-defining silhouette is a must-have this season - pair with your favorite wedges or crisp white tennis shoes for a look that's ready for summer. |
| | | |
| --- | --- | --- |
| | | |
| Maui Maxi Dress | Daisy Days Denim Dress | Daisy Days Denim Jumpsuit |
| The clean lines of this black maxi are elevated with a neutral floral design that longs for an island getaway. | This waist-defining silhouette is a must-have this season - pair with your favorite wedges or crisp white tennis shoes for a look that's ready for summer. | A simple floral pattern adds feminine charm to this '70s-inspired jumpsuit, complete with cutout detailing for a contemporary twist. |
After a brief stint in the music industry, designer Kim Phan returned to fashion in 2004 with the launch of Yumi Kim. With a focus on prints and silk, the line - which borrows its first name from Kim's pet Yorkie - is inspired by vintage silhouettes and city living.
Traditional art meets avant-garde in designer Jyoti Sharma's line of heirloom-inspired pieces. Blending contemporary trends with conventional silhouettes, Bhanuni by Jyoti exhibits a deep love of design and celebrates her Indian culture in each colorful garment.
Internationally renowned for her line of traditionally inspired clothes and accessories, Ranna Gill creates energetic pieces that continue to test the boundaries of fashion. Each statement-making silhouette is crafted with exquisite attention to detail and infused with Gill's joyful, confident spirit.
Drawing from her love of textiles, Nupur Goenka launched AISH in 2011, committing to a long-term collaboration with Bengali artisans and the creation of luxuriously handmade pieces that evoke the vibrancy of Indian culture. Each breezy tunic, dress, and scarf is inspired by the intricate patterns found on ancient jamdani saris and woven using traditional methods for a one-of-a-kind statement.
After nearly twenty years in the fashion industry, designer Karyn Kim founded W5 Concepts with the needs of the modern woman in mind. Worn day or night, at work or running errands, the label's effortless, impeccably tailored pieces are equally stylish and practical - and made just for you.
Australian designer Kristy Lawrence founded Flannel to mix vintage artistry with contemporary romance through dreamy florals, cascading ruffles, and delicate lace. With the philosophy, "Live, Work and Play" always in mind, the brand offers feminine silhouettes intended to suit an understated - yet luxurious - bohemian wardrobe.
Inspired by the lifestyle on the western coast of India, Australian designer Julz Valiant created Valiante, a resort-style brand that features free-flowing designs. Defined by high-quality materials and delicate detailing, these embroidered silhouettes are effortless, carefree, and perfect for a summer'??s day.
Melody and color: two words that excite the senses, inspire the mind and are essential to the creation of art. Raga is the ancient Sanskrit term for these words and the impetus behind this enchanting brand. Since she relocated from rural India to southern California, designer Krishan Chaudrey has blended essential elements of the East and West, crafting textured, timeless garments for the modern bohemian
Based in Los Angeles and named for a song written specifically for Audrey Hepburn, Moon River offers sensible style for the free-spirited woman. Clean and natural with a vintage-inspired aesthetic, each feminine, detailed and timeless silhouette brings versatility and personality to your closet.
Born in South Korea and based in Los Angeles, Jasmine Ko draws inspiration for her designs from across the globe, but especially Brooklyn, the place for which her label is named. Like that beloved borough, Sunday in Brooklyn's pieces are casual yet refined, ready for an afternoon in the park or a night in the city.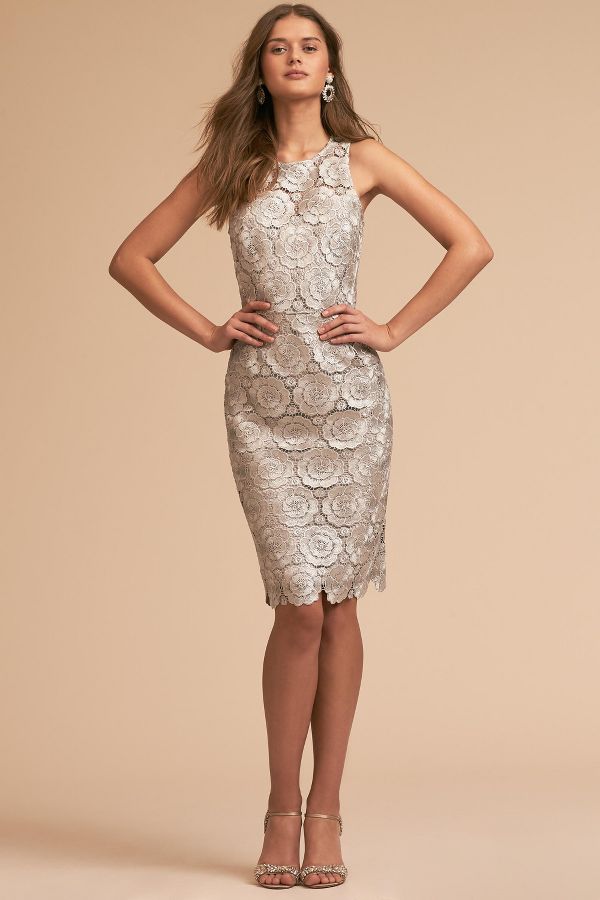 Emmeline Dress
Gleaming graphic lace is crafted into an chic knee-length number, complete with scalloped hemline.
| | | |
| --- | --- | --- |
| | | |
| Paperbag-Waisted Utility Skirt | Utility Pencil Skirt | Belted Utility Skirt |
| With an exaggerated, paper-bag waist, this utilitarian skirt creates a flattering, hourglass silhouette. | This fitted pencil skirt offers a more feminine take on the utilitarian style - tuck in a graphic tee or buttondown to complete the look. | With its slim, fitted waist and flared silhouette, the A-line skirt is a flattering closet staple. |
Go to: