Dresses for Easy Wardrobe Options
Dresses in relaxed shapes and comfortable fabrics for easy dressing. Dresses in styles that work for casual and special occasions. Relaxed options with polish and style. Go to: Trovata, Black Halo, Ranna Gill, Lenon, Raga, Sunday in Brooklyn, Farm Rio, LAIA, Amadi, Dresses and Skirts
Inflected with the classic elegance of mid-century fashion, California luxury brand Trovata's designs are both nostalgic and contemporary. Using only the softest textiles in their handmade garments, exquisite tailoring and attention to detail elevate their simple silhouettes to timeless, global essentials.
| | | |
| --- | --- | --- |
| | | |
| Buffalo Plaid Shirtdress | Polka Dot Wrap Dress | Emma Wide-Leg Pants |
| Eternally stylish, this classic plaid shirtdress pairs perfectly with a boots and a rancher. | A polka dot wrap dress is the ultimate day-to-evening piece - swap out sandals for barely-there heels to achieve a more elevated effect. | These breezy wide legs offer an ultra-comfy alternative to your go-to skinnies. |
| | |
| --- | --- |
| | |
| Ingrid Striped Jumpsuit | Bella Cropped Jumpsuit |
| Creating a striking look that goes beyond a simple dress or two-piece combo, this all-in-one wonder can be dressed up with heels and a clutch or, for a more casual take, styled with sneakers. | Creating a striking look that goes beyond a simple dress or two-piece combo, this all-in-one wonder can be dressed up with heels and a clutch or, for a more casual take, styled with sneakers. |
Laurel Berman's iconic line showcases the modern woman's inherent femininity and strength. Using classic designs that flatter every curve, Black Halo constructs flawless, event-ready silhouettes for every season.
| | |
| --- | --- |
| | |
| Leopard Sheath Dress | Debutante Mini Dress |
| Take a walk on the wild side with this leopard-printed sheath dress - style with strappy black heels and simple accessories for an event-worthy look. | Polyamide, viscose, elastane; polyamide, elastane lining |
What began as a handful of goods at a local fashion fair booth has grown into one of Brazil's most recognizable labels for sun-soaked dressing. With vibrant colors, bold silhouettes, and feminine details embedded in every design, Farm Rio's cheerful creations are crafted with an exotic, toes-in-the-sand spirit that's simultaneously fashion-forward and vintage-inspired.
Internationally renowned for her line of traditionally inspired clothes and accessories, Ranna Gill creates energetic pieces that continue to test the boundaries of fashion. Each statement-making silhouette is crafted with exquisite attention to detail and infused with Gill's joyful, confident spirit.
| | | |
| --- | --- | --- |
| | | |
| Armelle Top | Bowen Ruffled Top | Sequin Snowflake Sweatshirt |
| 100% cotton | Usher in the most celebratory of seasons with a metallic party top - sparkly and festive, it'??s a versatile special-occasion option that looks as lovely under a businesslike blazer as it does paired with jeans. | 58% cotton, 42% polyester. Sequin embellishment |
| | | |
| --- | --- | --- |
| | | |
| Ralston Fitted Cami | Brooklyn Wrap Top | Topeka Floral Blouse |
| Polyester | Flattering and comfortable enough for everyday wear, this waist-defining wrap blouse is an ideal topper for weekend adventures and casual soirees. | Reminiscent of the '60s, this blouse features a ditsy floral print that is both charming and timeless. |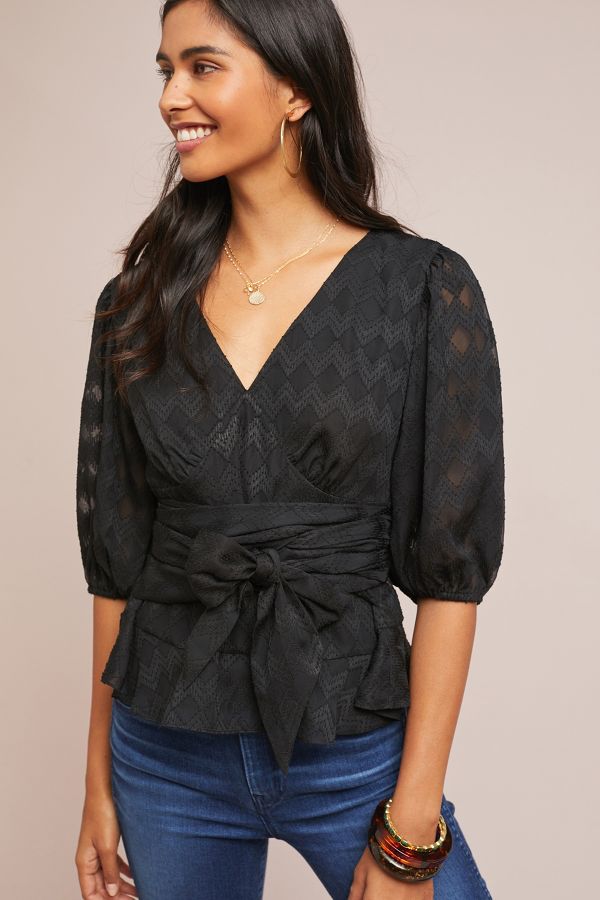 Spokane Corseted Top
With the allure of a corset, this top cinches in at your natural waist for a figure-flattering silhouette.
Melody and color: two words that excite the senses, inspire the mind and are essential to the creation of art. Raga is the ancient Sanskrit term for these words and the impetus behind this enchanting brand. Since she relocated from rural India to southern California, designer Krishan Chaudrey has blended essential elements of the East and West, crafting textured, timeless garments for the modern bohemian
Born in South Korea and based in Los Angeles, Jasmine Ko draws inspiration for her designs from across the globe, but especially Brooklyn, the place for which her label is named. Like that beloved borough, Sunday in Brooklyn's pieces are casual yet refined, ready for an afternoon in the park or a night in the city.
| | | |
| --- | --- | --- |
| | | |
| Ribbed Sleeveless Turtleneck | Modern V-Neck Tee | Marled Turtleneck |
| Sophisticated and surprisingly versatile, the turtleneck is an effortless way to upgrade your look into a chic statement. This relaxed, sleeveless version is lightweight enough to wear all year long. | 80% modal, 15% polyester, 5% spandex | Polyester, cotton, spandex |
Nicknamed for the Spanish term Eulalia, meaning feminine and romantic, LAIA is a clothing line that focuses on the smallest of details. Expertly blending inspirations from various cultures into each design, the label showcases intricate embroideries and offers the most flattering of fits.
| | | |
| --- | --- | --- |
| | | |
| Retro Striped Pants | Nantucket Striped Romper | Naomi Striped Jumpsuit |
| This season, go bold: Reach for the brightest, most eye-catching stripes like the ones seen on these metallic pants. | A favorite warm-weather staple, the romper has the comfort of shorts and the styling ease of a dress. Finish with sneakers or sandals for a breezy day out. | A printed jumpsuit is an all-in-one packing wonder - it frees up your carry-on and saves time spent outfitting. Simply add earrings and a clutch for an event-ready look. |
Founded by partners Nataline Ngo Amadi and Wahid Amadi in 2012, Amadi supports the Los Angeles community by designing and crafting their garments locally. Made using rich fabrics with easy care finishes, Amadi's effortless garments are for the well-traveled woman whose personal style exemplifies her easy-going, yet fashion-forward approach to clothing.
| | | |
| --- | --- | --- |
| | | |
| Chaparral Cardigan | Merry Metallic Blouse | Alloy Metallic Dress |
| The faux fur sleeves on this cardigan provide a textured touch of cozy that suits the season. | Usher in the most celebratory of seasons with a high-shine, metallic party top - sparkly and festive, it's a versatile special-occasion option that looks as lovely under a businesslike blazer as it does paired with jeans. | Usher in the most celebratory of seasons with a high-shine, metallic party dress - sparkly and festive, it's an eye-catching special-occasion option that looks lovely with strappy heels and a clutch. |
| | | |
| --- | --- | --- |
| | | |
| Sonoran Sweater Dress | Jane Utility Jumpsuit | Arsenau Sweater Dress |
| With unsurpassed comfort, this sweater dress is a workwear essential for the colder months. | Utilitarian pockets and a belted waist give this jumpsuit a workwear-inflected charm | With unsurpassed comfort, this cozy sweater dress is a workwear essential for the colder months. Try outfitting it with a menswear-inspired blazer for a touch of added trend. |
| | | |
| --- | --- | --- |
| | | |
| Buttoned Houndstooth Skirt | Brexton Belted Wide-Leg Pants | Corduroy Buttondown Dress |
| A menswear-inspired print takes a turn for the feminine in this perfectly fitted skirt. | Belted for a flattering silhouette, these breezy wide legs offer an ultra-comfy alternative to your go-to skinnies. | Tried, well-loved, and true, a corduroy dress is a retro essential for the cooler months. Style with a turtleneck and beret for a chic look that suits the season. |
| | |
| --- | --- |
| | |
| Corduroy Skirt | Embroidered Denim Mini Dress |
| Tried, well-loved, and true, a slimming corduroy pencil skirt is a retro essential that feels fresh when rendered in a surprising hue. | Whether you wear it on its own or layer with a long-sleeved top underneath, this mini dress is our favorite way to wear denim. |
Go to: