Asian Dinnerware
Fine dinnerware from Asia selected for generations for formal or everyday use. Dinnerware to suit your lifestyle from stylish everyday meals to the most special occasions. Go to: Mottahedeh Dinnerware, Noritake
| | | |
| --- | --- | --- |
| | | |
| Rachael Ray Ikat 16-Pc. Set, Service for 4 | Traditional Blue & White Dinnerware | Wedgwood Oberon |
| Tradition with a twist. Rachel Ray reinvents the ikat pattern with this engaging design for stoneware place settings. With service for four, it makes every meal a stylish affair. | Asian-inspired patterns are showcased on traditional blue and white porcelain. Incorporating a dozen different designs, the settings may be varied at whim. Charger plates are made of lacquered acrylic | Oberon's delicate floral pattern recalls the first blossoms of spring, yet is understated enough to complement any table decor. Bone china |
| | | |
| --- | --- | --- |
| | | |
| Sango Blooming Blossoms Brown 16-Pc. Dinnerware Set | Sango Cyprus Jade 16-Pc. Dinnerware Set | Sango Blooming Blossoms Black 16-Pc. Dinnerware Set |
| Earthy shades of green and brown offset by gorgeous hand-painted blossoms on the lovely 16-piece Blooming Blossoms Brown dinnerware set from Sango can help bring about a zen-like mood of tranquility in your dining space. | A shining reactive glaze pairs with subtle beading and a modeled design on Sango's Cyprus Jade dinnerware set lending a polished finish to dining and entertaining. | Earthy shades of green and brown offset by black accents and gorgeous hand-crafted blossoms on the lovely 16-piece Blooming Blossoms Black dinnerware Set from Sango can help bring about a zen-like mood of tranquility in your dining space. |
| | | |
| --- | --- | --- |
| | | |
| Wedgwood Wonderlust Teacup & Saucer Set | Wedgwood Wonderlust Tray | Wedgwood Wonderlust Bowl |
| Pays homage to Asian horticulture and the wonders of the garden; symbolizing rebirth, water lilies combine with vibrant colors for an exuberant design. Fine bone china | Pays homage to Asian horticulture and the wonders of the garden; symbolizing rebirth, water lilies combine with vibrant colors for an exuberant design. Fine bone china | Pays homage to Asian horticulture and the wonders of the garden; symbolizing rebirth, water lilies combine with vibrant colors for an exuberant design. Fine bone china |
| | | |
| --- | --- | --- |
| | | |
| Wedgwood Wonderlust Mug | Wedgwood Wonderlust Tray | Wedgwood Wonderlust Bowl |
| Features a Japanese Acer garden, considered a symbol of peace and serenity, representing balance and practicality. Fine bone china | Features a Japanese Acer garden, considered a symbol of peace and serenity, representing balance and practicality. Fine bone china | Features a Japanese Acer garden, considered a symbol of peace and serenity, representing balance and practicality. Fine bone china |
| | | |
| --- | --- | --- |
| | | |
| Wedgwood Gio Dinnerware | Wedgwood Gio Dinnerware | Wedgwood Gio Dinnerware |
| A crisp palette is defined by subtle textured detail in this elegant dinnerware from Wedgwood. Fine bone china. Dishwasher and microwave safe | A crisp palette is defined by subtle textured detail in this elegant dinnerware from Wedgwood. Fine bone china. Dishwasher and microwave safe | A crisp palette is defined by subtle textured detail in this elegant dinnerware from Wedgwood. Fine bone china. Dishwasher and microwave safe |
| | | |
| --- | --- | --- |
| | | |
| Juliska Classic Bamboo 5 Piece Place Setting | Denby Natural Canvas 7-Pc. Asian Set | Nikko Pearl Symphony Scroll Bone China |
| For generations, the Bamboo design has been used by designers across the globe to bring a sense of naturalistic glamour to their interiors and fashion. But never before has this design element been brought to the table with such flair and attention to detail | In timeless neutral tones that smoothly slip into any tabletop color palette, this 7-piece collection from Denby features handcrafted stoneware finished with a rich glaze for warmth. The set includes an assortment of bowls as well as chopsticks | From Nikko, the Pearl Symphony China collection features: White textured scroll design. Durable and chip-resistant. Contains 50% bone ash to assure pure white color and exceptional translucency |
| | | |
| --- | --- | --- |
| | | |
| 222 Fifth Shibori Blue 16-Pc. Dinnerware Set, Service for 4 | 12-Piece By-Hand Pearl Dinnerware Service | Suomi White by Rosenthal |
| An intriguing combination of contemporary shapes in brilliant blue, 222 Fifth's Shibori dinnerware set brings sleek elegance to your table. | Hand-painted porcelain dinnerware. Classic and a timeless range. Dishwasher and microwave safe. Made in Portugal. | Rosenthal products are designed by artists devoted to creating unique designs that embody the aesthetics of today but will endure for infinite tomorrows. Simple yet sophisticated shapes give this elegant white china a contemporary look. Designed for compatibility, this pattern coordinates with Suomi Rangoon. |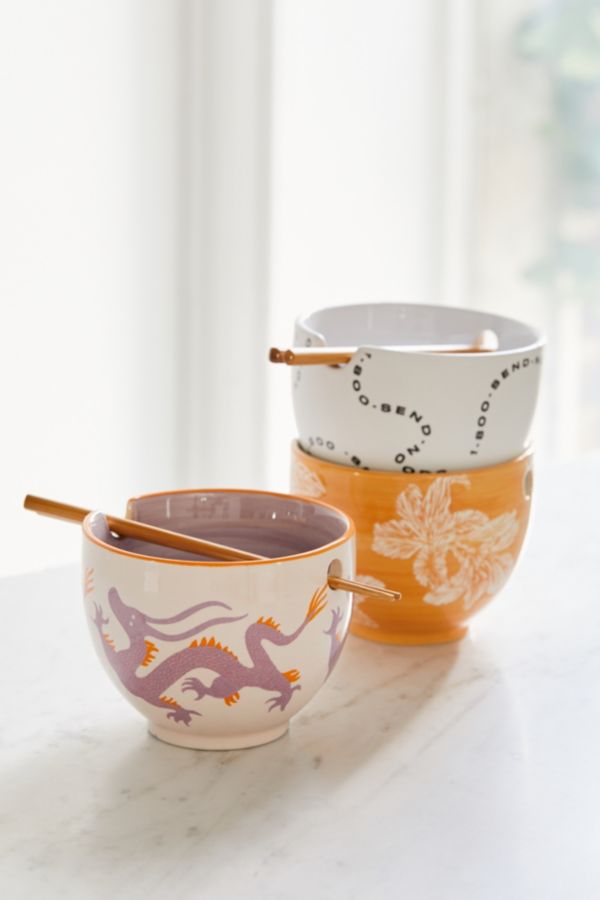 Mix + Match Noodle Bowl + Chopstick Set
Ramen nights get an upgrade – all you need is to add noodles to this patterned deep-dish ceramic bowl with a built-in resting place for included wooden chopsticks!
| | | |
| --- | --- | --- |
| | | |
| Noritake Xavier Gold Paisley Bone China 5-Piece Place Setting | Noritake Dinnerware, Odessa Gold Collection | Noritake Dinnerware, Crestwood Platinum Collection |
| From Noritake, the Xavier Gold 5-piece place setting features: Paisley design accented with bands and raised and colored dots. Bone china. Dishwasher safe | Noritake makes any occasion memorable with the opulent grace of Odessa Gold dinnerware. Wide bands of etched gold and pale gray with delicate blooms adorn classic bone china. | The unparalleled style of Noritake china has been gracefully setting tables for more than ninety years. The formal Crestwood Platinum dinnerware and dishes collection features crisp white china embellished with a shimmering border of interlocking scrolled leaves and an edge of polished platinum. |
| | | |
| --- | --- | --- |
| | | |
| Noritake Dinnerware, Austin Platinum Collection | Noritake "Silver Palace" Dinnerware | Noritake Dinnerware, Odessa Platinum Collection |
| An instant classic, Austin Platinum dinnerware from Noritake layers ribbons of black with patterned platinum bands and shimmering dots. White porcelain grounds the timeless collection, a flawless choice for fine occasions. | The formal Silver Palace dinnerware and dishes collection is a masterpiece of textural contrast, combining smooth white bone china with a band of embossed, silver-trimmed detailing, lavishly finished with a polished platinum rim. | Relive the grandeur of ages past with Odessa Platinum dinnerware. Impeccably styled with shimmering platinum detail in durable bone china, it's a Noritake collection fit for a royal feast. |
| | | |
| --- | --- | --- |
| | | |
| Noritake Colorwave 12-Piece Dinnerware Set | Noritake Dinnerware, Colorwave Bloom 4 Piece Place Setting | Noritake Blue Hammock Dinnerware 12-Pc. Set |
| Sleek coupe dinner plates combine with boldly bordered pasta/rim soup bowls and versatile rice bowls in this Noritake Colorwave dinnerware set. | From basic to blooming. A fresh twist on a Noritake favorite, Colorwave Bloom place settings offer the same sleek style and durability as the original dinnerware pattern but with a pretty floral print. | A variety of blue and white motifs adorn Noritake's Blue Hammock Dinnerware in dishwasher and microwave safe porcelain. Each piece incorporates dots, stripes or other patterns in different ways to give this distinctive casual dining collection a mix-and-match look as well as a fresh and modern appeal. |
Mottahedeh has been in business for over 75 years. Mottahedeh specializes in hard porcelain, crystal, brass, silver plate, stoneware, faience and lithographs. They hold licenses to make reproductions and adaptations from the Metropolitan Museum of Art, Colonial Williamsburg, Winterthur, Monticello, Historic Charleston, Historic Natchez, and the National Trust. Mottahedeh hold the privilege of having made china for the President, the State Department and for the Diplomatic Corps. They are known for their classic, time-honored tableware and decorative accessories, which are patterns primarily based on Chinese Export from the West, Early European and Chinese Designs.
Go to:
Add Global Luxury to your favorites